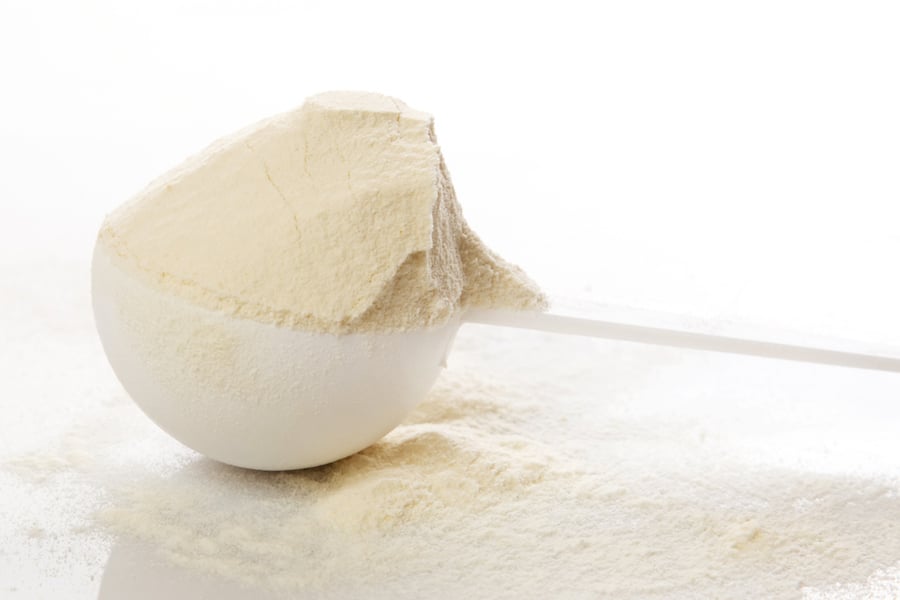 Consumers are scrutinizing product labels more than ever before. They're motivated by many factors, and ranking highly among them is a desire to find products with higher protein content, such as whey protein.
It's no secret that consumers want clean labels and ingredient transparency. What's more, studies show they're willing to pay a higher price for food and beverages made with wholesome ingredients they recognize and trust.
No matter the motivation, one thing is clear: consumers are rarely willing to give up the flavor or texture they've come to love in exchange for a healthier option.
Food and beverage manufacturers can accommodate these consumer demands by incorporating functional whey protein into their formulations as an alternative to artificial or more costly ingredients. Is whey protein the right choice for your applications?
To follow, we'll highlight five benefits of whey protein and how it can improve food formulations compared with other protein options, including:
Whey is a preferred protein source
It has superior health benefits
It's a clean label ingredient
Whey protein is shelf stable
It can lower manufacturing costs
Get the Related Tip Sheet:
10 Reasons to Use Whey Protein
1. Preferred Protein Source
There are several protein sources on the market including soy, rice, pea and casein, which are undoubtedly growing in popularity. What many of the marketing messages fail to mention is that whey protein consumption and sales exceed plant-based proteins, and its continued market growth is in lock step with plant proteins.
This time-tested food ingredient also exceeds other protein forms in terms of protein quality and nutrition. Whey protein's health benefits are sought after by all facets of consumers, from busy moms and dads looking to provide nutritious meals for their families to fitness enthusiasts who participate in resistance training for increased muscle growth. It ranks higher than other protein sources for essential amino acid scores, taste, texture, and even appearance.
High-quality whey protein often improves the taste and texture of many food and beverage applications due in part to its clean, neutral taste. Whereas it's common for other protein sources to require flavor masking agents to conceal their unpleasant or distinct flavors.
2. Superior Health Benefits
Protein is an excellent source of amino acids, helps dieters manage weight loss by reducing appetite and is proven to have anti-aging properties. Protein intake also helps increase bone density, lower cholesterol, and even reduces the risks for cardiovascular disease and stroke. Using whey protein as an ingredient in applications incorporates the nutritional benefits of protein while reducing calories and lowering fat.
Those seeking to improve their health and athletic performance reach for protein-rich foods including protein bars, beverages and shakes—all products where whey protein supplementation can be used effectively.
3. Clean Label Friendly
Manufacturers can meet the demands of consumers who want to avoid artificial flavors and ingredients. For example, all of Grande Custom Ingredients Group proprietary whey products are made using a completely natural production process and can be labeled as "natural dairy," and the products are USPH Grade A, Kosher Dairy, USDA and EU certified.
4. Stable Shelf Life
Fresh dairy products and other protein-laden ingredients like eggs require refrigeration and special permits, storage and handling. These processes and requirements can add significant labor and facility costs for food manufacturers. Whey protein powder, on the other hand, is a shelf-stable ingredient, helping to eliminate the risk of contamination that is prevalent with fresh ingredients.
5. Lower Cost
Products like Grande Bravo® Functional Whey Protein provide a low-cost alternative for high-cost dairy ingredients like cream, butter and fat, and also offer a great alternative to eggs in certain applications such as dressings, mayonnaise and no-rise baked goods.
Grande Gusto® replaces expensive fresh or processed cheese and actually scored higher for taste and texture compared to real cheese despite having fewer calories, lower fat and reduced sodium. Whey protein is also used as a cost-effective solution in clear protein beverages in the form of whey protein isolate, and as crisps in nutritional bars and snacks.
Food and beverage companies can meet consumer demands and actually improve upon the original versions of their recipes by incorporating various types of whey protein into their food product development. To learn more about how whey protein is made, download our infographic: How is Whey Protein Concentrate Made?