With today's consumers looking for high-protein ready to drink (RTD) beverages to support their active lifestyles—whether it's a sport drink to refuel after a run, low-calorie flavored water as a healthy alternative to soda, or meal replacement shake to help them manage weight—people are looking for convenient ways to stay healthy, and beverages made with Grande Ultra whey protein isolate answer that need.
Creating Unique Application Solutions
In RTD beverage applications where clarity and clean flavor are paramount, no other WPI compares to the quality of Grande Ultra. Grande Ultra WPI is produced in an exclusive, patented process (patent number 8,431,174) that provides the best combination of clarity and flavor across a wide pH range—making it ideal for beverage and food applications that demand high quality standards. Its excellent protein profile makes Grande Ultra WPI ideal for:
Sports & Protein Drinks
Fruit & Juice Drinks
Flavored Water
Energy Drinks
Nutritional Supplements
Key Product Attributes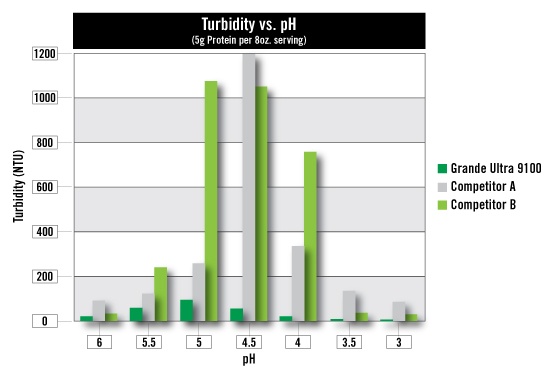 When compared against leading WPIs in the industry, Grande Ultra is the ultimate choice for fortifying protein content while maintaining great flavor and clarity in your beverage applications. Plus, the essential amino acids in whey protein are the highest levels of Branched Chain Amino Acids (BCAAs) from a natural food source—making whey the gold standard for nutritional comparison.
Superior clarity and stability in RTD beverages
Stable up to pH 3.5
Clean, neutral flavor
Available acidified
Product Patent 8,431,174
USDA/FDA
Kosher Dairy
EU
Ingredient Statement: "Whey Protein or Whey Protein Isolate. Contains Milk"
Click here to learn more about Grande Ultra's Clarity & Clean flavor.