Naturally Innovative Solutions
Grande Custom Ingredients Group's food scientists create innovative dairy-based ingredients that food and beverage manufacturers use to solve unique challenges in a wide variety of applications.
We produce our natural dairy-based products from Grande producer farms' Grade A milk. We have control of the process from collection to sending our finished ingredients out the door. The result is a portfolio of food and beverage ingredients that exceed the highest quality standards.
When you combine our specialty products with the expertise of our team, you get the right solutions to address a wide range of formulation challenges resulting in finished products with high consumer appeal. As we like to say at Grande - People, Products and Expertise: The Best Whey to Naturally Improve Food.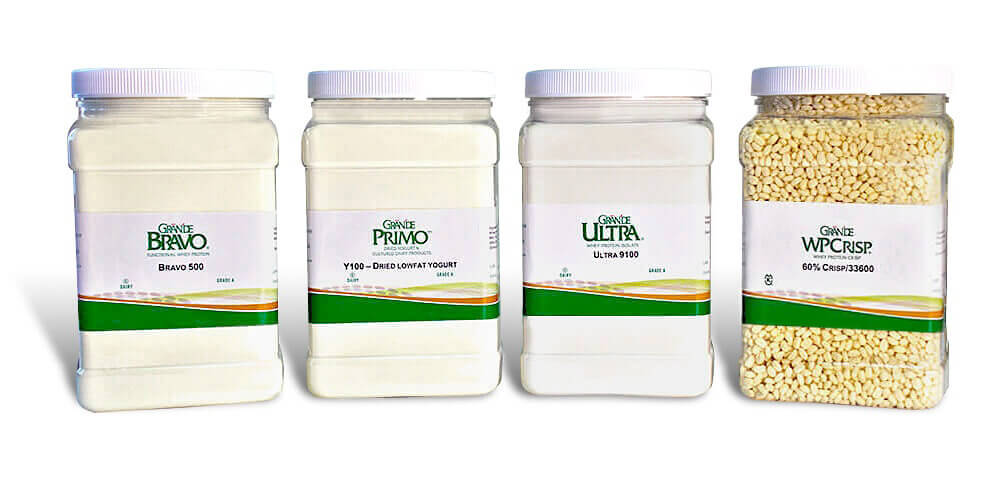 Our Innovative Dairy-Based Ingredients
This extensive line of functional whey protein ingredients with distinct textural properties enables the replacement of several other ingredients such as: cream, butter, fat, cream cheese, and even eggs while maintaining the product's natural mouthfeel, texture, and flavor in a wide variety of applications.
Grande Primo dried yogurt and cultured dairy products are cultured and dried in our Grade A dairy plant to add authentic yogurt flavor and creamy textural properties to a variety of fresh and dry mix applications including dips, dressings, sauces, coatings, and smoothies.
Grande Ultra WPI provides the best combination of clarity and flavor over a wide pH range available in a whey protein isolate. It is ideal for adding protein to beverage and food applications where clarity and/or a very clean flavor is desired.
Grande's whey protein crisps deliver a superior blend of nutrition, flavor, and texture with a clean flavor that complements the applications' primary ingredients.