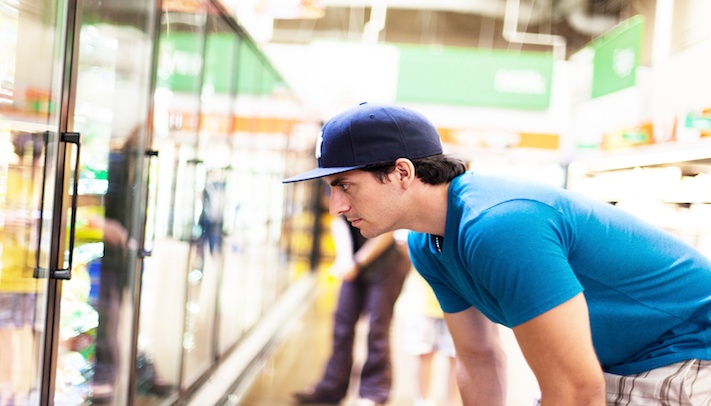 As today's consumers look for ways to get more protein in their diets, food manufacturers know that upping the production of high-protein foods and highlighting the amount protein on their packaging is critical to standing out to consumers. In fact, 6% of all food and beverage launches in 2014 were marketed on a "high-protein" or "source-of-protein" claim; and with men being the primary grocery shoppers in about 4 in 10 of today's households, it's time for food manufacturers to take the opportunity to create high-protein products targeting male consumers.
One food that helped spark the male-focused marketing trend was yogurt. Before Greek yogurt burst onto the scene as one of consumers' favorite superfoods, most yogurt brands targeted their advertising toward women and seniors – either as a tasty low-calorie, low-fat alternative to desserts or snacks or as a way to regulate digestion. Since the higher protein variety of yogurt starting becoming popular, however, brands have seen an opportunity to attract men who are trying to live a healthier lifestyle.
Food manufacturers have a big opportunity to use the power – and popularity – of yogurt to enhance their offerings and improve their appeal to the male demographic. And since yogurt is such a versatile ingredient and can be added to a variety of applications, the opportunities for enhancing products with the benefits of yogurt are plentiful.
The Best Whey to Add Yogurt's Taste & Texture
For food manufacturers looking to win over the male demographic, whey protein ingredients like our Grande Primo™ can provide a nutritional protein boost in a variety of applications. With consumers all aboard the healthy yogurt trend, Grande Primo dried yogurt and cultured dairy products can provide the authentic yogurt flavor consumers are looking for, with its distinct textural properties that provide a rich, creamy mouthfeel.
It's perfect for use in a variety of applications, including smoothies, snack bar coatings, dips, dressings, and frozen desserts. Plus, Grande Primo provides a shelf-stable, cost-effective alternative to using fresh yogurt, which means you'll be able to cut your manufacturing costs and you won't have to worry about any of the handling issues that accompany fresh yogurt. Talk about a win-win! And if you're worried about authenticity, our Y100 formulation even meets the Code of Federal Regulations (CFR) for yogurt prior to drying.
How exactly does it work? Take a look at our product video to find out how Grande Primo™ Y100, made in a Grade A facility, can be used to enhance a variety of application types:
For more information about how Grande Primo™ can be used to enhance your specific applications, check out our our applications page or contact one of our food scientists today.