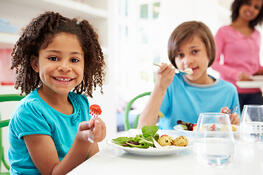 Of all the issues facing America's education system, one of the most talked about subjects is the healthiness of school lunches. According to the Centers for Disease Control and Prevention (CDC), 32% of American children ages 2 to 19 are either overweight or obese, leaving many taxpayers asking for healthier school lunch standards. In 2012, these requests were answered when First Lady Michelle Obama partnered with Agriculture Secretary Tom Vilsack to increase the federal nutrition standards for school lunches. Since then, this new plan has forced schools to include more fruits, vegetables, and whole grains in their lunches, while also limiting fat, sodium, and sugar. In addition, elementary school lunches were capped at 650 calories, with middle school and high school lunches being capped at 700 and 850 calories respectively.
Despite today's school lunches being healthier, many schools are now struggling to get their students to eat them. As a matter of fact, more than 1 million fewer students are taking advantage of school lunches in 2014, a drop of nearly four percent since 2012. Given the stricter health standards and calorie caps, food manufacturers are having trouble thinking of new, creative ways to provide healthy lunch options, while schools are being left to serve lunches that are less than appealing.
Though there are good intentions behind these increased nutritional standards, there's no question that complying with the rules has made it much harder for food manufacturers to give schools and students a lunch they're happy with. Not only are healthier, fresher foods often more expensive, they're also less appealing to kids and teenagers. And while a balanced diet is essential for promoting growth and brain development in children – as well as providing the necessary energy to stay focused and attentive in the classroom – none of that matters if you can't convince them to eat your lunch in the first place!
That being said, Grande Custom Ingredients Group offers several solutions to this lunch conundrum. By using our whey protein products to fortify your school lunch products, not only will you be able to provide lower-fat, lower-calorie food options, but you'll also see significant savings on ingredient costs as well. For example, our functional whey protein concentrate, Grande Bravo®, is the perfect substitute for high-fat, high-cost dairy ingredients such as cream, fat, butter, and cream cheese. By reducing these ingredients in food applications like dressings, soups, dips and sauces, you're able to reduce food costs and improve nutrition while maintaining the taste and mouthfeel kids are used to in their favorite foods.
Looking at Grande Bravo's application in a chipotle cream sauce below, you'll see that it not only reduced the calories, fat, and saturated fat of the sauce, but also used 50% less cream than the original recipe. And despite using a new formulation for the product, Bravo's water-holding functionality makes it a nearly identical match in taste and texture with the original.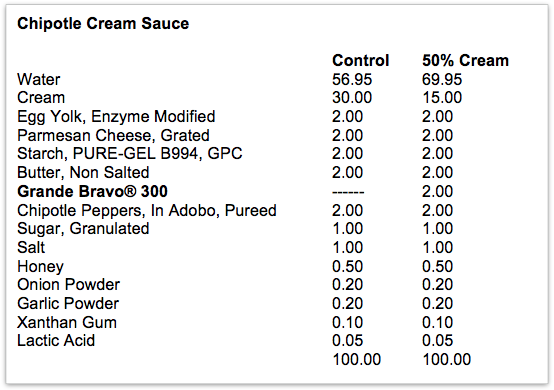 Whether you want to create a low-fat chipotle cream sauce, a low-fat, yogurty veggie dip, or anything in between, Grande offers several high-quality solutions that can help improve your lunch's nutrition, while also lowering your costs. To learn more about how our whey protein products can help alleviate your lunch food problems, check out our applications page or talk to one of our food scientists today!