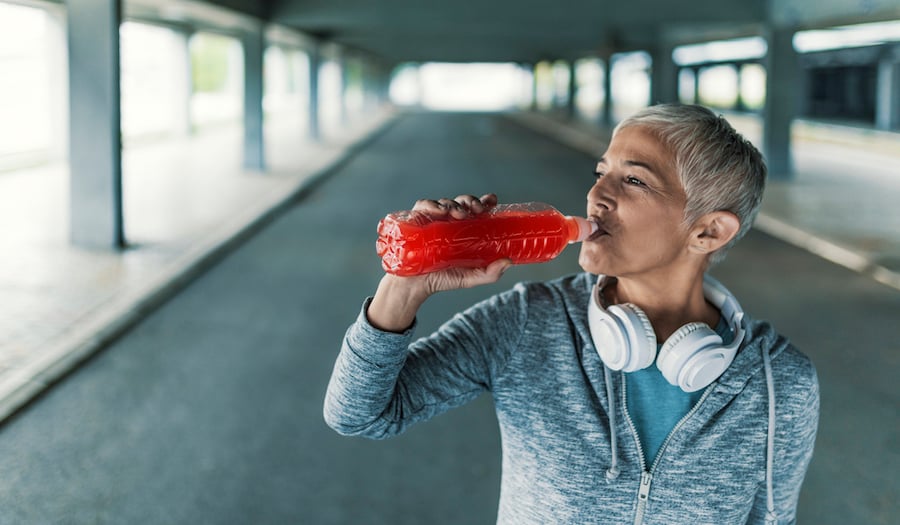 Most Americans want to consume more protein, but the truth is, most Americans actually need more protein, especially older adults. A study showed that those in older age groups consumed significantly lower protein and that 46% of them weren't meeting dietary recommendations for protein intake.
While awareness of the need and benefits of protein is increasing, so is the demand for convenience. An increasingly larger number of consumers are eating on-the-go and looking to supplement their diets with protein beverages. While the traditional protein smoothie or shake is still a sought-after option, many are choosing refreshing and thirst-quenching clear protein drinks.
Here's a look at the latest protein drink trends and ways that food and beverage manufacturers can stand out on crowded store shelves and in refrigerated cases.
Lower Sugar and Fewer Artificial Ingredients
Many consumers still crave sweetness but are shifting away from sugary soft drinks containing high fructose corn syrup, cane sugar and other sweeteners which can impact glycemic levels and add empty calories. Naturally derived sweeteners such as stevia are increasingly being found in protein beverage applications, with new beverage product launches containing stevia growing 33% in the first half of 2018 alone. Erythritol and monk fruit are also gaining ground.
Formulating beverages with low sugar is a challenge, not only in terms of maintaining taste but in maintaining structure and mouthfeel. Some manufacturers have resorted to using hydrocolloids such as xanthan gum or chemically modified additives to stabilize beverages containing protein. However, many consumers don't consider these ingredients to be in compliance with their clean label preferences.
Protein Plus Caffeine
The cold brew coffee and iced coffee beverages market is expected to grow by more than 27% by 2022. Food and beverage manufacturers are poised to capitalize on this trend by offering unique offerings, flavor profiles and the added health benefits of protein. Similar coffee drinks including frappuccinos, mochas and espressos containing protein along with elevated levels of caffeine are also showing strong growth.
Ready-to-drink beverages outside the coffee category also combine protein and caffeine, including flavored waters, juices and other clear drinks. Fortifying beverages with both protein and caffeine allows food and beverage manufacturers to appeal to multiple consumer preferences — fitness enthusiasts, those wanting protein for its general health benefits and those who desire an extra energy boost.
Wellness & Beauty Boosters
Maintaining lean muscle mass is a key factor in wellness, and whey protein isolate (WPI) which is used in many fortified drinks is one of the best forms of protein containing the essential amino acids our bodies need to accomplish this goal. Beyond muscle health, however, many are consuming higher levels of protein because of its anti-aging properties and how it helps improve their physical appearances. The glutathione found in whey protein helps delay signs of aging, and amino acids provide skin with elasticity and firmness. Whey protein also helps promote a healthy scalp and strengthens hair follicles.
Beauty starts within. Not many food and beverage manufacturers are promoting the beauty boosting benefits of whey protein in their clear protein beverages, so it provides marketing departments with a significant opportunity for differentiation and market expansion.
Tart & Tangy Flavor Profiles
Healthy acidic beverages that boast tart and tangy flavors are trending. Fermented drinks such as Kombucha are expected to see significant market growth. Other acidic flavor profiles including ciders, exotic fruits, teas and sparkling flavored waters are also trending. Adding protein to these expanded offerings presents a clear opportunity for food and beverage manufacturers to set themselves apart from competitors. Overcoming the challenges that the lower pH levels in these applications present is a major consideration, however.
The lower the pH and the higher the protein, the greater the chance of turbidity. When adding commodity whey protein isolates, many formulators struggle to achieve a crystal clear beverage that remains shelf stable without sediment or cloudiness developing over time. Such consequences can result in a clear protein drink standing out among the others for all the wrong reasons.
How to Stand Out in a Saturated Protein Beverage Market
Maintaining clarity in protein beverages is perhaps the greatest factor impacting a product's sales. A beverage has to look good before it earns the right to end up in a shopper's grocery cart or basket. It also needs to back up its health claims by featuring clean labels and natural ingredients. Once purchased and consumed, the flavor and experience are what will keep customers coming back for more.
Choosing the right WPI for use in your clear protein beverage is a critical aspect of achieving the ultimate goal of repeat, loyal customers. Not all whey proteins perform the way you want them to. Some result in a cloudy, unappetizing appearance, while others exhibit and "off" taste and don't allow innovative flavor profiles to shine through.
We often speak with food and beverage formulators who have had disappointing results after trying numerous whey protein isolate products from various ingredient suppliers. Many of them have now come to rely on Grande Ultra® whey protein isolate as a solution. Grande Ultra WPI overcomes the challenges of lower pH levels, has a long shelf life, is highly nutritional and allows their desired flavor profiles to remain the star of the show. And, because it's all-natural without any chemical modification and has a strong chain of custody, it complies with clean label initiatives.
Sometimes seeing is believing. Check out the side-by-side comparison study below highlighting how two of the leading WPI brands on the market stack up against Grande Ultra. Grande Custom Ingredients Group works with major food and beverage manufacturers to overcome their formulation challenges in a variety of applications and improve their bottom lines. Their food technologists are eager to help you improve your product and help differentiate it in the growing clear protein beverage market. Contact them today.