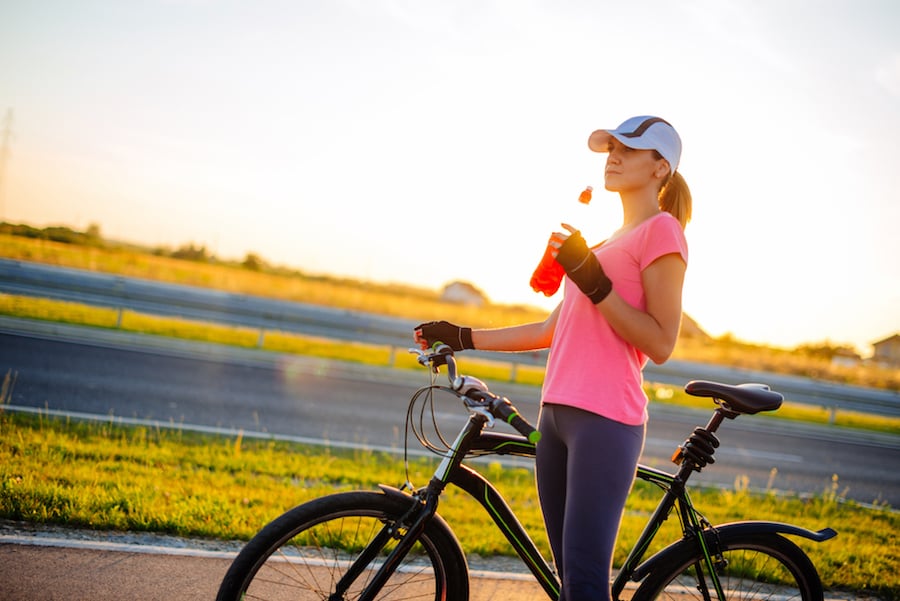 Consumers continue to seek out health-conscious foods and beverages in droves. In particular, they've replaced sugary sodas with non-carbonated better-for-you beverages. In the wake of highly publicized reports linking soda consumption to weight gain, some major metropolises pursued banning large serving sizes of the maligned sugary drinks.

Not surprisingly, the negative media attention combined with consumer preferences for healthier and wholesome alternatives resulted in a steady decline in the U.S. carbonated soft drinks market since 2007. Forecasts through 2022 show the decline slowing, but declining nonetheless.

Efforts to Combat Downward Soft Drink Market
To combat the downward trend, the food and beverage industry is responding with smaller package sizes, offering a solution for those who still like soft drinks but want to consume less. A significant segment of consumers, however, have cut out sugary beverages all together and have shifted their preferences to lower-calorie, protein-rich beverages. Not only do they quench thirst and satisfy taste buds, they improve nutrition and provide added health benefits.
RELATED: How one beverage manufacturer maintained flavor & clarity in a sports drink
Even though traditional soft drinks are considered relatively economical, their price point isn't helping drive sales. Nearly three out of four respondents said they're willing to pay more for healthier products. Among the most sought after health-focused products are those containing ingredients rich in protein, calcium, fiber and vitamins.

While the words "protein-enriched beverages" might conjure up images of athletes drinking workout shakes, today's protein beverages appeal to a wide range of audiences outside the sports nutrition realm, especially those pursuing general health or weight loss. Some experts suggest that counting your protein intake is as important as counting calories, citing scientific studies showing that protein may aid weight loss while retaining muscle. Protein is also known to have anti-aging health benefits – among many others.
Protein Beverage Formulation Challenges
Along with increased demand for protein in ready-to-drink (RTD) beverages comes a challenge: not all protein sources work well in beverage applications. Though there might be hundreds of different protein fortifiers to choose from, each protein source will provide a different taste, texture, and protein quality.
There has been an onslaught of plant-based proteins on the market, but the dark side of the plant-based trend is slowly coming to light as it disrupts food production supply chains and puts many smaller producers at risk. Additionally, plant proteins struggle to pack the same punch as whey protein when it comes to protein levels, quality and cost efficiency.
Those concerned with nutrition understand that whey protein is a complete protein source and contains all nine essential amino acids, including branched chain amino acids. It's also been shown to boost the immune system and support detoxification.
Looking at the chart below, you can see how different each protein source really is:
When it comes to texture, the type of protein used in a chocolate shake or fruit smoothie, for example, could include a whey protein isolate (WPI) or dried yogurt powder to provide the rich, creamy consistency consumers crave. In fact, drinkable yogurt is a growing breakfast trend.

However, protein beverage formulations that require clarity, such as many of today's sports drinks, need careful consideration when it comes to the use of protein. The majority of commodity WPIs or plant-based proteins fail to provide the crystal clear results that consumers desire.

Adding to the challenge is that many of today's trending flavors span the spectrum of taste sensations; they're either tangy and acidic or sweet and savory, resulting in a wide pH range. Under these conditions, many protein ingredients result in significant turbidity or sediment.

Watch our side-by-side comparison video: Grande Ultra vs. Commodity Whey
A Clear Solution
For food and beverage companies that want to enter the better-for-you beverage market by adding a protein boost to their beverage formulation, our Grande Ultra® whey protein isolate is the perfect solution. Not only is whey protein the highest-quality protein source available, but its clean, neutral flavor offers the best balance of taste and clarity, all at a cost savings compared to many alternative proteins.

And because of our patented production process, Grande Ultra WPI is an industry leader in clarity and flavor across a wide pH range – making it the ideal fortifier for clear beverage applications. See how it compares to leading competitors: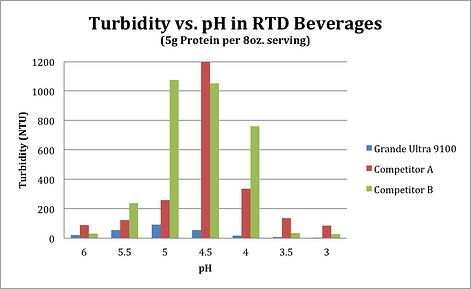 To find out why our whey protein products are the perfect solution for formulating protein-rich RTD beverages, and how they stack up against others, view our taste test study results by clicking the link below, or talk to one of our food scientists today!