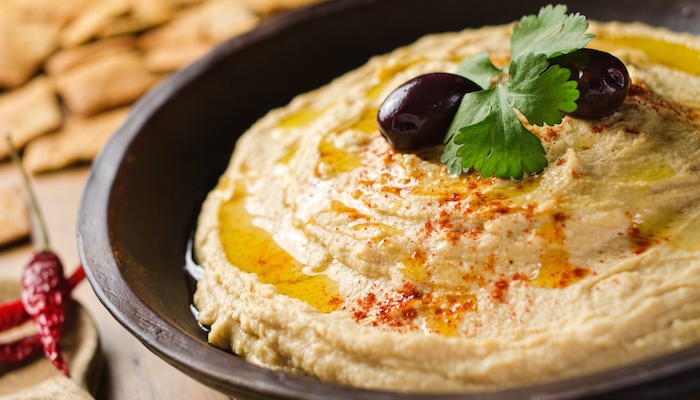 Yogurt has long been a go-to ingredient for many manufacturers and the category has consistently grown year over year. Capitalizing on the trend is both popular and challenging for manufacturers — popular because including the word "yogurt" on a label implies certain healthful benefits that appeal to consumers, but challenging because using fresh yogurt introduces a host of complications: special permitting, a limited shelf life and even some risk of product contamination.

Enter dried yogurt powder (like Grande Primo™ Dried Yogurt) — dried, real yogurt that produces all the authentic taste and creamy texture consumers seek without the labeling headaches. We've previously explored how Grande Primo revolutionized yogurt dips, salad dressings, bakery, beverages and soups (check out the blog here); however, in the trends-driven food industry, manufacturers continue to capitalize on the versatility of dried yogurt powder for innovative yogurt solutions and applications, including:
Hummus with Greek yogurt in the recipe, which cuts fat in half and calories by almost a third, without bumping down the tahini or oil. Maintaining taste and texture is a value-add in itself, and using dried yogurt powder with Greek yogurt properties increases shelf stability making this popular dip even more appealing.
Baby food with dried yogurt powder as an ingredient promotes healthful parental food choices while simultaneously negating contamination concerns that live cultures can raise.
Frozen and drinkable yogurt containing dried yogurt powder behave in much the same way as those using active cultures. In a taste test, consumers pointed out that mildly flavored dried yogurt powder was particularly effective in beverage applications due to its mild taste and more natural dairy aroma.
Gourmet desserts and entrees are perennial consumer favorites, and using dried yogurt powder allows bakers and chefs a convenient way to incorporate a tangy yogurt flavor profile in novel and sometimes unexpected ways.
Cereal add-ins like yogurt-covered granola clusters expand better-for-you cereal benefits since yogurt powders used in non-dairy food formulations adopt yogurt's nutritive protein and calcium, not to mention yogurt's reputation as a healthy choice.
Meal replacement bars are commonly associated with physical fitness and dieting, so dried yogurt powder is a good ingredient fit since it delivers high calcium plus energy-boosting carbs, sugars and protein in a dry, low-fat mix-in.
Salad Dressings that contain yogurt continue to grow as consumers enjoy the great taste that yogurt brings into salads. Grande Primo Dried yogurt powders can be used to substitute for fresh yogurt or replace the eggs in salad dressing because of the flavor and functionality.
Dried yogurt powder is an extremely versatile version of whey protein that offers unique product properties that benefit manufacturers and consumers alike. For more about the convenience and cost-effectiveness of Grande Primo watch our short video, Grande Primo: Shelf-Stable Alternatives to Fresh Yogurt. Just click the button below!