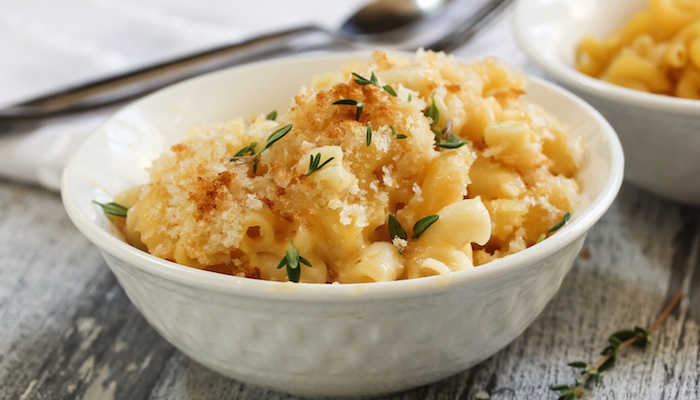 Classic American comfort foods that were once shunned for their poor nutritional profiles have risen in popularity. Still, consumers remain on the lookout for healthier food options – even in the midst of changing eating patterns and buying behaviors due to recent events.
When given the choice between a traditional comfort food and a healthier alternative, consumers are torn. They want the nutritional benefits of lower fat, calories and sodium, but don't want to give up the "comfort" of satisfying flavors and rich, creamy textures.
Now, more than ever, food manufacturers feel the pressure to produce more healthful offerings of the classic dishes that are staples in American diets. And whey protein concentrate proves to be an ideal, all-natural alternative for many of the high-fat, high-calorie ingredients used in these applications.
American Comfort Foods Ideal for Whey Protein
From velvety mac and cheese to hearty dips and spreads or a creamy soup and Caesar salad, there's no shortage of classic American comfort foods that consumers crave. Let's not forget a creamy gravy atop mashed potatoes or dessert, from decadent cheesecake to chocolate chip cookies. But people concerned about their health prefer lower-fat, guilt-free varieties of these and other classic American eats they know and love.
There are several types of whey protein concentrate that can improve nutrition and be used as an alternative to fresh cream, butter, eggs, cream cheese, sour cream, yogurt and even processed cheese in creamy applications, including:
Appetizer fillings
Soups and gravies
Cheese sauces
Dressings
Baked goods
Frozen desserts and ice cream
And more
Let's take a look at two alternative ingredients to consider in your supply chain, how they improve nutrition, and where they're best suited in various applications.
RELATED: How is Whey Protein Concentrate Made?
Grande Gusto® Natural Cheese Replacement
Grande Gusto is a natural product resulting from the cheese-making process. It has less lactose content than traditional whey, contributing to its savory flavor that's perfect for cheesy formulas.
This all-natural cheese replacement improves nutrition and actually scores higher than real cheese in controlled studies for flavor, creaminess and overall appeal. It's not only flavorful; it's familiar.
In one Mac & Cheese side-by-side comparison with Grande Gusto and a control, there was a marked reduction in sodium, fat and calories (3 of the top 4 consumers monitor for intake). When 38% of the American cheese in the formulation was replaced with Gusto, the results were surprising:
11% fewer calories

17% reduction in fat
9% less sodium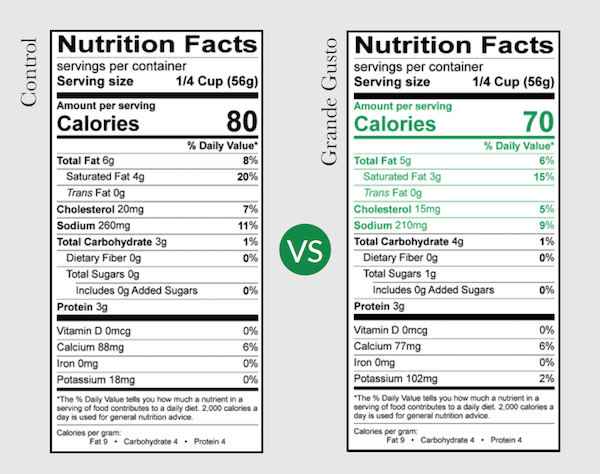 Grande Bravo® Functional Whey Protein
As a high-quality whey protein concentrate, Grande Bravo functional whey protein serves as a substitute for the expensive, high-fat dairy ingredients like cream and butter often found in classic American eats. By using an exclusive production process at our state-of-the-art whey processing facility, we're able to create a unique functional whey protein concentrate that is very different from any other commodity protein powders.
Grande Bravo is formulated to fit a variety of flavor profiles, pH levels and textures. Rather than having a "one-size-fits-all" whey protein concentrate, your original product can be matched to the Grande Bravo formulation that best matches its original taste, appearance and texture. By doing this, food producers benefit from a lower-cost, lower-calorie alternative that doesn't miss the mark on the product's mouthfeel and taste like other low-fat foods.
Take a look at this before and after, for example: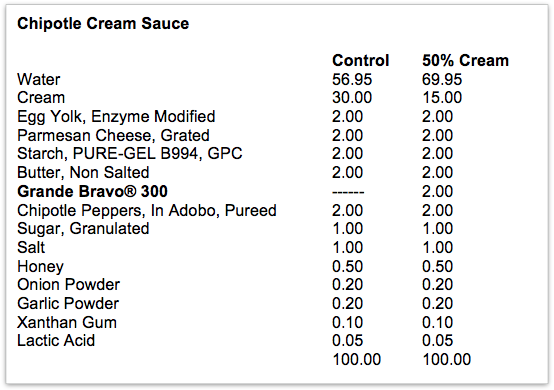 After taking this original formulation of chipotle cream sauce and adding Grande Bravo 300, its nutritional characteristics improved greatly. Not only were cream costs cut in half, but calories were reduced by 28%, fat was reduced by 44%, and the amount of protein doubled.
Grande PrimoTM Yogurt and Cultured Dairy Products
Many desserts, frozen treats, baked goods and dressings benefit from the slightly tart flavor profile of yogurt, but fresh yogurt is expensive, requires additional handling and refrigeration, and has a short shelf life.
Grande Primo is a dried yogurt product that is shelf stable and is available in several flavor profiles including regular and Greek yogurt. The benefits of incorporating dried yogurt into an application go beyond enhanced flavor and mouthfeel; it's also highly nutritious and increases satiety.
RELATED: Guide to Reformulating with Dried Greek Yogurt
Dried Greek yogurt in particular boasts a high protein content, yet is low in fat, sugar and lactose, making it easily digestible and low in calories. As with all Grande Custom Ingredients Group products, it's all-natural, making it ideal for food and beverage manufacturers that want to comply with clean-label initiatives.
There are many more reasons to use whey protein in your applications. Check out the helpful guide below to learn more. To discuss specific challenges and how various forms of whey protein and dried yogurt can be part of a cost-effective, nutritious and flavorful alternative to your consumer's favorite American eats, talk to our food scientists or visit our online applications page today.