According to a recent food & health survey from the 2013 International Food Information Council (IFIC), 57% of consumers say they're trying to get a certain amount or eat more protein. Pair that with the findings from consumer market research firm, NPD Group, and it's obvious that Americans are looking to add more protein to their diets – and we're not just talking about eating more chicken.
After surveying 2,211 U.S. primary grocery shoppers, research revealed that nearly 25% of consumers list protein as a primary nutrition fact they look for on a product's label – a 32% increase from 5 years ago.
"What do you usually look for on the Nutrition Facts label?"
Percentage of Adults Saying 'Protein'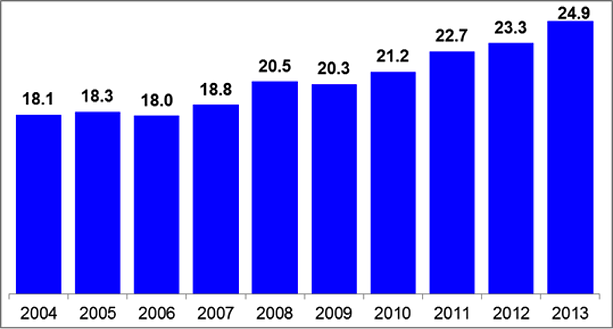 In addition, when asked about which protein source was the best, meat or non-meat, consumers were just about split in half. This suggests that many consumers are trying to look beyond meat to in order to satisfy other health-related goals. Not only that, but animal meat is typically more expensive than non-meat protein foods, so consumers are enjoying the additional cost savings benefits of alternate protein sources.
To help satisfy consumers' desire for more protein, food producers are highlighting protein more prominently on their labels, as well as promoting its health benefits for different consumer groups. Whether consumers are looking for more energy or want to maintain weight and lean muscle mass, just about every demographic has found a reason to hop onboard the protein bandwagon – and food marketers everywhere have caught on as well.
At Grande, we've known about whey protein's incredible benefits for more many years! With so many years of experience perfecting our processes and refining our ingredients, today we're proud to offer 4 high-quality whey protein product lines – each specialized for a different functionality. Whether you're looking to fortify a sports drink with more protein or create a low-fat, protein-enriched snack, Grande has the whey protein solutions that will maintain your original product's great taste and appearance, all while reducing costs and calories, and of course, boosting its protein content.
Grande Ultra® Whey Protein Isolate (WPI)
If you're looking to add a protein boost to your sports drink or nutritional shake, Grande Ultra is the perfect solution. Containing the highest levels of essential amino acids, our whey protein isolate helps provide the perfect solution for consumers looking to refuel after a workout or manage their weight. In addition to all of its nutritional benefits, our specially produced isolate is an industry leader in taste and turbidity. This allows you to create a drink that's fortified with protein, while achieving a clean, neutral flavor and best clarity available over a wide pH range. To learn more about how Ultra can help add a protein boost to your sports drink, fruit drink, or nutritional supplement, click here.
Grande WPCrisp® Whey Protein Crisp
Looking for a crispy protein boost for your crunchy snack product? We've got just what you're looking for. Our whey protein crisps deliver a high-quality source of whey protein and can be seasoned, coated, or mixed with other ingredients for use in snack bars and other products. Because whey protein is the best available protein source, these crisps can be used as a substitute for soy, corn, or rice crips that don't offer as much protein. To learn how WPCrisp can add a crunchy, protein boost to your company's nutrition bars, snack mixes, and cereals, click here.
Grande Bravo®
Grande Bravo is a functional whey protein concentrate designed to replace high-fat, high-cost dairy ingredients such as cream, butter, fat, and cream cheese, while maintaining the original product's taste and mouthfeel. Rather than creating a one-size-fits-all concentrate, our exclusive production process allows us to create different flavor profiles to better match your original product's taste and texture. To learn more about how Bravo can help you create lower-cost, lower-fat dressings, sauces, dips, and desserts, click here.
Grande® Grade A Yogurt Powder
In today's market, more and more consumers are looking to yogurt products for their tasty, low-fat benefits. Whether it's used as a coating in snacks and bars, a base for smoothies or dips, or you simply want to add that yogurt taste without the perishability of fresh yogurt, our yogurt powder gives products a rich, creamy mouthfeel and slightly tart flavor that consumers love. Plus, Grande's yogurt powder is made with real yogurt cultures! To learn more about how our Grade A Yogurt Powder can help reduce fat, and improve texture and taste in your dips, dressings, frozen desserts, and smoothies, click here.
For more information about these products can help lower costs and improve your products' nutrition, please talk to one of our food scientists today!