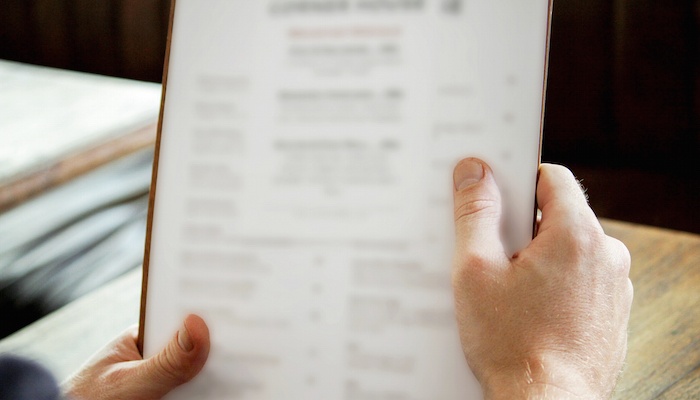 Last month, the Food and Drug Administration (FDA) released its final guidelines on menu labeling requirements for chain restaurants—a move that's been over 6 years in the making. This means, starting on May 5, 2017, chain restaurants with more than 20 locations will be required to display food and beverage calorie counts on their menus, but restaurant owners will have until then to determine the exact nutrition information and make the necessary adjustments to their displays.
For some restaurants, displaying these calorie counts on their menus is nothing new, as health-conscious consumers have been asking for this change for years. For other restaurants, however, being so open about their nutrition information can seem pretty daunting. For one, just finding the space to add any calorie information to the menu can be difficult, as most menus are already crowded with names, descriptions, prices, pictures, and more. Sometimes it's as easy as simply adding some text in an open space, but other instances might require a little more redesigning (which might not be a bad thing if you also redesign your menu to include a "Healthy Options" area).
In addition to possible menu redesigns, restaurants who don't currently list their calorie information will also have to figure out the exact calories of their offerings, and then decide which items are fit to stay, which need to be healthier, or which just don't fit the menu at all. For example, if most of your options are below 750 calories, an item that's a whopping 1,500 calories just might not be a good fit, or might give your restaurant an unhealthy reputation. More than 66% of consumers say it's important that restaurants have healthier choices today, after all, and consumers are well aware of lists like the Top 10 Most Unhealthy Fast Food Chains in America.
Thankfully, restaurant owners still have plenty of time to figure things out before the regulations go into effect next year, but it's important to get started right away to ensure everything is ready by the deadline. Especially when it comes to figuring out which menu items need to be reformulated, you want to make sure you aren't left with any last second reformulations next April, and reformulating early will give you plenty of time to perfect the taste, texture, and appearance of your food, while also ensuring that it meets certain nutrition requirements.
For restaurant chains that are looking to reduce the fat and calories of their offerings, while still maintaining the same great taste and texture as the original, full-calorie versions, natural whey protein products like the ones from Grande Custom Ingredients Group are the perfect replacement for high-fat, high-cost ingredients. Products like our Grande Bravo® functional whey protein can be used as a substitute for high-calorie ingredients like milk, butter, eggs, cream and cream cheese, and can be used in a wide-variety of applications, including sauces, dressings, soups, baked goods, and frozen desserts. It's a great "whey" to show customers how committed you are to providing healthy menu items, as whey protein can not only reduce the fat and calories of your offerings, but can also clean up your label as a single, natural ingredient.
Want to see how whey protein can help improve your menu nutrition and demand for your offerings? Talk to our food scientist experts today and download our Nutritional Applications Brochure!