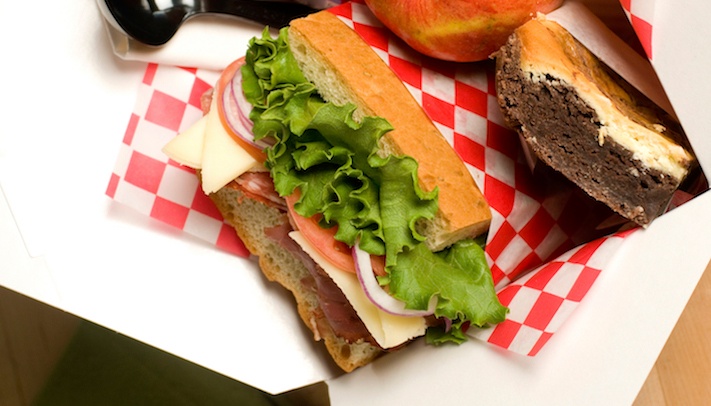 When most people think of boxed lunches, they're taken back to their elementary school days in the cafeteria. Today, however, quick-service restaurants and caterers are offering pre-made boxed lunches to satisfy the needs of their busy, on-the-go customers who want something different than what a drive-thru has to offer.
Most of the time, these boxed lunches consist of a main food item—usually a sandwich or salad—as well as several sides like a granola bar, cookie, chips, soup, or fruits and vegetables. They aren't too different from the lunches everyone used to eat as a kid; these are just simply a little more grown up.
Part of what makes boxed lunches so popular these days is that they're typically one of the lowest-calorie on-the-go options consumers can find, compared to ordering pizza or visiting the drive-thru at a fast-food joint. By emphasizing the use of healthy fruits and vegetables, as well as natural, good-for-you ingredients in your boxed lunches, restaurant operators can give consumers a light, nutritious, and convenient lunch option that also tastes great.
How Grande Custom Ingredients Group Can Help
For those who want to take advantage of this new trend, Grande Custom Ingredients Group has a line of high-quality whey protein ingredients that can enhance the eating quality and nutrition of many of the products found in boxed lunches. Given its excellent nutrition and versatility, whey protein provides the ideal opportunity for food formulators who are looking to make products that will be consistent in terms of quality, nutrition, and cost, and as Innovators of Dairy-Based Food Ingredients™, our natural whey protein products are some of the best in the industry!
Grande Bravo® whey protein concentrate, for example, allows for the replacement of several high-fat, high-cost dairy ingredients (e.g., fat, butter, cream, cream cheese, etc.), while maintaining and even enhancing a product's taste, texture, and mouthfeel. Bravo can be used in dressings, soups, sauces, or dips, helping improve the nutrition of the sides in your box. Likewise, Grande Primo™ dried yogurt and cultured dairy products can provide the taste and texture of fresh yogurt, without any of the handling, perishability, or cost concerns; making it perfect for a coating on a granola bar or in a RTD smoothie. Grande WPCrisp® whey protein crisps add a crunchy protein boost to applications with a clean, neutral flavor that won't disrupt an original applications intended taste, making it ideal to use in a dessert bar or a high-protein cookie.
Want to learn more about how our whey protein products can help improve your boxed lunch offerings? Download our free Nutritional Brochure to see a breakdown of our products, their applications, and the results you can achieve with them.