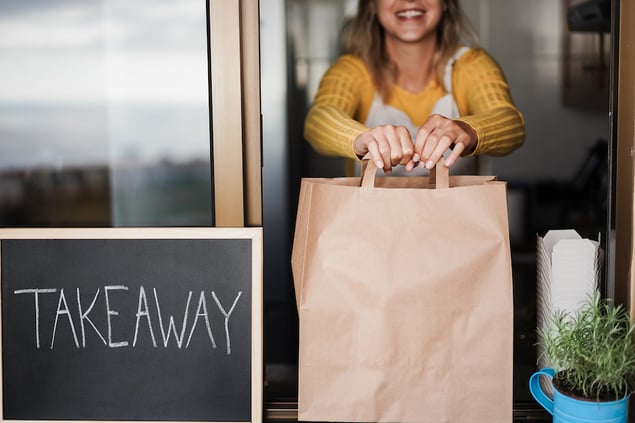 Every fall, foodies and leaders in the food industry release their predictions on next year's food trends. Often, these food and flavor trends offer little value to the average food and beverage manufacturer because of their inability to scale for the masses.
While exotic ingredients and sensational flavor profiles in food and drink may make for click-worthy headlines, they're often impractical for the average consumer who simply wants a satisfying meal or snack at a price point they can afford.
The pandemic's influence on food trends for 2022 is expected to persist. We've gathered the data, researched what other influencers in the food and beverage industry are saying, and added our own conclusions to give you our take.
Top 2022 trends in the food and beverage industry:
1. Experiential Dining
Outdoor dining, beer gardens, prepackaged meals from convenience stores or grocers, and limited menu offerings help patrons go beyond microwave meals. These types of foodservice models allow consumers to get out of the kitchen while remaining in a safe setting, which is still a top priority for many.
While already a trend in the sense that people have adopted food delivery and takeout, these actions will become a regular habit in 2022, allowing patrons to create their own experience at home. Restaurant chains that had the foresight to offer delivery options and contactless pick-up prior to the onset of the pandemic have had an upper hand.
2. Ghost Kitchens Thrive, Buffets Struggle
Ghost kitchens, a restaurant concept without a public location for patrons to dine or pick up orders, are modeled entirely on the delivery concept. Operators establish a brand and menu, then promote their openings on social media and elsewhere. They typically rent kitchen facilities to prepare their meals and register with popular delivery apps in hopes of getting orders.
Of concern to the restaurant industry are those business models built around the buffet line. Several self-serve buffet restaurants have filed for bankruptcy in the past year while others have shut down a number of their locations. Whether those that remain will be able to ride out the virus is one thing; whether skittish patrons will return afterwards is another.
3. Immune-Boosting Foods
Not surprisingly, foods that have immune-boosting claims are popping up everywhere. Even products that were mainstays for years are modifying their packaging to call out potential immune-boosting ingredients or nutrients, such as vitamins A, C and D, protein and others.
Foods that naturally contain these types of ingredients without modification are more appealing to consumers. Whey protein, for example, contains all nine essential amino acids to enhance immune system function. Leveraging the benefits of whey protein in formulations will improve nutrition, flavor, texture and functionality.
4. Meal Kits
Related to the food delivery trend is a surge in subscription meal kits. The COVID-19 pandemic helped the market for "meals in a box" rebound when millions of Americans found themselves under stay-at-home orders with more time on their hands to prepare meals. Seeing how other food delivery services have flourished may have given consumers more confidence in the meal kit subscription model which one in five consumers say they've tried.
Meal kit companies will offer a broader range of options to customers, from traditional comfort foods, to ethnically inspired dishes, to those that cater to alternative diets such as gluten-free, Paleo, Keto and others.
5. Food Transparency
Where food is sourced is increasingly of interest to consumers, and they're catching on to marketing messages and labeling practices that conveniently omit certain information. As an example, while a label may state that a food product is manufactured in the U.S., the ingredients may actually be imported from other countries, not all of which uphold the strict food safety regulations that have been established stateside.
Consumers want to know where their food comes from, how it was produced and how it was sourced, making ingredient transparency and a strict chain of custody more important than ever.
6. Upcycled and Sustainable Ingredients
Even though consumer interest in upcycled ingredients is relatively low, business interest increased 162% in 2020, showing the food industry's proactive approach to sustainability. Once consumers are educated about the topic, 80% said they would consider purchasing upcycled ingredient products.
Not only do consumers want to know where their food comes from; they also want to know its impact on the environment and whether it contributes to climate change. These concerns are leading some consumers to reach for renewable food sources like grains, legumes and even algae and seaweed. Foods that help reduce waste are also on trend, including using misshapen fruits and vegetables that aren't Instagram-worthy in appearance.
On the forefront of upcycled food initiatives is the production of whey protein concentrates. Powdered whey protein is an upcycled and sustainable food ingredient sought after by consumers, especially those on Keto and other trending diets. At one time, whey was discarded as part of the cheesemaking process, but is now upcycled into functional and nutritious ingredients for soups, sauces, dressings, meal replacement bars, protein supplements, beverages and more.
Not to be forgotten is sustainable packaging. Food companies are moving from plastic and composites to paper and mono-materials, with many brands aiming to produce 100% recyclable or reusable packaging by 2025.
7. Reduced Sodium and Sugar
Remember when clean labels were a trend? The clean label trend doesn't get as much air time these days because it's become the expectation. Consumers are now scrutinizing the health benefits of two of those clean label ingredients, in particular.
While salt and sugar are recognizable and generally considered all-natural, excessive amounts of these two ingredients are a red flag for consumers. Low-sodium formulations that still taste great and those that contain reduced sugar will have an upper hand.
8. Classic Flavor Combinations
Each year, there are some radical or exotic flavor trends that make the list. Not surprisingly, most fade as quickly as they burst on the scene. Foods that feature the fifth flavor sensation of umami, however, have been on trend for a few years. Now, innovative chefs are trending toward combining those full-bodied, satisfyingly rich notes of umami with sweet and tangy flavor profiles such as citrus.
Expect to spice things up in 2022, with hot chile peppers and other exotic, global flavors. Spicy sauces, mustards and other condiments will accompany entrees, all with a hint of sweetness from honey.
While some exotic flavors may make their mark, without question, consumers are creatures of comfort and reach for the familiar. That was never more true than during the pandemic when classic comfort foods like soups, savory snacks and mac and cheese were among the favorites.
9. Return to Traditional Proteins
The plant-based food trend isn't necessarily going anywhere, but those who were meat-eaters and wanted to try plant-based proteins will return to their traditional steaks and burgers. Traditionalists and average consumers on a budget don't want to sacrifice flavor, texture and the sensory pleasures of eating.
Perhaps as plant proteins continue to improve, they'll try them again in the future. They'll have a long, uphill battle to gain market share against one of the world's leading high-protein ingredients — whey protein isolate — used in protein bars and nutritional products.
Undeniably, plant-based proteins are growing in popularity as an alternative to meat, but the latest research shows that whey protein is growing its market share in stride. Whether plant-based bacon will convince consumers of its virtues over the real thing is yet to be seen.
10. Continued Supply Chain Disruption
On the heels of major supply chain and distribution channel disruptions that began in spring 2020, some concern remains. In addition to reduced availability of some types of produce, meat production challenges may continue to be hampered by the ongoing and potential after-effects of COVID-19. Although supplies of these products are returning to normal, the availability of skilled labor is still lacking. This could present a challenge to already stressed restaurants and retailers.
Take-Aways for Food and Beverage Innovations
Ensuring availability of wholesome and flavorful ingredients that align with consumer demand is a top priority. As producers of functional whey protein ingredients, Grande Custom Ingredients Group can ensure its products are ethically sourced and manufactured right here in the United States under a strict chain of custody. Consider how the following dried whey protein products can improve nutrition, flavor and cost savings in your formulations:
Request a sample of any of these whey protein products and discuss how to incorporate them into your application and food system. Contact us today. Also check out our guide below illustrating additional reasons to use whey protein.