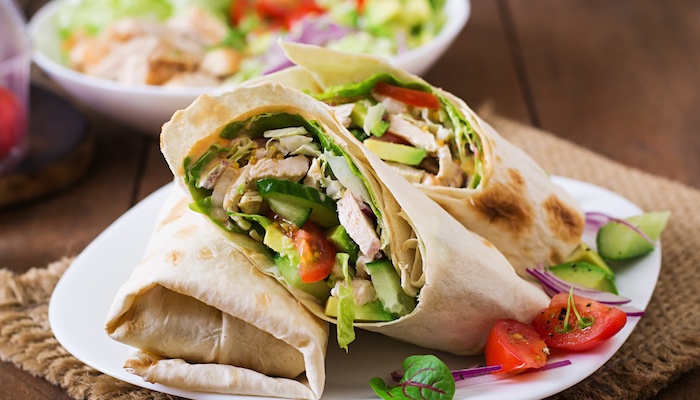 Fast-casual restaurants continue to appeal to consumers for their seemingly ideal balance of convenience and quality. They typically offer healthier ingredients and more novelty menu items than typical fast food restaurants, with a slightly more personalized, sit-down dining experience.

Customers are willing to pay more for that quality experience, too — 25% more, according to one study. While the blazing fast increase in the number of fast casual dining establishments has leveled off in recent years, the industry still represents a significant market share and is expected to remain strong.
To help your fast-casual stand out in what's become an increasingly competitive market, here are five trends restaurants should consider to keep up with consumer demands in 2020 (and beyond).


1. Limited Time Offerings
Restaurants have their staple menu items, but many in the industry leverage seasonal offerings to entice customers and increase sales. Whether it's a pumpkin spiced dessert in autumn or a fresh summer salad with a strawberry vinaigrette dressing, limited offers create a sense of urgency among patrons.

Limited time offers and add-on sales have helped many restaurants experience unit growth despite lower guest traffic. Giving customers reasons to stop by their restaurant locations is increasingly challenging as online ordering and food delivery services like Uber Eats increase. In-store-only specials help improve the perception of value and allow restaurant owners to test products and get real-time feedback. A key is to ensure those limited-time products are supported with effective promotions on social media, are at an attractive price point and have a novelty factor featuring unique ingredients that pique the interest of adventurous consumers.
2. Local Sourcing & Community Involvement
While it's sometimes harder for national chains to encourage autonomy at each of its locations, many see the value of personalization at individual restaurants. Whether it's encouraging community involvement, supporting the local high school sports team, setting up a local social media page or featuring regional food items on menus, restaurants need to find ways to engage patrons in their communities to win their loyalties. Similarly, more and more regional fast-casual chains are starting to offer locally-sourced menu items to further their appeal and support local economies. Today's consumers want transparency, especially when it comes to where their food comes from, and the closer to home you can get, the happier they are knowing it didn't travel halfway across the country to end up on their plates.

RELATED: Getting to Know the Clean Label Consumer Profile
3. Recruiting & Retaining Talent
Keeping qualified and enthusiastic workers in the restaurant industry has been an ongoing challenge for both quick service and full service restaurants, and it's expected to worsen. Tight profit margins make it difficult for many restaurants to offer competitive wages and benefits, and irregular schedules and demanding work add to the pressures to find and keep long-term employees.

The official Bureau of Labor Statistics turnover rate for the restaurant sector is over 80%, but many in the industry report that it's nearly twice that, reaching 150%. It explains why some restaurants are moving away from providing counter service and adding self-serve kiosks. Some brands are looking for ways to improve company cultures, flexibility, career paths, benefits and industry perceptions to recruit and retain dedicated workers.
4. Technology
In addition to self-serve ordering kiosks, companies are looking for ways to leverage technology to enhance customer experiences and minimize costs. Automation within the industry will become more commonplace, both in the kitchen and front-of-house. But don't expect robots to take over; consumers still value human interaction when dining out, whether for fine dining or a quick bite to eat.

Restaurants will also need to improve their websites and apps, and pay close attention to online reviews. Applications and online ordering tools need to be intuitive for users and load quickly. Voice assistants on mobile devices will recommend restaurants that leverage commonly asked questions, such as, "Hey Siri, where's the best pizza near me?" Ranking in local online search queries is key, and having quickly accessible information regarding local hours, specials, reviews and more will highly influence potential customers.
5. Chef-Driven Menus With Natural Ingredients
As the competition heats up in 2020, having a chef-driven menu can signal that your establishment features higher-quality alternatives to typical fast foods. From ethnic fusion cuisines to build-your-own-pizza bars and everything in between, fast casual concepts with diverse offerings pique the interest of consumers — especially Millennial and Gen X diners. While some restaurants are testing plant-based options, many in the culinary world aren't buying into the meatless craze. Using wholesome, natural ingredients, however, is high on their list of must-haves.

As when shopping in grocery aisles, the demand for consumers to know what is and isn't in their food when dining out is growing. Several chains announced their intentions, for example, to only serve cage-free eggs, and others promised to remove artificial ingredients from their menus. Consumers want more clean ingredients in their food, and it's certainly not too late to start offering those. Doing so will help your menu stand above the competition.
Ingredient Solutions for Fast Casual Restaurants
For fast-casual restaurants looking to take advantage of these trends while also reducing the high-fat, high-cost ingredients found in more traditional fast-casual foods, incorporating whey protein concentrate, like Grande Bravo into your formulations is an ideal solution. Not only is it all natural, but it can also help enhance the mouthfeel and texture of your foods to be just as good as — if not better than — the original formulation. When used as an alternative to fresh eggs, milk, cream and butter, it offers significant cost savings, allowing you to invest in other business initiatives to stay on trend.

Ideal applications for Grande Bravo include soups, dressings, sauces, desserts, baked goods and much more. To learn how you can incorporate more innovative and natural ingredients into your menu, all while reducing costs, make sure to read our How to Improve Your Product's Food Quality — While Reducing Costs whitepaper. Simply click the link below to get your free copy.