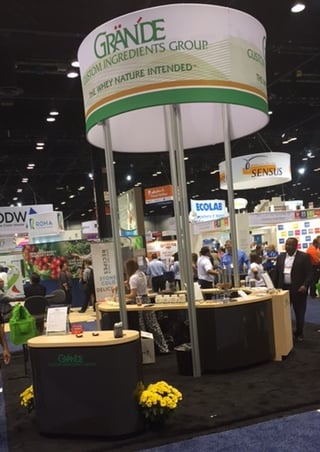 Last week, more than 21,000 food manufacturing and food science professionals gathered in Chicago for IFT16: The Institute of Food Technologists' annual meeting & food expo.
One of the recurring themes of IFT16 was the desire to clean up product labels. This is a trend that continues to demand attention from food and beverage manufacturers, as consumers are increasingly aware of the ingredients that make up the products they're considering purchasing. With the large majority of consumers avoiding preservatives and artificial ingredients, food and beverage manufacturers have to get serious about cleaning up their labels if they want a fair shot at competing on grocery store shelves.
The Grande Custom Ingredients Group team was on hand at the IFT16 expo to showcase our natural whey protein ingredients, which offer a host of benefits – the ability to aid in cleaning up labels among the impressive list. Better yet, reformulating products with whey protein ingredients can be done without any negative implications in terms of taste, appearance, texture, and cost. Our line of proprietary whey protein ingredients offer the ability to achieve a combination of reduced costs, improved texture, and improved nutrition—all while helping food & beverage manufacturers clean up their labels.
Want to learn more about the benefits of using whey protein ingredients? Click the button below for your free copy of our Top 10 Reasons to Use Whey Protein tip sheet!