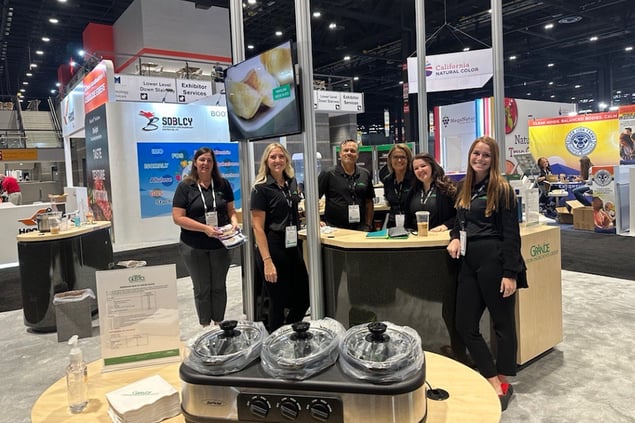 Hundreds of exhibitors lined the halls of the IFT FIRST Annual Event and Expo, held in Chicago July 16–19.
Grande Custom Ingredients was there as an exhibitor and also as a trend watcher to taste and see what ingredients and up-and-coming formulation solutions were being promoted. Here are our top five takeaways from the event.
1. Sustainable, Clean-Label Solutions
While sustainability isn't a new trend, it was a consistent theme throughout the event, both in the expo hall and among speakers. Several start-up companies featured interesting concepts, such as edible and biodegradable packaging. Alternative ingredients such as insect larvae and plant-based products also had a strong presence and shared about their potential sustainability claims.
While a segment of the consumer population may try products that include these niche ingredients, long-term market viability will depend on giving consumers what they truly want. Sustainability and clean-label products are still important to consumers, but flavor, texture, nutrition and a friendly price point are still the main drivers of their purchases. Consumers will try new items, but want the whole package. If products don't live up to their expectations, they'll find something that will, evidenced by the recent slump in plant-based meat alternatives.
An important message being shared at Grande Custom Ingredients Group's booth was that just because something is plant-based or alternative, doesn't automatically mean that it's healthier or more Earth-friendly than dairy-based ingredients like functional whey protein. Many alternative ingredients undergo much more processing and carry a similar carbon footprint as whey protein. Aside from undesirable flavors, textures and price points, one of the reasons the plant-based meat category has struggled is because of labels featuring unrecognizable ingredients.
While not "shiny and new," functional whey proteins continue to reign as sustainable, upcycled ingredients. Derived from the cheesemaking process, they are natural ingredients that undergo zero chemical modifications for taste or color. Grande Custom Ingredients Group will continue to educate formulators and consumers about the sustainable and ethical practices that take place on their dedicated dairy farms and throughout the production process.
2. Alternative Dyes & Sweeteners
The International Agency for Research on Cancer (IARC), the World Health Organization (WHO), and others recently declared that aspartame is "possibly carcinogenic to humans." The FDA, however, "disagrees with IARC's conclusion." This debate is on the heels of concerns about erythritol being linked to blood clotting, stroke, heart attack and death.
Alternative sweeteners and dyes were a popular topic of conversation at IFT FIRST. In addition to the above-mentioned initiatives, California introduced legislation to protect its citizens from food additive chemicals linked to several health conditions, including a higher risk of cancer, behavioral problems, nervous system problems and even DNA damage. Some of these chemicals, particularly titanium dioxide, are common additives in food coloring and sweeteners and are currently banned in the EU.
Formulators are watching these developments closely as the large market could impact their products. Complying with California's pending legislation will mean reformulation of their products nationwide.
3. "Real" Protein Alternatives
If the average consumer walked through the IFT FIRST expo hall, they'd believe that alternative proteins were taking over the world. From algae and pumpkin seeds, to potatoes and insects, numerous booths displayed the "next" big protein.
While protein is trending, the overall message is that most consumers simply want more of it and aren't necessarily concerned about where it comes from. According to Food Navigator, demand for protein of all kinds is growing, with nearly one in three consumers (29%) saying it has become more important.
At IFT, the "gold standard" of alternative proteins, whey protein, held its own as an innovative protein solution that can be used at scale and is readily available. Plus, it delivers the functionality formulators need when it comes to clean flavor, texture, color, sustainability and cost. Those who stopped by the Grande Custom Ingredients Group booth were pleasantly surprised when presented with authentic macaroni and cheese, veggie dip and real meatballs that included whey protein as a flavor and texture enhancer. More importantly, they were pleased with how delicious each product was.
Yes, whey protein is not "new" to the market, but it remains one of the most innovative solutions for formulators who want to improve flavor, texture, nutrition and functionality in a wide variety of products.
Functional whey proteins are highly versatile and can overcome challenges that some formulators haven't thought of. Grande Custom Ingredients Group's goal at IFT FIRST was to demonstrate that tried-and-true ingredients like functional whey protein are just as innovative — if not more — than many up-and-coming alternative proteins. New is not always better, and our ingredients prove that time and again, whether enhancing flavor and texture in a creamy or cheesy sauce, or increasing yield, texture and umami in meat applications.
4. Gut Health & Mood Foods
Wellness continues to be top-of-mind, but many are looking beyond the traditional weight-loss or fitness initiatives and want to improve gut health and mental wellness.
Several booth displays promoted probiotic and prebiotic ingredients, as well as fiber products. Ingredients for naturally promoting energy without caffeine are also on trend, in addition to those that promote relaxation and maintaining focus.
RELATED ARTICLE: Mood Foods — The Next Trend in Food Packaging
5. Beyond Dairy — Applications for Whey Protein
When formulators hear about functional whey protein their first thought is often creamy applications. True, whey protein concentrate and other forms are ideal for creamy soups, sauces, dressings and more.
At IFT FIRST, however, many formulators were surprised to discover several unconventional uses for whey protein, including:
Meat Applications & Meat Seasonings
Grande FestoTM hydrolyzed whey protein helps extend yield in meat applications by as much as 5% without being classified as a filler or binder. It can be incorporated directly into a ground meat application or in a seasoning mix. But that is not its primary benefit. Grande Festo's high mineral content helps bring out the natural umami flavors of meat products, and its moisture retention capabilities result in juicier cooked products by minimizing fat and water loss.
Tomato-based Sauces
Several makers of creamy tomato sauces and soups, such as vodka sauces or creamy tomato basil stopped by the Grande Custom Ingredients Group booth. They hadn't considered how Grande Bravo® whey protein concentrate can provide more functionality. The ingredient is exceptionally clean tasting and doesn't introduce off flavors while helping to hold the sauce together without the separation that is common in cream-based products, offering a more appealing texture and visual appeal conducive to shelf-life extension requirements, especially in frozen applications.
Savory Entrees & Snacks
Another featured ingredient at IFT FIRST was Grande Gusto® reduced lactose whey which partially replaces fresh, processed or powdered cheeses. While macaroni and cheese and nacho cheese sauces are a natural fit, formulators were interested in how it could be incorporated into side dishes such as creamy rice and pasta sauces or fillings, snacks and baked goods that need a great cheese flavor and bite.
Contact our Team of Innovators
While start-up companies and newly introduced ingredient alternatives get a lot of attention at food industry expos, formulators often gravitate toward ingredient solutions that can ensure consistent supplies for years to come and who also have a team of innovative problem solvers.
At Grande Custom Ingredients Group, we've helped hundreds of formulators solve their toughest challenges with clean-label ingredients that can help sustain the planet and their profit margins. Contact our team of specialists today to learn how our team and ingredients can help you.