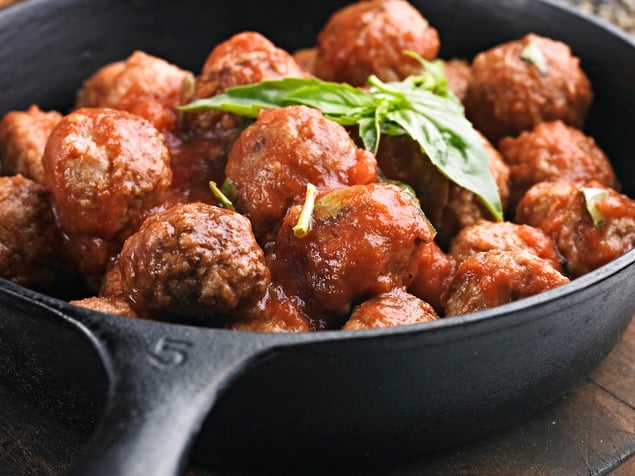 Consumers are returning to real, juicy meat products in droves. The novelty of meat alternatives has worn off for many who admit they've tried them but aren't eager to make repeat purchases. In fact, plant-based meat sales fell by 12% overall in 2022. Ground plant-based meat sales dropped nearly 20%, and patties were down 30%. One popular meat alternative brand saw its stock plummet by a staggering 77%.
Why? Turns out that alternatives lack one thing that real meat lovers crave…
Flavor.
But that's not all, high-quality meat products also offer savory textures and can more easily comply with clean label initiatives compared to highly processed alternatives. Furthermore, real meat burgers and similar products tend to be significantly less expensive.
All that said, formulating natural burgers, sausages, meatballs and other popular meat items comes with its own set of challenges. As consumers return to real meat, formulators will need to deliver an outstanding eating experience.
Umami Flavor
In an independent DATASSENTIAL survey of more than 1,500 consumers and 400 operators that eat or purchase a premium sausage meat dish, nearly four in 10 (37%) associate "high quality" with savory flavor and juicy texture.
Umami flavors and juiciness in ground meat applications are often compromised during preparation, when fat purge occurs. Without the addition of moisture-retaining ingredients, most will result in either a dry or chewy consistency. Formulators will sometimes use fillers or binders to combat moisture and fat loss, but they fail to deliver great flavor and often require masking agents.
Retaining moisture and fat in meat applications is the key to savory flavors and a juicy, tender bite. Fortunately, consumers are more accepting of fat content in meat applications than other types of entrees.
Grande Custom Ingredients Group offers an all-in-one, proprietary solution that appeals to consumers significantly more than fibers, binders and other competing ingredients. Grande FestoTM is a moisture- and flavor-retaining ingredient that is different from commodity ingredients in that it has a clean, savory flavor. It complements a meat product's natural flavor profile while intensifying the umami notes consumers expect from meat products. It does so without the need for additional masking agents, meaning fewer formulation headaches and fewer SKUs in inventory.
As shown in the results below, a separate independent trained sensory panel compared Grande Festo to the control in a meatball formulation. Grande Festo outperformed the control in every sensory attribute, including aroma, savory flavor, density, juiciness and richness.

Keep it Natural
When attempting to appeal to consumers, some ingredients present additional problems. Fibers and other fillers may be perceived as artificial and might not align with clean-label concerns. In fact, well-informed consumers understand that you can't outsmart nature and often perceive over-processed meat and meat alternatives as "industrial" products.
Consumers remain skeptical of chemical-sounding ingredients and often reject additives classified as fillers or binders. More than half (53%) of survey respondents said they expect high-quality meat products to contain no artificial ingredients or flavors. More than 40% say they don't want preservatives.
Grande Festo is labeled as a hydrolyzed whey protein — a familiar and trusted natural ingredient. It also does not fall under the category of fillers or binders in meat products, adding further appeal.
Provide Value
What's another benefit of delivering natural meat products that taste great? Three out of four (75%) survey respondents said they are willing to pay more for a new sausage concept that is clean label.
It should also be noted that because Grande Festo reduces fat purge in-package and when prepared, it results in higher yield and more saleable volume. As shown in the side-by-side comparison below, Grande Festo's ground meat application has far greater visual appeal, is much juicier and results in significantly higher yield.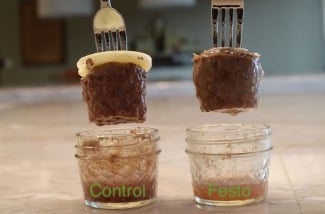 Control vs. Grande Festo
Food producers who deliver a juicier, more flavorful end product will inevitably provide greater value to their customers and capture more market share. Contact our team of ingredient experts today to talk through your meat application challenges, and learn more about this innovative ingredient. Also, check out our Meat Market Trends Webinar sharing the latest data and insights to help you face market headwinds.