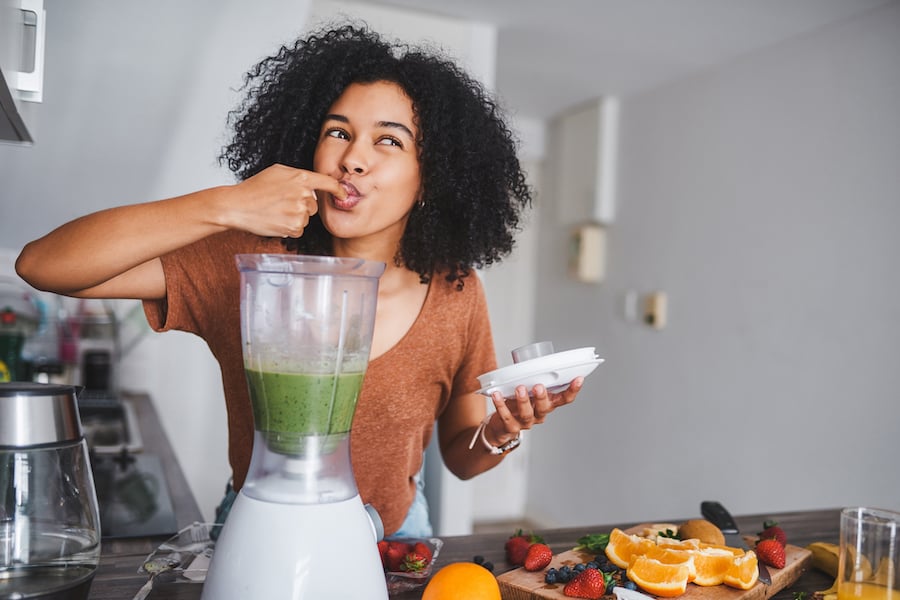 For decades now, there's been a push to improve America's physical health, whether it's the Presidential Physical Fitness Award of the last century or this week's latest diet trend. But in the quest to improve overall physical wellness, some have overlooked an equally important health factor: mental wellness.
The last year of isolation and social unrest has only emphasized the challenges that many individuals face when coping with life's uncertainties. Prior to the pandemic, about one in 10 people reported feelings of anxiety or depression. Mid-pandemic, that number rose alarmingly to more than four in 10.
Consumers are increasingly understanding the importance of a balanced approach to physical and mental wellness and that it's difficult to have one without the other. While the pandemic highlighted the desire for immunity-boosting foods, the food industry is also seeing rapid growth in products claiming mood-boosting properties.
Top Mood-Boosting Foods
While treating persistent depression symptoms should involve a medical and/or mental health professional, pairing treatment with the following natural mood-boosting foods may help.
Herbs
Non-toxic herbs and roots, also known as adaptogens, have been used for centuries in ancient Chinese healing traditions for their stress-reducing and rejuvenating properties. Some examples include ginseng, ashwagandha and holy basil. Other herbs like St. John's wort, saffron, turmeric, lavender and chamomile are also touted for their calming properties.
Many of these plant-based foods are also seen as culinary must-haves for their flavor and umami characteristics. Incorporating them into formulations and promoting them on labels may not only help boost moods, it may also boost sales.
Omega-3 Rich Foods
Research indicates that omega-3 fatty acids may help stabilize moods and play a role in mental wellbeing. A good source of omega-3 is seafood, such as herring, salmon, oysters and sardines. It can also be found in flax seeds, walnuts and chia seeds which are highly sought after by consumers and can be incorporated into numerous formulations.
Foods Containing Amino Acids
Amino acids are a critical factor in the body's production of neurotransmitters, a chemical that's essential for proper brain function and the releasing of dopamine. Low dopamine levels are linked to depression, addiction and a host of mental health disorders. In particular, the amino acid L-Tyrosine is synthesized to produce dopamine. This essential nutrient is found in fish, poultry, nuts and dairy products.
One of the easiest ways to incorporate all the essential amino acids a body needs, including L-Tyrosine, is to introduce whey protein into formulations. Because of its clean flavor profile, versatility and availability in many powdered forms, whey protein is easily incorporated into food systems and ideal for soups, sauces, beverages, snacks, baked goods, frozen entrees and a host of other food products.
Strengthening Food Label Claims
Nutritional product claims on packaging have evolved through the years and contain everything from low fat and reduced sodium, to high protein and immune-boosting properties. Just as important as what is listed on packaging is what isn't. The absence of artificial flavors, bulking agents and chemical-sounding ingredients is still extremely important to clean-label consumers.
In the wake of the pandemic and the increased demand for mood-boosting foods, food producers should look for ways to highlight these ingredients on their packaging. In particular, including whey protein in formulations allow for on-pack claims related to mood-boosting properties.
Whey protein isolate (WPI), such as Grande Ultra®, adds high levels of protein to stress-relieving beverages while Grande WPCrisp® whey protein crisp does the same for crunchy snacks. For soups, entrees, appetizers and many other applications, Grande Bravo® whey protein concentrate adds a nutritional boost. Grande Gusto® with its high calcium levels improves cheesy soups and sauces. Of special note is that calcium has been shown to alleviate sadness, mood swings, anxiety and physical PMS symptoms in women.
The use of these various whey protein products in formulations provides formulators with all-natural ways to include numerous nutritional claims on their products, including mood-boosting properties. Whey protein products also help reduce ingredient costs and improve inventory controls and shelf life when used as a replacement for fresh dairy and eggs.
These are just a few of the reasons to include whey protein in your formulations. Check out additional considerations in our guide below. Please contact our team of food scientists and formulators to help brainstorm ideas and come up with the perfect formulation solution to meet your challenge. Reach out today.