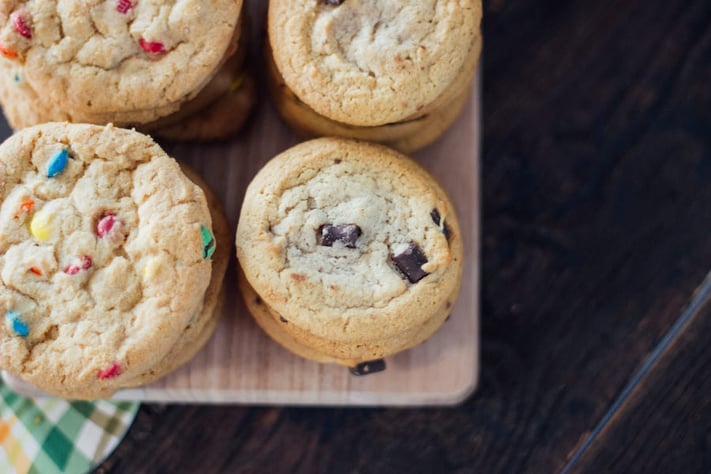 There's no question that today's consumers are seeking out healthier, more natural foods. From lowfat dressings and dips to lowfat desserts, it's hard to go grocery shopping these days without seeing healthier, more natural product variations lining the shelves. In fact, 62% of consumers seek out minimally processed foods while shopping, and 84% of Americans buy "free-from" foods (e.g., gluten-free, sugar-free, fat-free, preservative-free, etc.) because they believe them to be more natural and less processed. Even traditionally sweet and salty foods, like cookies and crackers, are getting a healthy overhaul, but making these sweet and salty snacks healthier isn't exactly easy for manufacturers.
While fitness nuts might find fat-free, whole grain cookies and crackers appealing, most consumers still want their indulgent snacks to be just that: indulging. They're certainly open to the introduction of healthier, more natural ingredients, but overall, they want their sweet and salty snack foods to taste great.
One way food manufacturers can create better-for-you cookie and cracker products is by eliminating artificial ingredients and replacing them with healthier, more natural options. Pepperidge Farm, for example, has announced they'll be eliminating high fructose corn syrup from many of their products by 2017, and will include more natural ingredients in their products. Other big brands like Keebler and The Kellogg Company are also following suit, setting the tone for other competitors in the industry.
As big names in the cookie and cracker category reformulate their products to be healthier and more natural, other manufacturers need to keep pace and offer snacks that can be indulgent without leaving consumers feeling guilty after eating. While this might sound easier said than done, food manufacturers can create healthier, more natural snacks—without sacrificing product quality—by using whey protein as a replacement for high-fat and artificial ingredients. Whey protein is a clean-tasting, versatile ingredient with tons of functional benefits for consumers of all ages, making it the perfect replacement for a long list of applications.
At Grande Custom Ingredients Group, we offer a variety of natural whey protein products that can be used to improve the healthfulness of your cookie and cracker applications, while also maintaining the same great flavor, texture, and appearance as the original formulation.
Grande WPCrisp® Whey Protein Crisps
For food manufacturers looking to add a protein boost and crunchy texture to their cookies, crackers, snack mixes, and other applications, Grande WPCrisp is the ideal solution. Our patented production process ensures that our whey protein crisps are made to the highest level of food safety and quality, and these versatile crisps can be used as a replacement for or in combination with any soy, corn, or rice crisps. Available in 50-70% protein levels, our 60% protein formulation is even available in natural dark cocoa.
Grande Bravo® Functional Whey Protein
Looking to create a formulation of your baked goods and desserts that's lower in fat or ingredient costs? What about a high-quality, safe replacement for eggs? Grande Bravo functional whey proteins are the perfect replacement for high-fat and high-cost ingredients like eggs, butter, cream, milk, and cream cheese. It can even help you remove the egg allergen from your label.
Cookies and crackers are some of the most popular snack options for both kids and adults these days, and shoppers everywhere are looking for the best combination of taste and nutrition. Contact our expert food scientists to learn more about how whey protein can benefit your specific application, and download our WPCrisp Taste & Texture Comparison Study below.