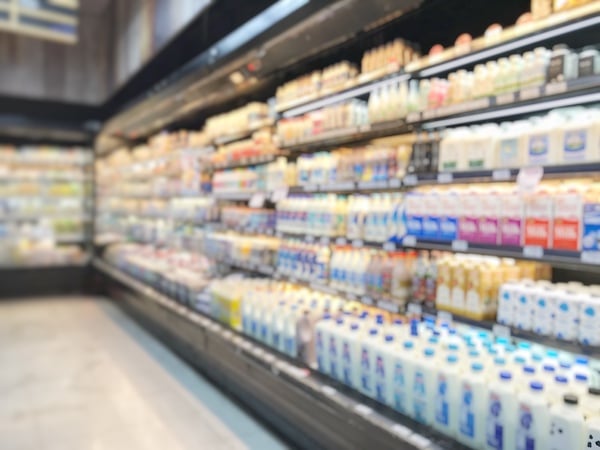 Grocery stores across the country are going to extraordinary measures to keep up with increased demand, ensure cleanliness, and protect the health and wellbeing of their employees and patrons. In addition to healthcare workers, some are touting grocery store clerks, convenience store operators, food service employees and the truckers delivering goods among the heroes working on the front lines, who serve and protect the public with their essential services and products during the pandemic.
Not all in the food industry are thriving, however. Restaurants in multiple states have temporarily shut their doors, ordered to only offer take-out, drive-thru or delivery services to discourage social gatherings and enhance safety measures. Sales have declined rapidly, and the influx of laid-off restaurant workers has contributed to the largest number of unemployment claims in nearly 40 years.
The Coronavirus (COVID-19) outbreak has altered life as we know it and caused consumers to question food safety and handling practices. Perhaps like never before, whether you're a grocer, convenience store operator, restaurant owner or food and beverage manufacturer, maintaining (and earning) customer confidence is of utmost importance.
The Nation's Food Supply Is Strong
Despite some retail shelves being wiped clean, the nation's food supply chain remains strong. Reassurances of this truth from the food and beverage industry are falling on deaf ears for some consumers, however, as reports of panic-buying and stockpiling continue to make the headlines. While the overly anxious consumer response to COVID-19 has caused some shortages, there is, as one New York Times headline stated, "Plenty of Food in the Country."
Bucking recent "fresh is best" trends, sales of non-perishable canned goods and prepackaged foods have surged. Unlike some other commodity markets, the packaged food index has remained relatively strong, with some companies seeing a rise in their stock prices. Food manufacturers and distributors are rising to the challenge of increased demand. Despite temporary stock-outs on shelves, the threat of our country running out of food is implausible.
Safety Measures Need Visible Demonstration
Even when consumers venture out of their homes to obtain food, they're being hypervigilant about their own efforts to reduce contact with viruses or bacteria and are observing the sanitation measures being taken by the establishments they visit. Are grocers wiping down carts, checkout aisles, registers, credit card machines, shelving and other areas that experience frequent human interactions? These are some basic steps that can be taken, but going further helps assure customers.
For example, some grocery stores have courtesy hours for high risk individuals and restrict bring-your-own bag options. Another store owner does a live video walk-through of his store each morning and posts it on social media. It shows employees cleaning surfaces and wearing gloves while stocking shelves as he walks through aisles to show inventory levels. Deli items or other bulk food products are now being prepackaged, and the USDA has temporarily implemented relaxed labeling requirements for certain retail establishments to allow them to serve portioned foods.
Restaurants can take similar measures within their facilities. Likewise, they can address concerns on their websites with a featured section dedicated to their efforts to combat potential contamination.
Cleanliness Is More Important Than Taste
The mantra that taste reigns supreme among consumers is being usurped by assurances about food safety during this time. According to a recent Datassential report, the cleanliness of a venue is more important than the taste of the food.
Many restaurants are offering limited menus that feature only their most popular items, and temporarily removing others like salads or fresh fruit which may be perceived as higher risk. Foods that are cooked at high temperatures have less chance of contamination, according to experts. In the past, many people 'lived to eat' and have now shifted to an 'eat to live' mindset, according to Datassential.
Cleanliness at Home
Once food has arrived home, the efforts to ensure sanitary conditions don't stop. Many consumers take extra measures to wipe down all bags, containers and food surfaces brought home from the grocery store. For restaurant take-out, they use their own silverware and plates and reheat food in the microwave to ensure any bacteria is killed. Any containers or materials that may have been handled by another person are discarded, and consumers wash their hands multiple times prior to indulging.
Measures Taken By Food Manufacturing
Similarly to those on the front lines serving and selling directly to consumers, food manufacturers need to demonstrate their efforts to maintain a strict chain of custody and ensure product safety. Many are providing statements on their websites to address the COVID-19 crisis and how their organizations are handling it.
In addition to heightened efforts to ensure sanitation of equipment and enforce social distancing among workers, manufacturers can follow in the footsteps of grocers and restaurants by visibly demonstrating their cleanliness efforts through images, videos and blog posts and sharing them on social media.
As manufacturers ramp up production to meet the demand for shelf-stable, prepackaged foods, they're also counting on their ingredient supply chain to enact stricter safety control measures. Here at Grande Custom Ingredients Group, we can assure you that the highest possible standards of cleanliness and food safety are of utmost importance when producing our shelf-stable whey protein ingredients. And our strict chain of custody helps put our customers' minds at ease, allowing them to pass that assurance along to consumers.
To view our response to the pandemic, please visit our dedicated COVID-19 web page with more information. We're happy to answer questions and help you address any challenges you may have during this time. Don't hesitate to reach out.