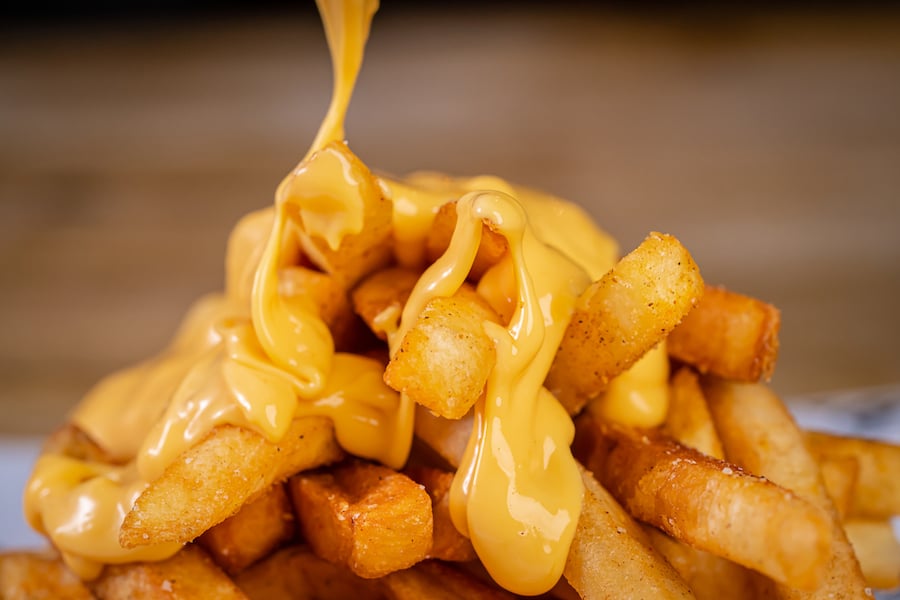 If restaurant menus and new product offerings are any indication, Americans are increasingly enamored with cheese sauces and spreads. Whether it's in a classic macaroni and cheese entree, atop a juicy burger or slathered on nachos, cheese sauces continue to appeal to consumers in growing numbers.
The cheese sauce market is forecast to grow 4.1% in the period of 2021 to 2028. To stand out in this sea of competition, formulators continue to look for innovative ways to introduce, reformulate or improve their products. The latest cheese sauce trends are an indication of just how creative some of these food and beverage companies can be.
Classic Cheese Sauce Pairings
If you look at a traditional charcuterie board, you'll see an artfully arranged assortment of meats, olives, fruit and nuts. The main anchor and star of the show is, of course, cheese. Many of these same classic pairings are being incorporated into all-in-one cheese spreads for use on crackers and artisan breads.
Pairing walnuts and tart cranberries with a sweet cheese sauce provides an irresistible sweet and sour combination that consumers love. Adding olives and figs into a cheese spread can give it instant charm by transporting a person's taste buds to a Mediterranean seaside. Classic herbs and spices are additional ways to enhance cheesy sauces and dips, and mixing in chives, onions, garlic, peppers, truffles and even bits of salami or bacon amp up the flavor and appeal.
Fiery Formulations
While some consumers prefer flavor profiles stemming from the Mediterranean's breezy and arid climate, others crave the kind of heat that has them wiping their brows. Hot chili peppers such as jalapeño, chipotlé, Habanero, sriracha and even Carolina Reapers are being infused into cheese sauce formulations. They add fiery flavor profiles when used in a cheese sauce, soup or dip for nachos and pretzels, or on vegetables like broccoli and cauliflower. Adding spicy chili peppers to a macaroni and cheese pasta dish can transform a classic comfort food into a new taste sensation.
Sweet ancho chili is also being incorporated into cheese sauces, offering only a bit of heat for those with more sensitive palates. Consider fire-roasted ancho queso dip atop enchiladas or as a dipping sauce for chicken wings.
Improved Nutrition and Texture
Many consumers became accustomed to indulging in classic comfort foods during the pandemic. Perhaps that is what partly led to 61% of Americans reporting undesired weight gain. Contributing factors to weight gain include stress, lack of exercise, increased alcohol consumption and unhealthy changes in eating habits.
Now, those same individuals are looking for ways to take back control and are seeking more nutritious meal options. The problem is, they were reminded just how good many of those previously "forbidden" foods were and don't necessarily want to give up the indulgent flavors and satisfyingly creamy textures.
Food manufacturers can offer consumers the best of both worlds by partially replacing fresh or processed cheese in cheesy sauces, soups, spreads and dips with an all-natural alternative like Grande Gusto®, a functional whey protein that can reduce fat by 25%, and reduce calories as well. This innovative ingredient also lowers the sodium content of many cheesy applications by 10–15%, a significant consideration for those who want to improve their overall health and not just lose weight. Reduced sodium has been proven to benefit those with high blood pressure or with heart or stroke risks.
Ingredient alternatives that lower sodium or reduce fat typically also reduce flavor and texture. However, this is not the case with Grande Gusto. A sensory panel demonstrated that a Grande Gusto formulation of macaroni and cheese actually had better flavor, salty notes and texture than the control using traditional processed cheese.
Contact the food formulation experts at Grande Custom Ingredients to request a sample of Grande Gusto and talk through your formulation challenges.