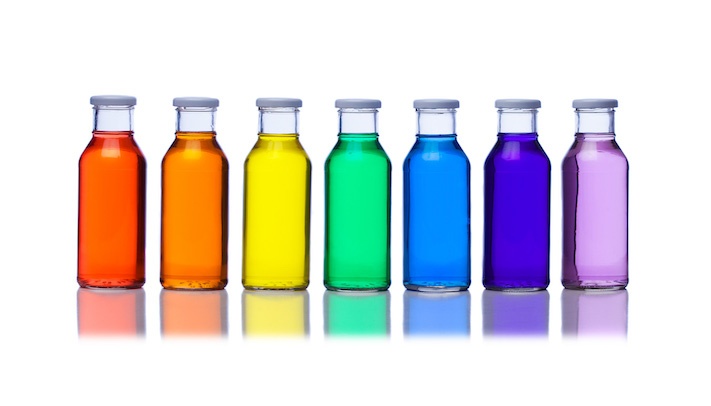 There's no denying the fact that today's consumers are more aware than ever of the health benefits of protein, and food manufacturers continue to launch more protein-enriched products to keep up with consumer demand. According to The NPD Group, about half of U.S. consumers purchase protein-enriched foods, and 78% believe protein contributes to a healthy diet. While these numbers surely support food manufacturers' decisions to create more products that are packed with protein, they should be more selective about the types of protein they're using.
When it comes to protein sources, it's hard to beat the variety of advantages that whey protein brings to the table. We've talked about the various health benefits of whey protein, including the anti-aging benefits of whey, but aside from its specific health advantages, whey offers food manufacturers a clear benefit in the simplicity of its clean, neutral flavor.
According to Darian Fuselier, National Sales Manager for Grande Custom Ingredients Group, choosing the right protein source makes a world of difference in determining how your final application will turn out. "Many people don't realize just how much different proteins can impact the final outcome of a product. Not only do different sources have different levels of protein, but they also have different tastes and textures. For example, plant proteins are known to have a beany, earthy taste that often requires a flavor-masking formula to cover it up," he said. "In that case, not only do you have to figure out how to integrate more protein into your product, but also how to mask that distinct taste, which can create more challenges for food scientists."
Even with a flavor masking formula, however, it can still be difficult to remove the taste completely. The goal is to make it completely unnoticeable. And as any food manufacturer can tell you, any change in taste no matter how subtle could change how consumers react to the product. Today, it's not enough to just have the health benefits; consumer taste appeal is also critical.
Rather than having to worry about flavor-masking, food manufacturers can turn to the one protein source that's known for having a clean, neutral taste - whey protein. And if you're looking for the best tasting whey protein products available, you should look no further than our lineup of whey protein concentrates and isolates. Using only the highest quality milk, our proprietary whey production process, and our state-of-the-art whey processing facilities, Grande Custom Ingredients Group is able to make some of the best whey protein products in the industry. Our products are renowned for their impressive water-holding functionality and ability to closely match the original formulation's texture and mouthfeel, resulting in protein-enriched products that are nearly identical to the original versions in everything except their boosted nutritional values.
For example, Grande Ultra® Whey Protein Isolate is recognized as having the best combination of taste and clarity over a wide pH in beverage applications. Looking at the graph and image below, you can see that Grande Ultra is head and shoulders above the rest in terms of turbidity. Where other leading formulations proved to be cloudy and chalky, Grande Ultra kept a clear appearance and even cleaner taste.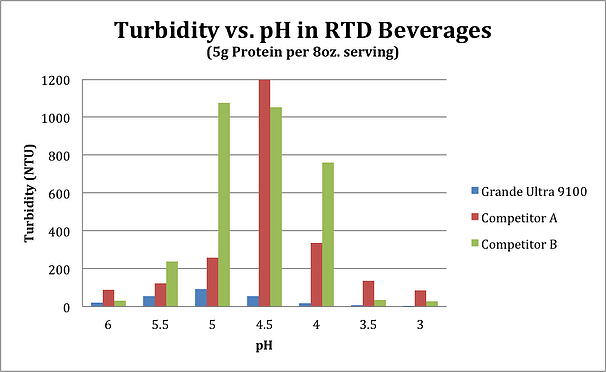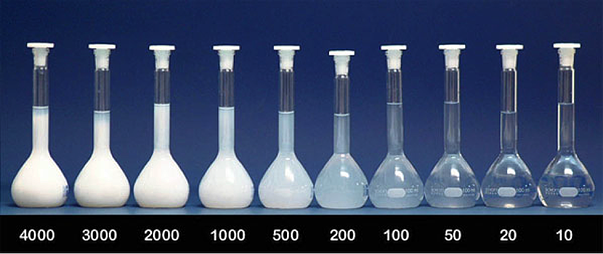 To find out more why our whey protein products are the perfect protein source for your protein-enriched products, make sure you check out our applications page or talk to one of our food scientists today!