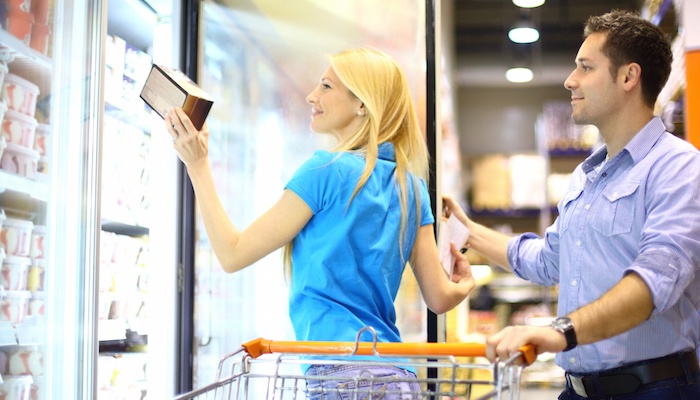 Earlier this year, Packaged Facts released a report, Frozen Foods in the U.S.: Hot Meals, Sides and Snacks, that showed sales in this category have been steady since 2012 – not largely growing but not losing ground, despite the increasing consumer demand for fresh and non-processed foods. Combined, the specific frozen categories being reported on – dinners/entrees, pizza, side dishes, and appetizers/snacks – reached sales of $22 billion last year (the entire frozen foods market is expected to reach nearly $73 billion by 2024, according to MarketResearch.com).
The publication also reported the results of a survey that showed 90% of consumers saying they buy packaged frozen hot meal items for heating or microwaving at home –that's up 15% in just two years; it also reports that more than a third of U.S. households eat frozen snacks.
This is somewhat surprising, when you consider that, according to Nielsen's Health & Wellness survey (2014), more than 70% of Americans say they're actively working to become healthier or maintain their current health, often by opting for healthier, often fresh, options.
How do you reconcile a demand for healthy with an uptick in frozen hot meals? You could assume that people surveyed often say one thing but do another (say they're shopping for healthier foods but actually buying what they've always bought), but more likely it's because manufacturers are focusing on better ingredients, a better experience, and cleaner labels, all steps that give consumers "license" to purchase these kinds of meals and snacks.
A number of manufacturers – some that have been around for years and some new to the market – have developed lines of frozen meals and snacks that boast characteristics including low-fat, vegan, organic, and gluten-free, a strategy that answers today's health-conscious consumer. Ten (or even five) years ago, these kinds of meals weren't on the shelves of mainstream grocery chains:
Artisan Bistro:

All meals are gluten-free, low glycemic and highlight sustainably raised ingredients

Evol:

All natural, with a line that's intended for those looking to maintain or lose weight, called Lean & Fit

Luvo:

"Simple, nutritious meals that taste amazing"

Veestro:

Organic, preservative-free meals and snacks

Grainful: A company that wants you to eat breakfast for dinner, with savory frozen meals made with steel cut oats

Saffron Road: A line of better-for-you foods that features world cuisines such as Thai and Indian
According to Allied Market Research, the frozen food market in the U.S. is expected to continue growth at a moderate pace, "majorly driven by the mounting consumer preference for healthy frozen foods." Similarly, David Sprinkle, research director at Packaged Foods, believes that these types of frozen meals will help this category grow as trends continue. "Bold and unique flavors, varieties inspired by world cuisines, cleaner labels and healthier nutrition profiles, and products that accommodate special dietary concerns will drive purchases," he said.
All of this tells us that food manufacturers with frozen meal and snack lines should be ahead of this demand by formulating products that, at least, minimize fat and calories and reduce the use of artificial ingredients; some will be more able to roll out products that focus on specific nutrition requirements, like gluten-free. The challenge, as always, will be to deliver products that don't taste like a compromise: low-fat products that have the same mouthfeel and texture as their full-fat counterparts, and that feature natural functional ingredient solutions rather than artificial options. And, as those challenges face R&D departments, we'll be here offering practical solutions!
Find out how we worked with one food manufacturer to reduce the cream, non-fat dry milk and overall costs of a frozen pasta entrée, using natural, functional whey protein concentrate, in our Grande Bravo Frozen Pasta Case Study. Click the button to download your free copy.