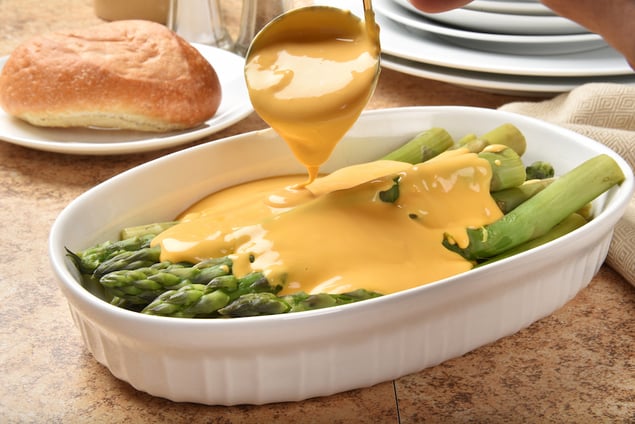 Food formulators and executive chefs are all-too familiar with this challenge: minimize the use of perishable ingredients (in order to improve nutrition and mitigate the effects of volatile cheese pricing) – without compromising flavor and texture.
One cheese sauce manufacturer solved the challenge by incorporating a natural, clean-label ingredient that allowed them to reduce processed American cheese by a stunning 38%.
The food scientists at Grande Custom Ingredients Group partnered with the manufacturer's R&D department and executive chef to perfect their cheese sauce formulation, replacing more than one-third of the processed cheese with Grande Gusto 100 reduced lactose whey.
A Key to Success: Putting Aside Assumptions About Whey Protein
Some formulators hear the term "reduced lactose whey" and automatically dismiss Grande Gusto as just another whey ingredient. That's because many commodity whey products lack functionality and aren't able to maintain signature flavors, let alone help improve a cheese sauce's texture and mouthfeel.
Truth is, incorporating commodity whey ingredients into a cheese sauce will result in runny formulations with off flavors, requiring additional viscosity-building ingredients and masking agents. Most whey protein manufacturers fail to achieve significant functionality.
Cheese sauce manufacturers who've put aside misperceptions about what whey protein can or can't do have gained market share by taking advantage of the functionality of Grande Gusto's proprietary reduced lactose whey.
Benefits of Grande Gusto include:
Enhanced overall quality
Smooth, creamy textures
Authentic cheesy flavor and enhanced salty notes
Clean-labels with zero chemical modifications
Price stability,

reduced SKUs and readily available supplies

Significant reduction of processed or powdered cheese
WATCH THE DEMO: Grande Gusto Cheese Sauce Video Demonstration
Cheese Sauce Formulation: A Recipe For Success
What might a formulation look like using Grande Gusto reduced lactose whey? Unlike many alternative ingredients, Grande Gusto doesn't require masking agents or additional emulsifiers or stabilizers to perform as desired. Cheese sauce manufacturers can promote clean labels and a short ingredient list.
Below is a comparison showing a cheese sauce formulation using Grande Gusto reduced lactose whey versus the Control.
The company collaborated with our food lab scientists to perfect the ingredient ratios. What's not demonstrated in the above recipe is the significant nutritional improvement. Not only was the cheese sauce manufacturer able to improve flavor and texture while reducing the amount of American cheese, they also achieved:
11% fewer calories
14% less fat
7% less sodium
Request a Sample
Be among the many cheese sauce manufacturers who've said, "I didn't know whey protein could do that!" after they discovered the impressive functionality of Grande Gusto reduced lactose whey. Request a sample today to see first-hand just how different and transformative our proprietary ingredients are.
Connect with our food scientists to talk through your biggest formulation challenge. Simply click below to get in touch.