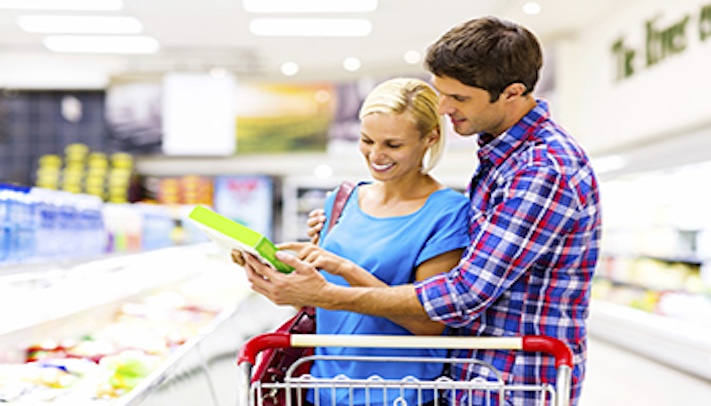 With 25% of adults saying they check nutrition labels for protein content before making a purchase, there's no denying protein's popularity with American consumers. Today's health-conscious shoppers are well aware of the many benefits of this popular superfood, and they're making a point to eat more of it on a daily basis. In fact, 78% agree that protein contributes to a healthy diet, and more than half say they want more of it in their diets.
Whether consumers are looking to manage their weight, build muscle, strengthen their bones, or even reduce their risk of stroke, there are many well-known benefits of eating protein, and foods packed with protein continue to fill the grocery store shelves. With numerous benefits that help consumers of all ages, it's easy to see why it earned the superfood label, and why so many people are hopping aboard the protein bandwagon.
That being said, while praise for protein's many benefits is certainly worthy, most consumers fail to realize the full extent of what those benefits offer; for example, consumers might be surprised to find out that the 20 amino acids that make up our usable proteins work together to help aid in the growth, repair, and maintenance of their bodies' muscles, organs, and tendons, as well as boost their immune system, metabolize fats, and much more. By advertising the full range of benefits of amino acids in conjunction with your protein-rich food offerings, you can really impress today's health conscious consumers.
Best Source of Amino Acids
You can't deny the fact that because proteins are made up of amino acid chains, foods high in protein are the best source for essential amino acids. To help consumers get their fill of these essential amino acids, food and drink manufacturers should incorporate protein into their products – but not just any protein. When it comes to getting the maximum amount of essential amino acids, whey protein has the highest biological value of natural proteins, and is the preferred gold standard for nutritional comparison of branched chain amino acids (BCAAs) from a natural food source. No other protein source has the amino acid quality like whey protein, and the chart below has the numbers to prove it:
For food manufacturers that are looking for a convenient "whey" to give their products a protein and amino acid boost, Grande Custom Ingredients Group, innovators of dairy-based food ingredients, offers a line of ingredients that can do just that in a wide variety of applications. From crunchy snack mixes to creamy salad dressings and baked goods to frozen desserts, our whey protein products can provide an extra protein boost to just about anything – helping your customers achieve the healthy diet they desire. As a matter of fact, here's a quick rundown of our natural whey protein products: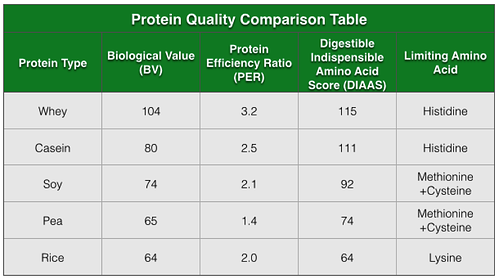 Grande Ultra® Whey Protein Isolate (WPI)
Containing the highest levels of essential amino acids, our whey protein isolate helps provide the perfect solution for consumers looking to refuel after a workout or manage their weight. In addition to all of its nutritional benefits, our specially produced isolate is an industry leader in taste and turbidity. This allows you to create a drink that's fortified with protein, while achieving a clean, neutral flavor and best clarity available over a wide pH range. To learn more about how Ultra can help add a protein boost to your sports drink, fruit drink, or nutritional supplement, click here.
Grande WPCrisp® Whey Protein Crisps
Our whey protein crisps deliver a high-quality source of whey protein and can be seasoned, coated, or mixed with other ingredients for use in snack bars and other products. They're also a great substitute for soy, corn, or rice crisps that don't offer quite as much protein. To learn how WPCrisp can add a crunchy protein boost to your nutrition bars, snack mixes, and cereals, click here.
Grande Bravo® Whey Protein Concentrate
Grande Bravo is a functional whey protein concentrate designed to replace high-fat, high-cost dairy ingredients such as cream, butter, fat, and cream cheese, while maintaining your original product's texture and mouthfeel. Rather than creating a one-size-fits-all concentrate, our exclusive production process allows us to create different flavor profiles to better match your original product's taste and texture. To learn more about how Bravo can help you create lower-cost, lower-fat dressings, sauces, dips, and more, click here.
Grande Primo™ Dried Yogurt & Cultured Dairy Products
Whether it's used as a coating in snacks and bars, a base for smoothies or dips, or you simply want to add that yogurt taste without the hassle and perishability of fresh yogurt, our dried yogurt and cultured dairy products bring a rich, creamy mouthfeel and slightly tart flavor that consumers love to your products. To learn more about how Grande Primo can help improve texture and taste in your dips, dressings, frozen desserts, and smoothies, click here.
For more information about how these products can be used to add a protein and amino acid boost to your current offerings, please check out our applications page or contact one of our food scientists today!