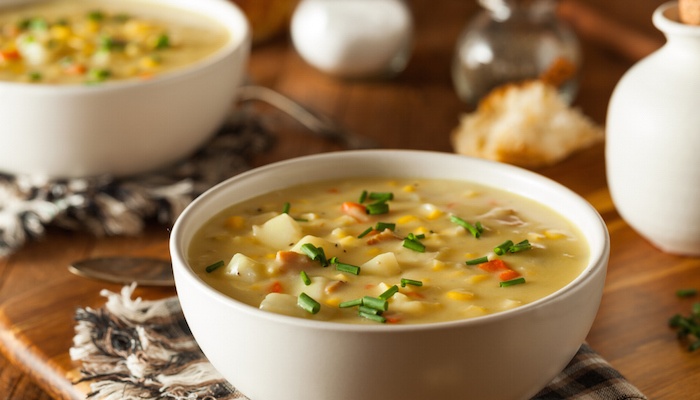 If there's one thing that signals the start of fall in the U.S., it's the introduction of seasonal pumpkin dishes and drinks at restaurants around the country. But while pumpkin spice has long been seen as the king of fall, quick service restaurants (QSRs) and fast casual dining brands are trying to incorporate other flavors into their fall menu offerings to entice consumers.
From the refreshing autumn flavor of apple cider to hearty soups and sauces — even dishes with carved turkey and cranberries — plenty of fall-themed recipes will be hitting menus in the autumn months. While some of these traditional food and beverage products are mainstays and about as close to a "sure thing" as casual restaurants can hope for, many are introducing product launches with a new twist.
Of note are healthier options that have helped many fast casual chains and QSRs stand out from the competition. To help give you some ideas of different healthy options that are hits with consumers, here are 6 fall food trends to pay attention to this year:
Pumpkin with a Twist
You know it's fall when restaurants start offering pumpkin pies and lattes. But this fall favorite can be used in a wide variety of applications and help the restaurant industry expand dayparts.
Start breakfast with pumpkin spice oatmeal and pastries.Satisfy the mid-day crowd with pumpkin hummus or yogurt parfaits. Then, finish the day with creamy bisque soups or main courses glazed with a Thai pumpkin curry and peanut butter sauce. Cap off the night with a high-protein pumpkin ice cream dessert drizzled with maple syrup, or a seasonal pumpkin ale or imperial stout with notes of toffee and caramel.
From fast food to fine dining, when it comes to pumpkin, product developers can be bold, especially with consumers being more adventurous than in the past. Go beyond the traditional favorites and introduce something new, and don't forget its equally delicious and versatile cousin, butternut squash.
Foreign Flavors
Adding a touch of heat and savory flavors to fall-themed entrees is a sure way to appeal to consumers looking to spice things up. While you could certainly opt for traditional chili or soup featuring a medley of roasted root vegetables, consider giving those and other staples a global twist.
Consider including warm spices such as Korean chili paste or black cardamom for a savory Persian flavor. Cumin offers a taste of India, North Africa and Latin America, and its unique flavor profile gives a warm, smoky and spicy kick without the heat.
Many QSRs have come on the scene to appeal to the growing foodie revolution and those who are eager to try globally inspired dishes. It may help explain the rise in the number of Thai and Vietnamese fast-casual restaurants popping up, elevating the status of ramen and pho from college dorms to fine dining.
Soups and Sauces
With fall signaling the start of cooler weather, it's the perfect season for soups, chilis, stews, and even mac & cheese recipes. One fast food restaurant recently launched its own baked macaroni and cheese nationwide — the first addition to its menu in three years. Made daily, the popular chain uses a classic recipe made with a sauce combining cheddar, Parmesan and Romano.
There are plenty of quality ingredients and fresh vegetables available during early fall as well, which make a great base for chicken soup, beef stew and creamy potato chowder. Creamy herb sauces are popular as accompaniments to savory meats, and dipping sauces with robust flavors lend themselves to consumers looking to add a twist to their traditional game-day spreads.
Apple + Cranberry
From fresh apple pie to warm cranberry sauce with Thanksgiving dinner, these two fruits have become key staples in fall foods. However, they can be used to make more than just great desserts and sides. An apple walnut salad with tangy cranberry dressing can be a perfect healthy menu item. Adding these flavors to baked goods, sauces and even cocktails are sure to be a hit, especially when combined with a hint of cinnamon.
Turkey
As the star of Thanksgiving dinner, you can't help but think of fall when you're eating a delicious piece of carved turkey. Whether it's used to make sandwiches or it's added to the apple and cranberry salad mentioned above, there are plenty of ways to invoke that feeling of fall by making a tasty carved turkey dish. Adding a savory gravy with the aforementioned globally inspired spices can help elevate this classic dish.
Corn
With most farmers typically harvesting their corn in August and September, corn has become a staple in many fall foods. Whether it's on the cob, on the side, creamed or in a main dish, there are plenty of ways to incorporate corn into your fall menu, including soups, salads, bread and even pizzas. Consider introducing corn relish, corn pudding or quinoa and corn side dishes to accompany more traditional entrees.
Keeping Fall-Themed Recipes Healthy
With Thanksgiving landing in late fall and Christmas close behind, there are plenty of consumers who diligently count calories to avoid overindulging during the holidays. With consumers looking for healthier options, more natural, lower-calorie menu items provide an opportunity to get a taste of the season without the typical guilt of indulging in a piece of creamy pumpkin pie or cheesecake.
Casual dining chains looking for an easy way to create more functional, nutritious fall menu items can replace high-fat and high-calorie dairy ingredients such as milk, cream, cheese and butter with all natural functional whey proteins. They're the perfect alternative and won't compromise the taste and texture of the original recipe. They can also be used to enhance the freeze-thaw stability of a recipe, making them perfect for QSRs that receive many of their food products frozen.
To learn more about how our natural whey protein products can be used to lower the fat and calories in your fall soups, dressings, sauces and desserts — while also improving freeze-thaw stability — make sure you download our Guide to Creamy Applications below! Then, contact our food scientists to help perfect your formulation.