As consumers continue to be more health-conscious about the foods and beverages they purchase, sodas are being replaced by non-carbonated better-for-you (BFY) beverages. There have been several highly publicized reports linking soda consumption to the growing U.S. obesity epidemic, and consumers are heeding the warning. In 2013, overall sales volume fell 3% to 8.9 billion cases – the 9th straight year of declining sales. And while there haven't been any official reports for 2014, forecasts suggest yet another decline.
With soda sales reaching their lowest levels in nearly 20 years, it's clear that these sugary drinks are falling out of favor with American consumers. Nowadays, there are plenty of healthy beverage options available, and consumers are taking advantage of their functional benefits. As a matter of fact, 79% of consumers say they have cut calories by drinking water or low- and no-calorie beverages, and another 73% list healthfulness as top factor that affects food and beverage purchases.
Whether consumers want water, sports drinks, tea, juice, or even energy drinks, the BFY beverage industry has exploded in popularity as consumers start to realize that you can't put a price on health and well being. According the Nielsen's 2015 Global Health & Wellness Survey, 88% of respondents said they're willing to pay more for healthier products, with protein, calcium, fiber, and vitamins being the most sought after ingredients.
While the words "protein-enriched beverages" might conjure up images of athletes drinking workout shakes, in all actuality, today's protein-enriched beverages appeal to a wide range of audiences. 7 in 10 consumers believe it's important to eat more protein when trying to lose weight, and it's also known to prevent Sarcopenia and aging in seniors – among its many benefits.
As consumers become knowledgeable about the benefits of protein and its diversity in different applications, there's been an increase in demand for more protein-enriched products – especially beverages. According to the market research firm NPD Group, 71% of consumers say they want more protein in their diets, and a convenient, functional beverage can often be the ideal application.
That being said, not all protein sources are ideal to use in beverage applications. Though there might be hundreds of different protein fortifiers to choose from, each protein source will provide a different taste, texture, and protein quality. Looking at the chart below, you can see how different each protein source really is: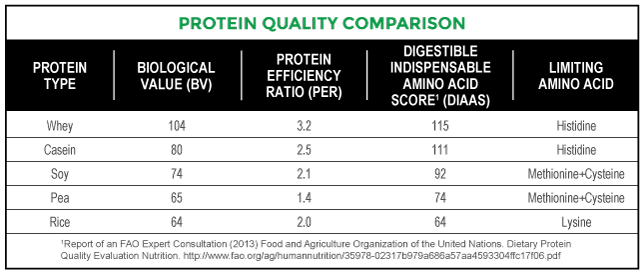 For beverage manufacturers that are looking to enter the BFY beverage market by adding a protein boost to their beverage formulation, our Grande Ultra® whey protein isolate is the perfect solution. Not only is whey protein the highest-quality protein source available, but its clean, neutral flavor offers the best balance of taste and clarity as well. And thanks to our patented production process, Grande Ultra® WPI is an industry leader in clarity and flavor across a wide pH range – making it the ideal fortifier for clear beverage applications. As a matter of fact, look how it compares to a leading competitor!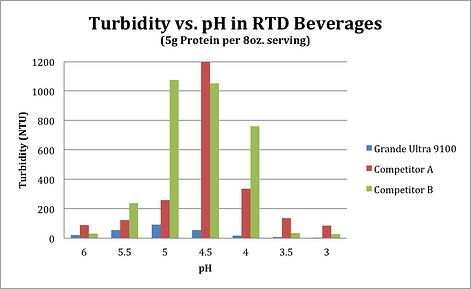 To find out more why our whey protein products are the perfect solution for formulating BFY beverages, make sure you check out our Online Solution Finder or talk to one of our food scientists today!