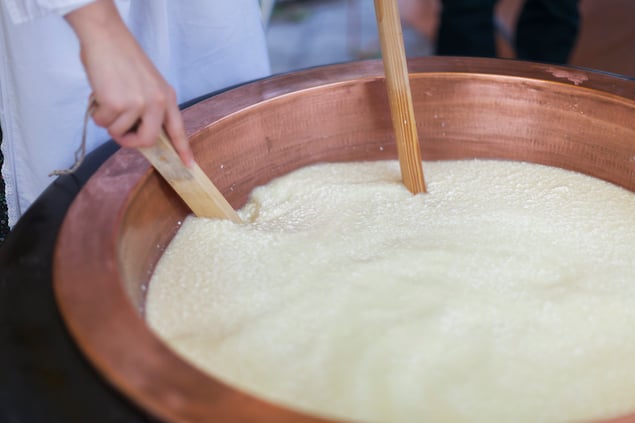 In the pursuit of health and weight loss, millions of Americans have made the high-protein diet a top trend, and the number of protein claims on food packaging has skyrocketed.
Food manufacturers can meet the demand for more protein intake and diet-friendly products by including various forms of functional whey protein in their formulations in place of heavy cream, cream cheese and other high-fat dairy.
But what exactly is it and how is whey protein made?
What Is Whey Protein Concentrate?
When milk is curdled as part of the cheesemaking process, whey protein is separated from the remaining liquid. The protein from liquid whey can be isolated, leaving producers with one of the healthiest forms of protein available. Here are a few more whey protein facts:
When milk is curdled as part of the cheesemaking process, whey protein is separated from the remaining liquid
Whey is

a complete protein

and contains all 9 essential amino acids
It is

easily digestible

and absorbs into the body quickly
Food and beverage manufacturers use whey protein concentrate (WPC) to:

Improve texture and mouthfeel
Enhance flavors
Help reduce fat and calories
Replace heavy cream and high-fat fresh dairy
Optimize costs
Make products shelf-stable
Whey Protein Concentrate Protein Content
Many are unaware of the difference between all-natural whey protein, plant proteins and other protein sources. When compared to plant-based proteins, whey protein is proven to be superior in regards to digestibility, sustainability, health benefits and nutritional value, as seen in the chart below.
The amount of protein will vary based on the type of protein, how it's formulated and its intended use. For example:
Whey protein isolate (WPI) contains the highest amounts of protein, which explains why it is often used in sports nutrition in the form of whey protein supplements, protein shakes and beverages and

protein bars

.
Whey protein concentrate (WPC) also contains protein, but not at the high levels found in WPI. It is prized for its ability to replace ingredients like fresh dairy in soups, sauces, low-fat dressings and other applications, and maintain creaminess and flavor.
How Is Whey Protein Made?
Whey protein is dried and made into concentrate form for use in food and beverages. When comparing ingredient suppliers, it's important to consider how they produce their products, as the facilities and results can vary widely.
Unlike some commodity WPCs with questionable sourcing, Grande Custom Ingredients Group starts by sourcing all its ingredients from dedicated Midwest dairy farms in America's Heartland as part of a strict chain of custody. The highest quality milk is sent to our cheese production facilities where the whey is separated from the remaining liquid, and a proprietary drying process is applied to convert that liquid into a nutrient-dense concentrate in convenient powder form.
What Is Functional Whey Protein?
Grande Bravo® functional whey protein is set apart from commodity products like WPC34 because it incorporates easily into food systems without clumping or viscosity breakdown under high shear. There are also no gritty residues or chalky characteristics. The result is more desirable functionality, including a creamy mouthfeel, fuller texture and improved shelf-life stability.
Is Whey Protein Concentrate a Natural Ingredient?
When people hear the words "whey protein concentrate," it's easy to assume something was done to modify the protein. In Grande Bravo's case, however, it simply means that the protein has been physically modified, not chemically modified in any way.
Much like other natural concentrated food products like frozen juices, tomato paste and granulated sugar, our WPC is also all-natural, and manufacturers can tout it as such. That's not necessarily the case with commodity whey protein products, so be sure to get the facts when choosing ingredients for your formulations.
Whey Protein Uses in Food Applications
Another advantage of whey is its ability to be used in a wide variety of applications. Here are just a few real applications showing how this innovative ingredient can be used.
Soups

and

Sauces

Spreads & Dips

Salad Dressing

Frozen Dinners

Creamy Desserts

Frozen Confections
Benefits of Using Whey Protein Concentrate — Grande Bravo
Today's consumers are willing to pay more for food with wholesome ingredients they recognize and trust, and all-natural whey protein ingredients make it easy for food manufacturers to clean up their labels. Grande Bravo also makes it easy to improve or maintain texture and mouthfeel thanks to its superior water-holding capabilities, plus reduce fat and calories.
Using Grande Bravo can also help optimize ingredient costs by providing a safe, consistent alternative to fresh dairy which is susceptible to price volatility. It can also help decrease handling issues.
Other Types of Whey Protein Concentrate
At Grande Custom Ingredients, we produce several forms of whey protein for use in various food formulations:
Taste the Grande Difference
While it's easy to talk about the proven benefits and qualities of Grande Bravo and other whey products, the best way to find out how it will work in your applications is by testing it for yourself!
We'll be happy to send you a sample and show you how to get started! We love collaborating to perfect your application using our products. Contact one of our food scientists to see why the right combination of people, products and expertise is the best way to naturally improve food.