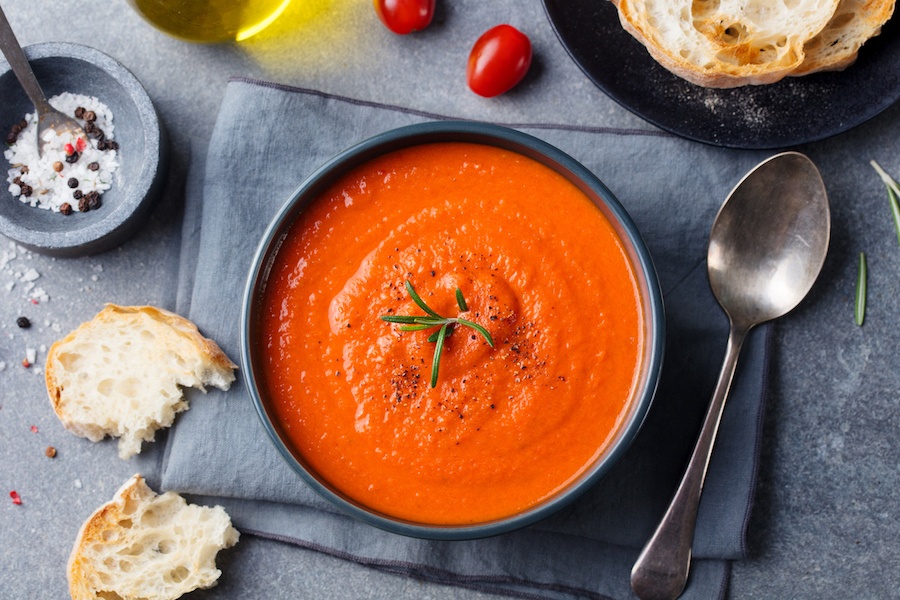 The popularity of the traditional soup and salad bar in restaurants is slowing a bit, according to the 2018 Soup & Salad Consumer Trend Report by Technomic. But that doesn't mean these staples in the American diet have seen their day.
While soup and salad sales are lagging in some restaurant chains, others are getting creative with their offerings and capturing the attention of patrons (and capturing market share). Though some restaurateurs see the downward trend as a potential threat, others see it as an opportunity.
Let's take a look at current soup and salad trends and how innovative food manufacturers and restaurants are appealing to consumers.
From Soup to Nuts — 2018 Soup Trends
Consumers don't necessarily consider soup to be a full meal; more people prefer to consume it as an appetizer or snack. According to the 2018 study, 17% of respondents order soup as a snack, compared to only 11% in 2015.
The key to increasing soup sales is in creating enticing flavor profiles in addition to traditional pairings. Patrons are becoming more adventurous when it comes to trying new combinations. Asian-inspired dishes are gaining traction, perhaps in response to the surge in popularity of the Vietnamese soup, Pho. Non-traditional meats are also finding their way into soups, including Bison — a likely outgrowth of the Bison burger trend.
Creamy soups remain popular, especially various bisques. In addition to tomato bisque, roasted cauliflower, broccoli, mushroom, zucchini, pumpkin and just about any vegetable you can puree are gaining appeal. In addition to their hearty texture and flavors, they also provide visual appeal. Health-conscious consumers continue to watch fat and calories, however, so formulating these applications with improved nutrition can increase their appeal even further.
Garnishes on soups are also a consideration when trying to create stand-out flavors. Adding pine nuts, walnuts and various seeds provides visual appeal and a crunch factor to amp up the mouthfeel of various soups.
Time to ditch Salad?
Salads still have their place on menus, and outpace soups in overall popularity. Many consumers prefer something different than what they can quickly throw together at home, however.
Caramelized onions are the fastest growing vegetable in limited-service salads, increasing 75% over the year. Poblano peppers and shallots are increasing in popularity as well. Garnishes, such as nuts, tropical fruit and grilled vegetables offer varied textures and complimentary flavors. Adding grains to salads is also a growing trend, with quinoa, farro and bulgar wheat showing up on restaurant menus.
A main factor that determines a salad's appeal, however, remains the dressing, with 65% of consumers saying that dressing is important to adding flavor to salads. The fastest growing flavor in quick-service restaurants is Dijon, increasing more than 83% year over year. Dressings are also being influenced by the popularity of Asian-style flavors, with ginger, sherry and sesame showing growth.
While new flavors continue to make the rounds, the most popular salad ordered in restaurants remains the classic Caesar salad, with 63% of survey respondents saying it's their salad of choice. To maximize any salad dressing's appeal, food manufacturers must cater to the growing number of consumers who increasingly ask for nutritional information and demand clean labels. Many restaurants fail to offer unique low-fat options on their menus for fear of compromising flavor and texture, but finding the right combination of flavor, mouthfeel and nutritional benefits could provide major opportunities.
Tips for Improving Soup and Salad Sales
Increasing soup and salad sales not only requires offering unique flavor profiles in response to the latest trends; it requires providing better-for-you options that can help them remain perennial favorites for years to come. An effective strategy for food manufacturers is reducing or replacing high-fat traditional ingredients and emulsifiers such as cream, butter and oil in dressings and soups with a lower fat alternative.
However, many alternatives can negatively impact texture, compromise flavors, or introduce artificial ingredients that don't lend themselves to clean label trends. An innovative solution is replacing traditional emulsifiers and dairy ingredients with all-natural Grande Bravo® functional whey protein. Grande Bravo's unique functionality and clean taste can reduce or replace expensive or high-fat ingredients, such as milk, cream, cheese and eggs. Consumers won't notice the difference in the consistency and flavor in your soups and salad dressings, but because of the improved nutritional benefits, you might just want to tell them anyway.
Reach out to the food scientists at Grande Custom Ingredients Group to explore how including Grande Bravo or another of our innovative all-natural products in your custom formulation can set the stage for increased sales and promotional opportunities. Also check out the product sheet below to discover a variety of other applications where Grande Bravo can be used, including dips, coatings, frozen desserts and more.