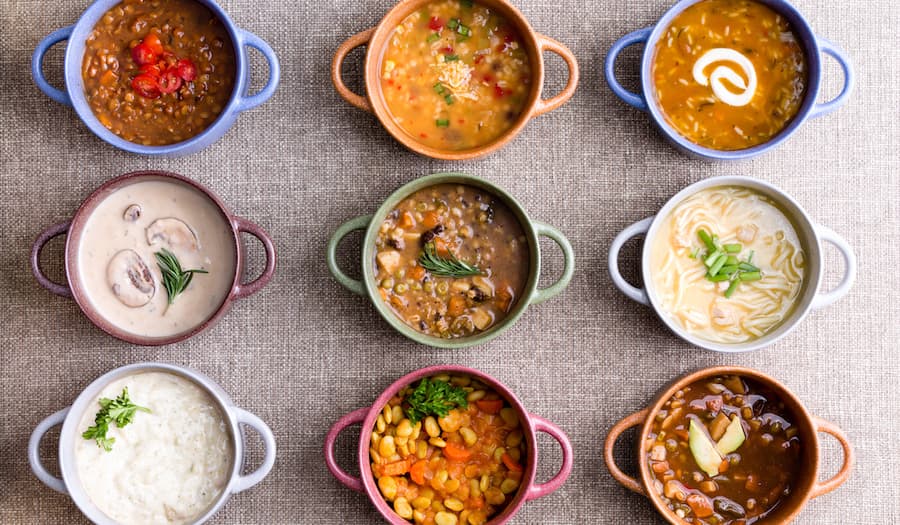 Despite the recent shift in product focus for the nation's largest soup manufacturers due to declining sales, revenue in the soup segment amounts to $5.25 billion and is expected to grow annually by 1.1% through 2023.
Those kind of sales are nothing to slurp at. But unless producers of soups and sauces find new and innovative ways to market their products and, more importantly, formulate them, they may continue to experience declining profits.
To appeal to consumers, soups and sauces must feature healthier ingredients, clean labels and trending flavor profiles. Yogurt-based products are proving to be an ideal solution.
Latest Soup & Sauce Trends
Creamy soups have long been a mainstay in the soup aisle. Current trends feature savory flavors filled with umami, and artisanal ingredients are seeing greater appeal. Instead of plain old cream of mushroom, for example, products like cream of cremini and shitake have come on the scene.
The Mediterranean Diet, which is supported by many health professionals as one of the best lifestyle options, is known for incorporating Greek yogurt into a wide variety of applications, including Tzatziki sauce and chilled Greek yogurt soup with cucumbers and dill.
Condiment sales are also seeing a resurgence, thanks in part to Millennial shoppers who want to replicate the ethnic flavors they've come to enjoy in restaurants while dining at home. As such, bolder flavors, including Sriracha chili, curry catsup, wasabi mayo and cilantro yogurt sauce are gaining popularity.
All around, texture remains a major focus, and culinary experts and executive chefs know that consumers feast with their eyes before they even pick up their spoons.
Texture is As Important as Flavor
Some formulators would argue that achieving a consistently rich, creamy texture in their applications is more difficult than achieving optimal flavor. The challenges are manifold when an application needs to comply with clean label initiatives.
Avoiding the clean label movement is no longer an option for food manufacturers. According to Innova Market Research, 84% of consumers are more likely to purchase products containing ingredients they can understand and recognize.
As a result, formulators that once relied on emulsifiers and texturants, such as carrageenan, mono- and diglycerides and chemically modified starches and gums, need to find natural, alternative ingredients that can provide similar functions. Sauces, in particular, often go through several freeze/thaw cycles, causing structure to break down and separate.
While yogurt-based products remain on trend and are a better-for-you alternative to artificial ingredients, using fresh yogurt in applications comes with its own set of textural challenges.
Many are familiar with the unappetizing, standing liquid found atop traditional yogurts, and similar results can occur when yogurt is one among many ingredients in a formulation. When frozen, ice crystals can form and products can become gummy over time. Additional problems include soups and sauces forming a skin when cooked, or developing lumps, pooling or graininess during different phases.
Clean Label Demands Can Come at a Cost
Not to be overlooked in the clean label movement is the added cost of reformulating with fresh dairy. In addition to obvious spoilage concerns, the required refrigeration and handling of fresh dairy can quickly eat away at profits.
Using natural, dried yogurt powder, however, overcomes many of the challenges of using fresh while still offering a nutritional, clean-label solution. Ingredients such as Grande PrimoTM Dried Yogurt & Cultured Dairy Products allow food manufacturers to list "whey protein concentrate, skim milk, yogurt cultures, heat-treated after culturing" on their labels. These are familiar ingredients to consumers and can help build trust in your brand.
Because of the proprietary process in which it's made, Grande Primo maintains a product's functionality without viscosity breakdown during thermal applications or freeze-thaw cycles. Because it's shelf stable, it requires no refrigeration and has a long shelf life. It is available in five different flavor profiles to work in numerous innovative yogurt applications.
See for yourself how Grande Primo dried yogurt compares to fresh dairy in our yogurt comparison chart below. Simply click on the link. Want to talk through how to improve your formulation using all-natural dried yogurt powder? Contact us today.