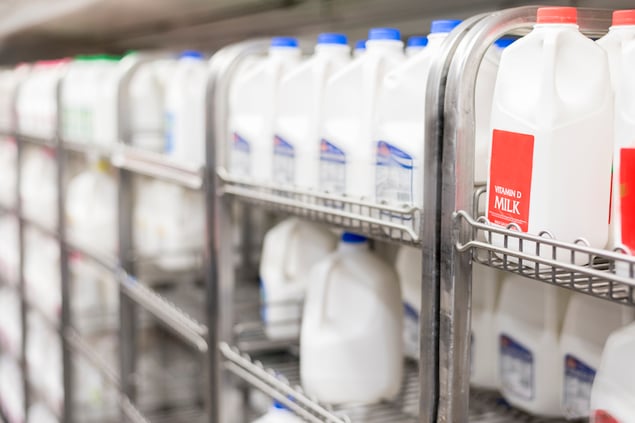 Extreme price volatility can create major headaches for food manufacturers. In 2020 alone, the price of Class III cheese doubled from around $12 per hundred weight in May to nearly $25 only two months later!
Certainly, the pandemic played a role, but dairy market prices have seen instability historically. In 2018, prices were consistently lower month over month than in 2017, and 2019 saw a steady climb, starting at about $14 per hundred weight and climbing to about $20 by year's end.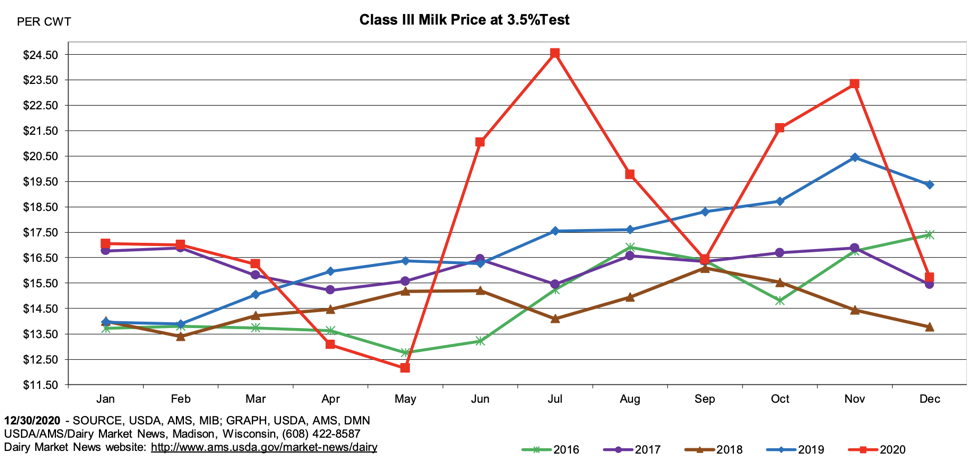 The chart above demonstrates the extreme price fluctuations of Class III milk, according to the USDA. Even when omitting the extraordinary volatility in 2020 due to the pandemic, it's easy to see how markets have experienced ups and downs over the last five years.
While there's hope on the horizon for cheese and milk prices to not experience such disparate highs and lows as they did during the pandemic, volatility continues to be a challenge for food manufacturers that rely on dairy ingredients in their formulations. The pressure is on manufacturers to produce the same high-quality products while keeping prices somewhat stable.
As a result, many food manufacturers are looking for ingredient solutions that reduce costs and mitigate the ebbs and flows of volatile markets without sacrificing the quality their consumers have come to expect.
Finding quality alternative ingredients to mitigate the ever-changing price tag of fresh dairy products will continue to be a priority for food manufacturers. However, many of those same manufacturers still want to promote the many health benefits that real dairy has to offer.
A Solution to Fluctuating Dairy Prices
Manufacturers that want to list real dairy on their labels and feel good knowing they're still supporting family dairy farmers, ethical sourcing and sustainable milk production practices, can use various forms of whey protein ingredients as an alternative. For example, Grande Bravo® functional whey protein concentrate (WPC) is a real dairy product that is a result of the cheese-making process. It can replace milk, butter, cream, NFDM and even eggs.
Another whey ingredient is Grande Gusto®, an all-natural substitute for fresh or processed cheese in soups, sauces and dips. These innovative whey protein ingredients help food manufacturers manage or reduce ingredient costs by limiting the need for volatile and perishable dairy ingredients in formulations, all while maintaining the product's creamy mouthfeel and signature dairy flavor.
While other dairy ingredient prices might fluctuate, whey protein powders have very little price movement, regardless of dairy industry market conditions for other ingredients. This price stability allows manufacturers to use the same recipe and consistent formulation, without having to worry about reformulating due to rising ingredient costs. And if you're a formulator who's looked into plant-based alternatives, you already know that they're cost prohibitive and fall short when it comes to flavor and mouthfeel.
Of course, while it's nice to have consistent pricing and feel good about where your ingredients come from, the most important factor in choosing alternative ingredients is making sure they don't negatively impact flavor and that they maintain or improve the consistency of your tried-and-true formulation.
Dairy Ingredient Replacement Example: Grande Bravo
Grande Custom Ingredients Group proposed that the manufacturer of a spinach and artichoke dip use a formula of 10% Grande Bravo and water to replace 50% of the sour cream, mayonnaise and cream cheese used in the formulation.
The modification resulted in significant overall savings in dairy ingredient costs. Equally important, the dip's rich, creamy mouthfeel was maintained. In addition, the new formulation resulted in 50% less fat and 23% fewer calories compared to the original formulation.
Cheese Replacement Example: Grande Gusto
We replaced nearly 40% of the American cheese with Grande Gusto in a macaroni and cheese entree. Not only did Grande Gusto significantly minimize the use of costly cheese, it actually scored higher for taste and texture. Taste testers never would have guessed it had 9% less sodium, 17% less fat, and 11% fewer calories compared to the control.
Maintaining Product Consistency and Functionality
This functionality is a surprise to many food scientists when they first see whey protein ingredients used in their formulation. Sometimes when food formulators hear the term whey protein, a commodity product may come to mind.
What many don't realize is that Grande Custom Ingredients Group's products are functional with extraordinary water-holding capabilities that perform much better than commodity WPCs. Many are surprised when they discover they can create the consistency of cream cheese or a velvety cheese sauce when simply mixed with water. Commodity products simply can't do that.
The functionality is not the result of any chemical modification of the whey protein, a major consideration in light of today's emphasis on clean labels and strict chains of custody. Our ingredients are produced with a proprietary process and are real, Grade A dairy products, allowing for manufacturers to label them as all-natural ingredients.
Various forms of Grande Custom Ingredients Group ingredients are used in creamy applications like soups, sauces, dressings, dips and spreads, as well as baked goods, confectionery, frozen desserts, processed meats, and coatings and seasonings.
Let us help you tackle your formulation challenge, and feel good knowing you're still using real dairy. Click below to get your free copy of our Guide to Creamy Applications to find out how you can improve your formulations and reduce costs with innovative, dairy-based whey protein ingredients.