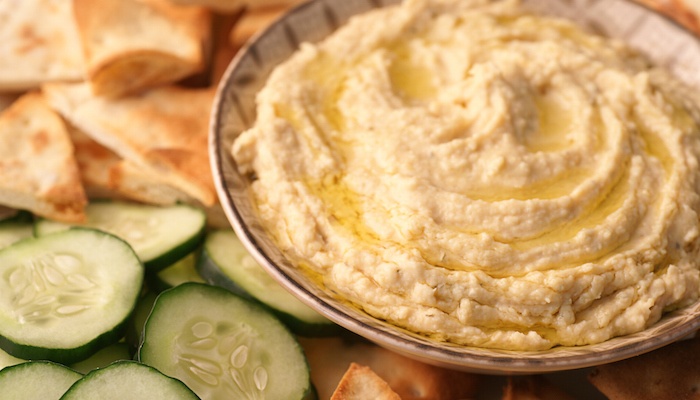 While hummus has been a staple in Middle Eastern cuisine for centuries, its rise in popularity in the U.S. is striking. It was named "Dish of the Year" by Bon Appetit Magazine back in 2015, and North America is now estimated to account for more than 55% of the current global market share.
To put that into a dollars perspective, the global hummus market is expected to grow to more than $6.6 billion by 2027 at a CAGR of nearly 13%.
Store-bought hummus is convenient and also fits well with current consumer snacking trends. As a result, it's being sold by the tub-full in nearly every major retailer, club and convenience store in the country. Many food manufacturers have added hummus to their product lines to meet these demands and offer the many benefits of this product to their customers.
The Benefits of Hummus
Hummus is traditionally made from chickpeas or garbanzo beans, olive oil, spices and tahini — a paste made from sesame seeds. The natural ingredients in hummus align with the dominant consumer trends — clean labels and straight-forward ingredients.
In addition to simple ingredients, hummus offers consumers the following benefits:
High fiber

— Aids in digestive health

High protein

— Helps build muscle and strengthen bones

Vitamins and minerals

— Includes potassium, phosphorous, magnesium, calcium, iron and zinc; and vitamins A, B1, B2, B3, B6 and folate.

Antioxidants

— Helps reduce oxidant damage

Weight management

— Helps individuals feel fuller longer to reduce cravings

Heart health

— Can help lower LDL cholesterol and blood pressure, which also help reduce the risk of stroke

Blood health

— Can help reduce blood sugar levels, prevent anemia and boost energy
With so many benefits, it's hard to imagine improvements. But there are product challenges that some food manufacturers face, including reducing fat and calories, incorporating current trends, and improving flavor and texture.
These challenges can be overcome by reformulating with another trending ingredient: Greek yogurt or shelf-stable dried Greek yogurt powder, such as Grande PrimoTM G60.
Improve Nutrition in Hummus
The health benefits of hummus are numerous, but a typical serving of about four tablespoons of traditional hummus contains 100 calories and nearly 6 grams of fat. It doesn't take much to reach that limit when you consider that hummus is commonly used as a dip for chips and other snack items.
Using Greek yogurt in your formulation can cut the fat content in half and trim calories by almost a third, without bumping down the tahini or oil. More importantly, it can maintain that thick, rich, creamy texture that makes it perfect as a condiment or side.
As consumers clamor for more protein in their diets, it's important to note that including Greek yogurt or dried Greek yogurt powder in your hummus formulation can improve nutrition by increasing its protein content even further.
Appealing to Greek Yogurt Trends
The popularity of Greek yogurt continues to soar, and incorporating dried Greek yogurt powder into your hummus formulation enables you to align your product with both trends. It allows you to add the distinctive Greek yogurt flavor consumers can't get enough of and include the benefits of Greek yogurt on product packaging.
Because it's an all-natural ingredient, dried Greek yogurt powder can also help to keep a clean product label. Additionally, unlike its fresh alternative, dried yogurt has a long shelf life, requires no refrigeration or special handling, and can help reduce product costs.
Consumers are increasingly being more adventurous in their eating habits and are willing to try new hummus recipes. While fire-roasted pepper, garlic and ground cumin have been mainstay hummus ingredients, other trending flavors are coming on the scene. Dessert hummus with flavors ranging from chocolate to pumpkin spice are making inroads. Other trending flavors include avocado, edamame and, of course, bacon.
Using dried Greek yogurt powder in your hummus formulation can help you improve an already popular food product. Our team of expert food scientists are eager to help you make these improvements and ultimately help your company reap more market share by touting the added benefits.
Discover more creative ways to use dried Greek yogurt powder in our eBook, Using Dried Greek Yogurt Powder: A Guide for Food and Beverage Applications. Click the button below for your free copy, and reach out to us today to talk through ways to improve a wide range of formulations.