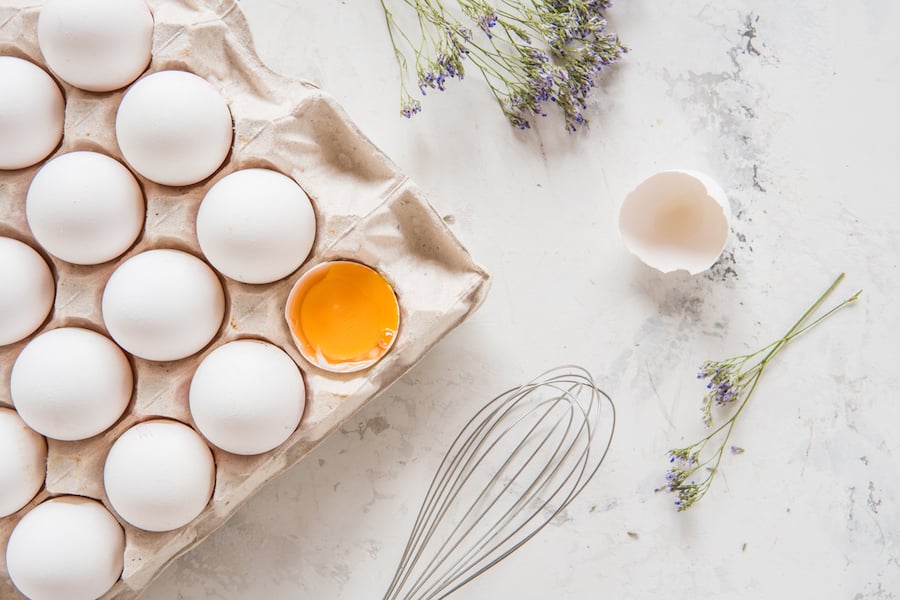 The outlook for the egg industry isn't all it's cracked up to be, and many food manufacturers are looking for ways to mitigate the risks of volatile egg markets and potential shortages. As they seek alternatives in their formulations, many struggle to achieve the same characteristics, flavor and mouthfeel that eggs provide.
Replacing eggs in formulations isn't an easy switch, especially when formulators need to still appeal to the growing number of consumers who demand wholesome ingredients and clean labels.
Here, we'll provide an overview of the state of the egg industry, the challenges it faces, and why food manufacturers should consider whey protein concentrate as a viable alternative to eggs.
Top Egg Market Risks for Food Manufacturers
Avian Flu. Back in 2014 and 2015, the Midwest experienced the largest-ever outbreak of Avian Flu in the United States. More than 50 million birds, mostly egg-laying hens, had to be destroyed as a result. Consequently, U.S. egg prices at the time skyrocketed. The highly pathogenic H7 avian influenza virus reared its head once again in 2017 in Tennessee leading to the culling of more commercial flocks.
The risk of avian flu, according to the Centers for Disease Control (CDC), is relatively low currently. But an outbreak could happen again without warning, especially for flocks located along migratory flyways, potentially sending egg pricing soaring once again.
Cage Free Movement. Consumers are increasingly demanding cruelty-free eggs when purchasing whole eggs for personal consumption at home in addition to those included in packaged foods. In response, hundreds of major retailers, restaurants and food manufacturers have promised to use only cage-free eggs by 2025.
The commitment to going cage free may have been made prematurely, however. As it stands today, the number of cage-free facilities and laying hens is woefully inadequate to meet the demands of those who've pledged to comply. The added labor, larger facilities, smaller flocks and revised practices required to produce cage-free eggs is expected to send egg prices rising even further in coming years.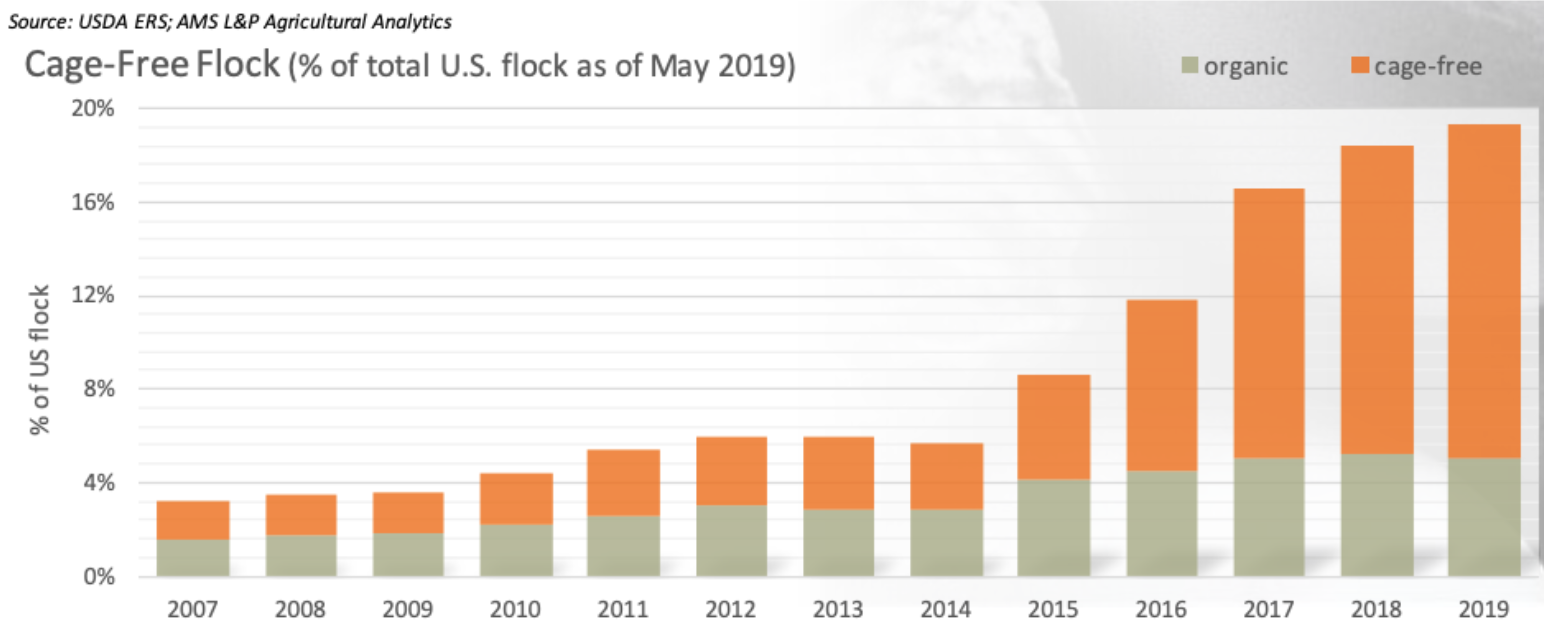 Volatile Egg Markets. It's hard to imagine an ingredient that has experienced more price volatility than eggs. In the quest for more protein, per capita consumption of eggs has experienced a steady increase since 2015. Increased demand combined with cage-free initiatives are impacting pricing of all egg categories, including shell eggs, dried, frozen and liquid egg products for wholesale production. Pricing for some forms of eggs more than doubled in a single year, then dipped again. Inventories fluctuate dramatically each year as well, sending prices rising and falling. Such volatility makes it difficult for food manufacturers to predict ingredient costs and ensure adequate inventories.


How Whey Protein Has Revolutionized Food Production
In response to volatile markets and uncertainty over the future of the cage-free movement, food manufacturers are considering alternative ingredients. Eggs, however, possess many functional properties that are difficult to replicate in food applications.
In sauces, dips and dressings, eggs serve as an emulsifier to create a smooth and creamy mouthfeel. In other formulations, it provides gelation, stabilization and texture building properties. While some starches and artificial gums can come close and have been used by some manufacturers, those ingredients no longer comply with clean labels insisted upon by consumers.
RELATED VIDEO: How to Use Whey Protein To Replace Eggs
Whey protein concentrate has helped the food industry revolutionize the way it formulates products containing eggs. The protein ingredients market continues to surge and, while plant-based proteins are gaining ground, whey protein continues to lead the category.
This is due, in part, to whey protein's ability to replicate the functionality of eggs. Grande Bravo® functional whey protein, for example, provides structure, improves texture, has a long shelf life and can even provide surface browning and other functionality that other egg alternatives simply can't.
Another advantage of whey protein over plant-based proteins and other egg substitutes is its superior nutritional profile which contains high levels of branched chain essential amino acids.
Food manufacturers and consumers alike insist on natural wholesome ingredients, but not at the expense of taste and texture. The ingredients offered by Grande Custom Ingredients Group provide clean flavor profiles that make it the perfect replacement for eggs in dressings and bakery applications.
Grande Bravo's unique water-holding functionality and distinct textural properties also enable the replacement of several other ingredients including cream, butter, fat, and cream cheese while lowering fat and improving or maintaining the product's natural mouthfeel, texture and flavor.
Examples of Whey Protein As An Egg Replacement
Our team of food scientists recently sat down to create a salad dressing that used Grande Bravo as the primary emulsifier in place of eggs. Grande Bravo provided the necessary water-holding capability needed to maintain its rich, creamy texture and mouthfeel.

Additional applications for whey protein include:
Soups & Sauces
Spreads & Dips
Cheese Sauces & Fillings
Low-Fat Foods
Processed Meats
Coatings & Seasonings
Bakery & Confectionery
Ice Cream & Desserts
And More!
Many commodity whey products and other egg replacements often result in formulation fails, such as clumping and viscosity breakdown. Use our eBook below which demonstrates how to overcome many of the challenges of using powdered ingredients in your formulations. Also be sure to check out our applications page and talk to one of our food scientists with your questions.