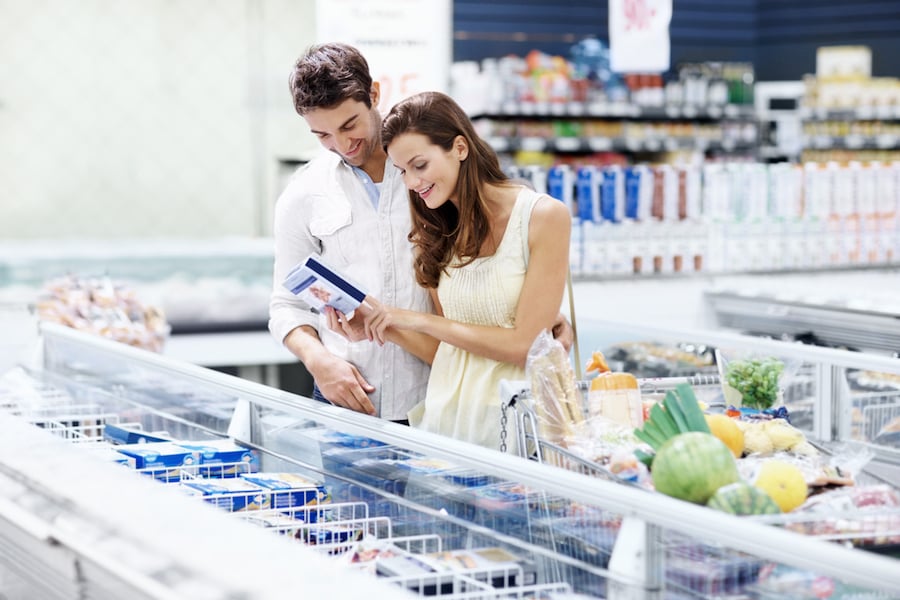 The colorless, frozen "TV dinner" of the past — a saucy mess of indiscernible meat and gravy with a side of gluey mashed potatoes and shriveled vegetables — won't appeal to today's average consumer. Did it ever?
Some would argue we're becoming a nation filled with foodies. Perhaps that's why the meal kit industry has exploded in recent years and is now worth more than $1.5 billion.
But many consumers with discerning palates who value flavor and convenience are returning to the original meal kit — frozen dinners. With new and innovative offerings, the freezer case has once again become a hotspot, especially for health-conscious consumers.
Sales of Frozen Meals Rebound
After years of declining sales, frozen foods are experiencing a resurgence. A study by the American Frozen Food Institute and the Food Marketing Institute showed in "The Power of Frozen 2019" report that frozen food sales grew 2.6% in 2018. This growth is significant considering it represents an approximate 4% swing from only five years earlier when sales were down 1.7%.
Among the types of frozen food categories seeing substantial growth are breakfast meals, which are up by 8.3%. Frozen smoothies have experienced even more significant gains with a 13% increase in sales.

RELATED: Smoothie Case Study — Maintain Neutral Flavors Across pH Levels


Food Manufacturers Highlight Nutritional Value of Frozen Food
The modern method of freezing food was developed a century ago and revolutionized the ways in which we preserve food. Though once seen as inferior to fresh, consumers are becoming more educated about just how nutritious frozen food can be.
Frozen vegetables, for example, are picked when ripe and quickly flash-frozen to maintain maximum nutrients. As a result, many products found in a grocer's freezer case actually contain more vitamins than those sold in the produce aisle. This is because "fresh" vegetables that are shipped from across the country or the border lose nutrients during their long transport.
Food manufacturers realize the importance of focusing on wellness claims on frozen food packaging, which is helping to drive growth in the category. For example, non-GMO package claims rose more than 10% in 2018, and "free-from" claims for artificial colors and flavors rose 6.3%.
In addition to changing perceptions of frozen food as a better-for-you option, the convenience factor combined with appealing price points is helping to fuel the renaissance.
Top Frozen Food Trends
The president and CEO of the National Frozen and Refrigerated Foods Association (NFRA), explained his reasoning behind the surge in sales. "There is so much innovation in the aisle today. Products are now aligned with new consumer dining habits and health trends, and new foods and cuisines are enticing and satisfying today's foodies," he said. A recent NFRA report backs up these claims, showing that 26% of U.S. shoppers visit the frozen food aisle more frequently than in the past. Notably, 43% of Millennials say they're purchasing more frozen food.
What innovations are trending in the frozen food aisle?
Signature Flavors
Frozen meal flavor trends are consistent with the top five food and beverage industry trends. Consumers are becoming more adventurous when it comes to foods and are willing to explore bigger, bolder flavors and multi-sensory experiences. Ethnic cuisines, artisanal dishes and globally inspired products that include complex spice combinations and umami flavors top the list.
Protein Ice Creams
What better to follow a hearty serving of a prepared frozen meal than a frozen low-calorie, high-protein ice cream dessert? These innovative products often contain around 300 calories per pint, yet feature rich, creamy textures and flavors found in traditional ice cream (which can contain up to four times as many calories). As the name suggests, protein-packed ice cream can achieve 24 grams of protein and an impressive 20 grams of fiber.
Gluten-Free
The number of consumers claiming gluten intolerance continues to grow, spurring the popularity of cauliflower crust pizza, riced cauliflower and other cruciferous combinations. Many of those in vegetarian, low-carb and Keto communities also find value in these products.
All-Natural
Bold nutritional claims on the front of food packaging must be consistent with the fine-print ingredient list on the back. Unfamiliar ingredients and artificial additives, such as problematic chemically modified starches and gums, need to be avoided if food manufacturers want to appeal to consumers who look for clean labels.
Food manufacturers with frozen meal and snack lines can meet the increased demand by formulating products with these food trends in mind and by minimizing fat and calories and reducing the use of artificial ingredients. The challenge, as always, will be to deliver products that don't taste like a compromise: low-fat products that have the same mouthfeel and texture as their full-fat counterparts.
As those challenges face R&D departments, we'll be here offering practical solutions. Our all-natural Grande Bravo® functional whey protein, Grande Ultra® whey protein isolates, Grande PrimoTM dried yogurt and Grande Gusto® can be used in numerous frozen applications without compromising a product's original flavor or texture, yet can reduce calories and costs when used as an alternative to eggs, cream, butter, yogurt, cheese and other high-fat ingredients. Because they're all-natural, they also can replace starches and gums which have fallen out of favor with consumers.
Learn more about the benefits of using whey protein in your applications in our eBook below. And reach out to one of our expert food scientists to talk through your formulation challenges.