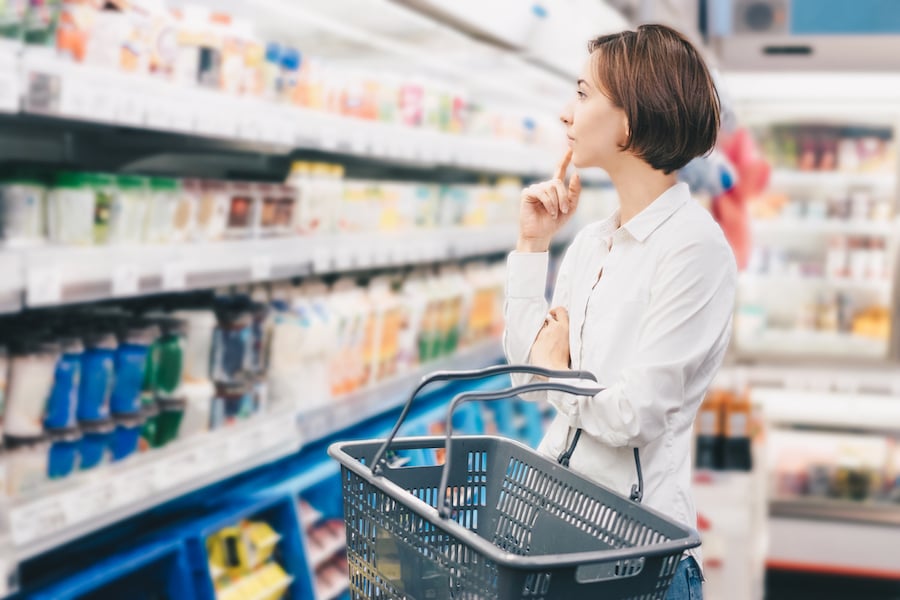 There's been a lot said about losing those extra pounds that were put on during the pandemic. But increasingly, consumers realize that achieving a certain goal weight won't necessarily ensure they'll become healthier. In fact, research indicates that constant dieting and being underweight pose greater health risks and a higher mortality rate than being slightly overweight.
Diet is increasingly becoming a dirty word.
The weight loss industry is catching on by repositioning their messaging to emphasize overall wellness. Just one example is the rebranding of Weight Watchers which now goes by WW and features a new tagline of Wellness that Works.
Food and beverage manufacturers are following suit by formulating prepackaged meals that promote overall wellness and nutrition. Here's a look at some of the top meal and entree trends.
Low-Carb Pre-Packaged Meals
One of the leading diet trends is Keto and other low-carb diets. The benefits of a low-carb lifestyle have come under scrutiny, however. Some who practice strict Keto may experience vitamin and mineral deficiencies. Low-carb diets with high fat have also been shown to increase cholesterol in some individuals. On the other hand, there is some evidence that it may help lower inflammation.
Regardless of the science, low-carb diets are here to stay for the foreseeable future. Food producers are responding by introducing a litany of carb-friendly offerings, from low-carb pizza with crusts made out of cauliflower or chicken breast, to keto potpie and more. Food producers often reintroduce low-carb versions of classic favorites that may have previously been shunned for poor quality and a long, carb-laden ingredient list.
Those following a low-carb diet often look to boost protein levels and may supplement their food plans with nutritious whey protein isolate (WPI) to help fight anti-aging and maintain muscle strength while also losing weight.
RELATED:
Manufacturer's Guide to Clean Label Formulations
High-Protein Power Bowls
Many consumers are no longer plating up their dinners. Instead, they're dishing out bowls filled with protein-packed ingredients, ancient grains, vegetables and umami-inspired sauces. These ingredients are inherently nutritious (as long as the sauces don't include high fat, calories, sodium and questionable ingredients). The power bowl trend isn't necessarily new, having been popular for the past few years on the restaurant scene. Now, food and beverage manufacturers are capitalizing on the trend and introducing pre-packaged versions.
Brands like Banquet and Healthy Choice offer convenient, frozen power bowl entrees ranging from basil pesto chicken to sesame chicken lo mein. Entrees with creamy sauces can boost nutrition even further by incorporating clean-label whey protein. Products like Grande Bravo® whey protein concentrate (WPC) are ideal in frozen applications with creamy sauces, such as an Alfredo sauce, for its ability to replace heavy cream. Likewise, cheesy sauces can benefit from Grande Gusto®, allowing formulators to replace up to 50% of the processed or fresh cheese.
These real dairy ingredients taste as good as or better than the original and remain freeze/thaw stable to retain an application's velvety mouthfeel. They both improve nutrition by reducing fat and calories, and Grande Gusto also reduces sodium.
Immunity-Boosting Foods
Improving nutrition and clean labels have been on the minds of consumers for decades but, in light of recent events, they want to go a step further. An opportunity for food formulators is including ingredients that may inherently boost immunity. Over the next five years, the Immunity Boosting Foods Market is anticipated to grow at a CAGR of 7.2% and exceed $25 billion.
While there are countless frozen and pre-packaged meals and entrees on the market that feature lower carbs and high protein on the label, few of them promote immune-boosting properties. This presents a major opportunity for food manufacturers hoping to gain an edge on competitors.
Research shows that without enough protein, the immune system can be weakened. Simply put, boosting protein can boost immune systems. With its superfood status, whey protein allows producers to enhance the immunity-boosting characteristics of existing formulations or new products without compromising clean labels or taste.
Formulating shelf-stable and frozen foods into more nutritious and simply better quality versions may appeal to consumers who are already familiar with a brand and want to recapture an era when they freely consumed comfort foods without a care. To learn how whey protein can play a role in your immunity-boosting formulation initiatives while also improving quality and reducing costs, check out our guide below. Or, contact one of our collaborative food scientists to talk through your formulation challenges.