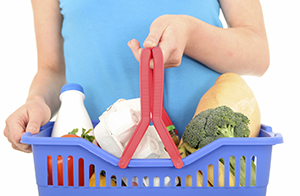 When you think of convenience store food, what's the first thing that comes to mind? Bags of potato chips? Soda fountains and slushie machines? Hot dogs that have been sitting on the roller since yesterday? Put simply, they aren't exactly known for offering the healthiest, freshest foods.
That being said, many of today's consumers buy food or beverages from convenience stores. Just as today's consumers have changed their eating habits to be healthier, convenience stores have also improved their food and drink offerings to provide more fresh and healthy options, as they look to shed their "junk food only" image and attract more shoppers.
Convenience stores are feeling the pressure of the changing food landscape. One of the biggest advocates for new and improved convenience stores comes right from our home state of Wisconsin. Kwik Trip convenience stores, headquartered in La Crosse, WI, have been leading the charge on healthy convenience store offerings for several years. Kwik Trip convenience stores are known for selling fresh fruits and vegetables, dairy products, baked goods and other hot and ready meals as a part of their EatSmart Program, which provides higher-quality food items and places an extra emphasis on their food's nutrition labels so consumers know exactly what they're getting.
With convenience store chains like Kwik Trip seeing great success with their fresh and healthy food offerings, other convenience store operators would be wise to follow suit and appeal to today's health-conscious consumers. An easy way to start is by offering fresher, healthier alternatives to the classic junk food offerings that c-stores are known for. Convenience store chains that are ready to improve the healthiness of their hot meals and on-the-go food options should look no further than Grande Custom Ingredients Group for help.
Using our line of natural whey protein products, convenience store chains can add a natural protein-boost to their various food and beverage applications, and do it all without changing their products' taste, texture or appearance. Whether they want to add a crunchy, protein-packed granola to their yogurt, or provide a fat-free dipping sauce to go along with their hot food options, our line of whey protein products has a solution for just about any application. Better yet, our natural production process ensures our whey protein isn't made with chemical modifications, additives, preservatives or antibiotics – something a majority of Americans say they don't want in their foods.
Take Grande Bravo® whey protein concentrate, for example. Our functional whey protein is the ideal ingredient to enhance a variety of c-store items, including soups, dipping sauces, dressings, spreads, and more. Its unique water-holding functionality enables the partial replacement of ingredients such as heavy cream, cream cheese and other dairy that are typically high in fat – and cost – without altering the product's intended texture or mouthfeel.
To find out more about how our natural whey protein products can help your convenience store chain create healthier food options in your stores, make sure you check out our applications page, or talk to our team of food science experts today!