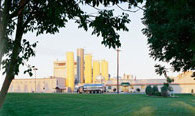 With today's consumers demanding more transparency about where their food comes from and what ingredients it's made with, shoppers are avoiding genetically modified foods and seeking out more natural, "better for you" alternatives. Whether it's at the grocery store or their favorite restaurant, today's health-conscious consumers want food that does more than just feed them; they also want food that nourishes them and provides added health benefits.
For example, looking at the restaurant industry, major brands like Chipotle and Panera are perfect examples of companies that have embraced this fresh, healthy food movement, and it's easy to see why consumers list both as some of their favorite restaurant chains. By focusing on the quality and freshness of their ingredients, these fast casual chains provide a step up from the standard fast food options, and are able to boast menus filled with natural, healthy options. As a matter of fact, Chipotle serves more local produce than any other restaurant company in the U.S., and Panera plans to eliminate all artificial sweeteners, preservatives, and flavor enhancers from their ingredients by the end of 2016.
At Grande Custom Ingredients Group, we're proud to make our natural whey protein products using only the freshest Grade A milk, and you'll be happy to know that our production process uses zero chemical modifications, additives, preservatives, or antibiotics. Just because our products come in powdered and concentrate form, doesn't mean they're not made with fresh, natural ingredients, and our whey protein production process uses many of the same techniques producers used more than 200 years ago!
To help show you just how natural our whey protein products are, we're happy to walk you through our production process step-by-step:
Our natural production process begins with pure Grade A milk collected daily from our producer dairy farms. A majority of these dairies have received a 5-star Certification from the Milk & Dairy Beef Quality Assurance Program, signifying they've surpassed the government's highest rating and ensuring the highest level of animal health and welfare. In order to become a Grande Producer Dairy Farm, farms must pass a thorough examination from our Field Services Staff. Upon passing this initial test, our field reps work closely with the farmers to tailor specific plans and implement any upgrades needed to meet our level of quality. Once the farm has made these improvements, only then will it be ready to start supplying milk.
After gathering the fresh milk from our producer dairy farms, it is then rapidly cooled and delivered to Grande plants where it's made into our world-class Italian cheeses. The FDA requires strict testing of this milk, and if any antibiotics are found, a special pink dye is added and the entire truckload is destroyed, ensuring that no manufacturers purchase that milk.
Once we've gathered the natural, high-quality whey that's left over from the cheese production process, we're ready to start making our whey protein products. Sweet whey is put through membranes, which act as a filtration system to concentrate the protein and separate the lactose. After being filtered through the membranes, the whey is then heat-dried into a powder, with zero chemical modifications. Because no additives, preservatives, or colors are used during this process, the resulting Grade A, natural whey is the finest available!
In addition to using the finest natural ingredients, we also follow a strict chain of custody to reduce the chances of system breakdowns. By adhering to this chain of custody, we're able to guarantee safe, secure, and consistent products that exceed the highest quality and safety standards. Nothing goes from Point A to Point B without passing thorough quality control checks, and our facilities are certified at Level III Safe Quality Foods (SQF).
Despite what you may think about other food concentrates, our whey protein products are natural and free of any additives, preservatives, colors, and chemical modifications. Our protein concentrates, isolates, and crisps are an excellent source of high-quality whey protein, and are beneficial for consumers of all ages. To learn more about the different applications for our whey protein products, please use our applications page, or contact one of our food scientists today.