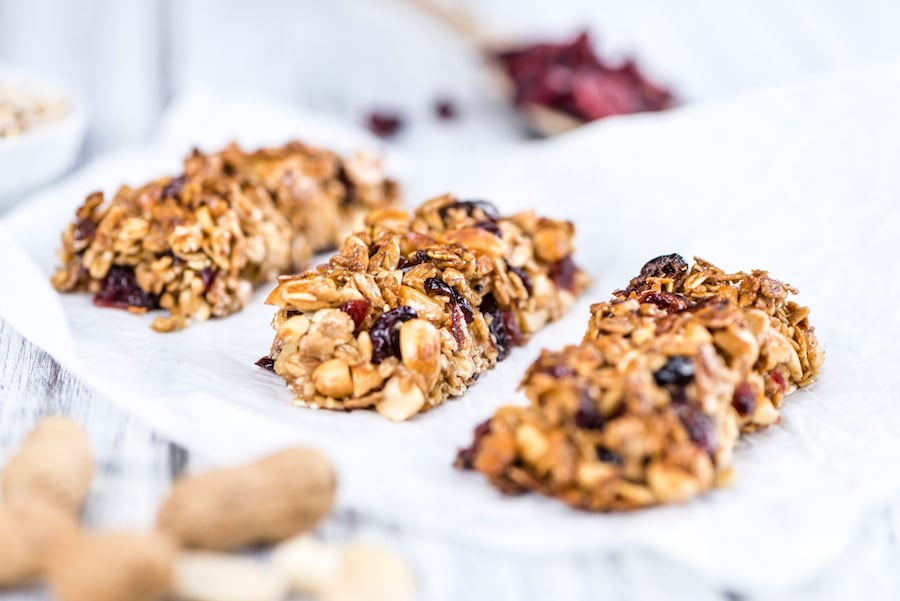 With today's busy consumers on the lookout for healthy grab-and-go snacks, protein-packed bars, cookies and snacks have exploded in popularity over the past few years. The global healthy snacks market is expected to grow more than 5% through 2024.
Whether it's a crunchy peanut butter protein bar or nutty trail mix with yogurt-covered raisins, blueberries or almonds, consumers are choosing more nutritional protein snack options.
That being said, about one-third of consumers choose snacks for their indulgence — about the same percentage as those who choose snacks for their wellness benefits. When food manufacturers can appeal to both market segments by formulating a single product that is both indulgent and nutritious, they can more easily capture the attention of consumers and capture market share.
Whether from a vending machine, grocer's shelf or convenience store, see what today's picky consumers are reaching for when craving a healthy snack.
Top Indulgent Healthy Snack Trends
Low Sugar and Natural Sweeteners
Those with serious health conditions such as diabetes are especially mindful of added sugars in the foods they eat. Some snack manufacturers have even created diabetic-friendly products as part of a niche specialty market to cater to those battling the disease.
Increasingly, however, the low-carb and Keto communities are influencing the trend toward lower glycemic counts and fewer grams of sugar. Those with these types of food plans also avoid artificial sweeteners. As a result, naturally derived sweeteners such as stevia and erythritol are showing up in ingredient lists. These natural sweeteners are calorie-free and keep blood sugar levels steady.
Consumers also increasingly look to add more protein to their diets. Snacks supplemented with whey protein have been shown to provide the greatest nutritional value, curb hunger and even reduce the risk of diabetes.
RELATED: Find out which protein crisp is right for your snack foods
Mindful Snacking
As part of the clean label movement, free-from claims are popular with consumers. What's not on a label is just as important as what is. In addition to no added sugars, consumers are avoiding additives, preservatives and artificial ingredients. They're also choosing gluten- and soy-free products.
Organic products are also mainstream, and several grocery stores are increasing shelf space in response to consumer demands for clean label snacks. For consumers who prefer to dine at home, healthy snacks are even being added to meal kits.
Global Flavors
As is true with entree and side dish trends, robust flavors and ethnic influences are showing up in the snack aisle. Consumers are eager to try foods that are culturally diverse and offer bold and spicy flavors. Snacks featuring Asian-inspired flavors like cardamom, garam marsala and Korean barbeque are popular, as are other global flavors ranging from key lime and cape gooseberry to matcha, paprika and sofrito.
Of course, a flavor profile that remains atop almost every snack category is cocoa. Even with this classic ingredient, however, many snack manufacturers are adding a twist by blending cocoa flavors with cinnamon, salted caramel and chili peppers.
Crunch Without the Cholesterol
The decline in salty, oily snacks is in response to health-conscious snackers who want treats with less sodium and trans fats and more natural ingredients and protein. There's a shift in attitudes toward low-fat products and consumers are making the distinction between healthy fats and those that are bad for you. This trend is leading consumers to gravitate toward snacks with fruit, nuts, seeds, oats, whole grains and more — a clear indication that they still want classic crunchy textures.
The move away from snacks that are deep fried or baked with added oils provide many opportunities for food manufacturers to create sweet treats with a healthy twist. One approach that's currently popular in the sweet, healthy snack market is using protein-packed crisps to add an appealing, crunchy texture and boosted nutritional benefits to applications. Because of their clean, neutral flavor, protein crisps can be incorporated into many different applications including protein bars, snack mixes, cookies or even cereals.
At Grande Custom Ingredients Group, our protein crisps are made with the highest quality whey protein available, and are meant to be used as an inclusion in snack bars and other healthy products to help improve nutrition. They're the perfect replacement for soy, corn or rice crisps in your applications, and have the ability to be seasoned or coated. We even offer a natural dark cocoa flavor at a 60% protein level, which is an ideal choice for sweet, chocolatey applications.
To find out more about which protein crisps are the best type for use in your snack application, download our Grande WPCrisp Taste & Texture Comparison Study by clicking below. And don't hesitate to reach out to our expert team of food scientists if you'd like to talk about a natural ingredient solution to your formulation challenge.