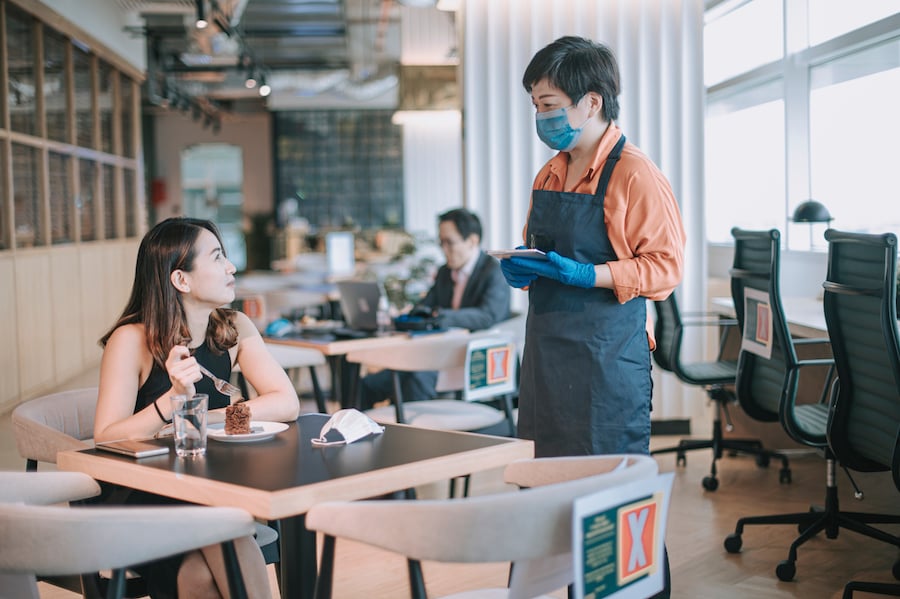 Of all the industries that have been impacted by COVID-19, the hospitality and food service industries are arguably among the most hard hit. Restaurants, in particular, suddenly shut down in spring 2020, leaving millions of workers out of a job and businesses with already slim profit margins on the brink of permanent closure.
For many, that became reality. As of the end of August, nearly 20,000 restaurants across the U.S. permanently shut their doors as a direct result of the pandemic. And it's not just smaller, family owned restaurants feeling the pinch. Several major restaurant chains filed for bankruptcy this year and closed several locations, including Ruby Tuesday, California Pizza Kitchen and Chuck E. Cheese. While not filing bankruptcy, many others have closed locations, too, including behemoths like McDonalds, Burger King, Pizza Hut and even Starbucks.
A major business model, the self-serve buffet line, may face the biggest challenge as consumers remain leery due to the coronavirus pandemic. While many restaurants and food service establishments face challenges, others are reinventing themselves to adapt to a new normal.
Limited Capacity Dining
In addition to complying with 6-foot social distancing guidelines for restaurants and bars issued by the CDC, some state orders have limited capacity to 25%, a hard pill to swallow for many establishments.
Strategic rearranging of floor plans to maximize space between seating is a burgeoning business opportunity for interior designers and architects. Measures that have been implemented at check-out aisles in retail stores are also finding their way into eating establishments by way of plexiglass partitions that separate booths and tables.
To accommodate wary patrons, many restaurants are offering outdoor dining, and some communities are supporting their efforts by blocking off streets to expand available space. The challenge grows deeper for those located in northern climates, however, where winter weather eliminates that option. As colder weather approaches, increased efforts for curb-side pickup will need to displace outdoor diners.
Take-out & Delivery
The number of people who turned to food delivery apps during the pandemic grew at a dizzying pace. While these apps can help restaurants get their signature dishes delivered into the hands of customers, it comes at a cost. The most popular apps, such as DoorDash, Grubhub and UberEats, charge restaurants anywhere from 15% to 30% per order. Most patrons are unaware that the restaurant is paying these steep commissions to a delivery service (on top of any app delivery fees the customer pays).
To avoid these high commission fees, some establishments urge customers to opt for curb-side pickup or enlist their own drivers, especially in smaller communities where app drivers are scarce. Some even offer a slight discount — at a lower rate than their delivery app commission — to entice customers to pick up their meals.
Retail Sales Opportunities
Another way to get menu items into the hands of customers is by offering popular dishes in grocery stores, which also have seen a rise in online sales. Many major restaurant chains expanded their brands to appear in frozen food aisles and refrigerated sections across the country.
Lesser-known establishments can follow suit on a smaller scale by partnering with local grocers. Many grocery stores are locally owned and supportive of small businesses in their community, embracing opportunities to help a local restaurant expand its normal customer base. A challenge is proper packaging and ensuring that menu items remain as appetizing at home as they are when dining out. Offering only those items that can ensure freshness or maintain their integrity when reheated is the key to success.
Turning Challenges Into Opportunities
It's difficult to know whether most restaurants will be able to weather the storm we're facing. Some restaurateurs have built stronger connections with their communities to encourage support for local businesses. Realizing they're all in this together, others have even partnered with "competing" restaurants to share resources, staff and supplies.
Some restaurants and the foodservice companies that supply them are looking ahead to ensure their recipes and formulations are conducive to the new ways that consumers get their food. While the hope remains that normal in-person dining will resume, some consumers may have gotten used to the idea of take-out and delivery.
Moving forward, the use of shelf-stable ingredients needs to be a consideration when offering menu items in grocery stores or for takeout. Challenges that they face may include creamy sauces that contain starches or fresh cream which tend to separate when reheated or lose other textural properties.
Revising recipes and formulations to overcome these challenges can include using whey protein concentrate, such as Grande Bravo®, in place of perishable cream, butter and eggs. Grande Gusto® is another option that replaces cheese, a perfect solution for improving cheesy soups and sauces by reducing sodium in mac & cheese, nachos, dips and other popular items. These products maintain rich, creamy consistencies without compromising flavor or functionality.
As nutritious and all-natural ingredients, they also comply with clean label initiatives which are still important to consumers, and can help reduce ingredient costs to help maintain healthy profit margins. Contact Grande Custom Ingredients Group for samples of these and other functional ingredients, and be sure to take a look at our helpful guide below that outlines additional reasons to use whey protein in your formulations.