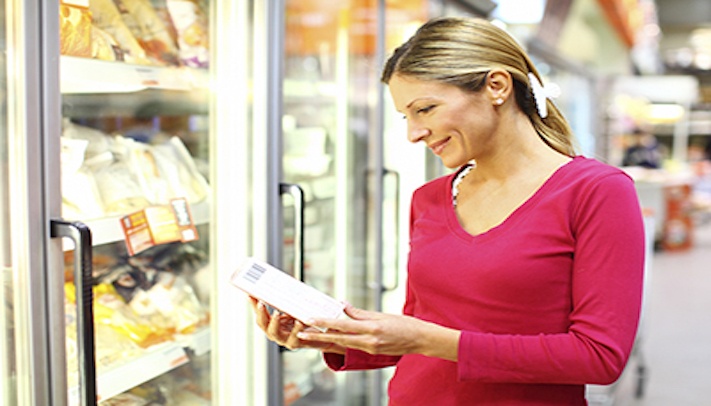 According to the Food Channel's Top Ten Food Trends of 2015, the frozen dinner is prime for a re-invention. Not because consumers are starting to look for other options, however, but because consumers in different life stages want different things when it comes to their frozen meals. For example, we all know that consumers cook more when they have a growing family at home, but for Baby Boomers who are now becoming Empty Nesters, what used to be a perfect frozen dinner for their family of four is now too big for their "dinner for two" needs. Despite having fewer mouths to feed, Boomers are facing challenges downscaling their grocery buying habits, as they aren't looking to sacrifice the convenience of these frozen offerings; they just need products and serving sizes that are better suited to their specific age-related demographics.
Though we've seen certain brands target different age groups and demographics with their frozen meals before (e.g., Hungry-Man and Kid Cuisine), the majority of frozen food makers market their products as something suitable for everyone, or limit the serving size to two basic choices: single serving or family-sized. Given the increased focus on health, nutrition, and portion control among American consumers, however, today's frozen food manufacturers have an opportunity to create a competitive advantage by offering nutritious, convenient frozen meals that better fit the lifestyles of varying consumer groups. Whether this means creating healthier frozen meals for two that feature more natural, functional ingredients or highlighting the functional benefits of your product and targeting them towards a certain demographic (i.e., low-fat for adults watching their cholesterol), there are several ways frozen food manufacturers can generate growth in what some believe is a declining market.
One way that today's food manufacturers can combine quality and convenience in a way that attracts different age demographics is by using whey protein ingredients in their frozen food offerings. Not only does whey protein provide numerous health benefits for consumers of all ages, but certain whey protein products, like Grande Bravo® functional whey proteins, can actually improve the quality and taste of your frozen meals.
Grande Bravo® is a natural, functional whey protein concentrate designed to be a low-fat, low-cost alternative to high-fat, high-cost dairy ingredients like cream, butter, fat, and cream cheese. In addition to replacing dairy ingredients, it's also the perfect substitute for eggs, and can help clean up product labels by reducing the amount of starches and emulsifiers required in your products. Bravo's unique water-holding capabilities enhance your foods' texture, and provides a creamy mouthfeel that other whey protein concentrates simply can't match. In fact, just look at the comparison below: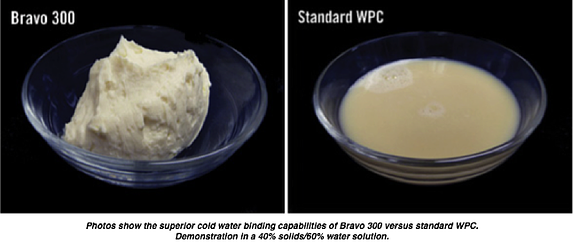 In addition to Bravo's water-holding capabilities and health benefits, it's also heat and freeze-thaw stable, making it ideal for use in your frozen meals. Whether you use it in creamy sauces and fillings, soups, or frozen desserts, Bravo can be used in many different frozen food applications, and meets all the requirements and certifications for USDA/FDA, Kosher Dairy, and EU, as well as being made in our SQF Level III-certified facility!
To learn more about how Grande Bravo® can help improve your frozen meal quality and nutrition to target different consumer groups, make sure you download our Grande Bravo® Frozen Pasta Case Study, or talk to one of our Food Scientist experts by filling out our online contact form.