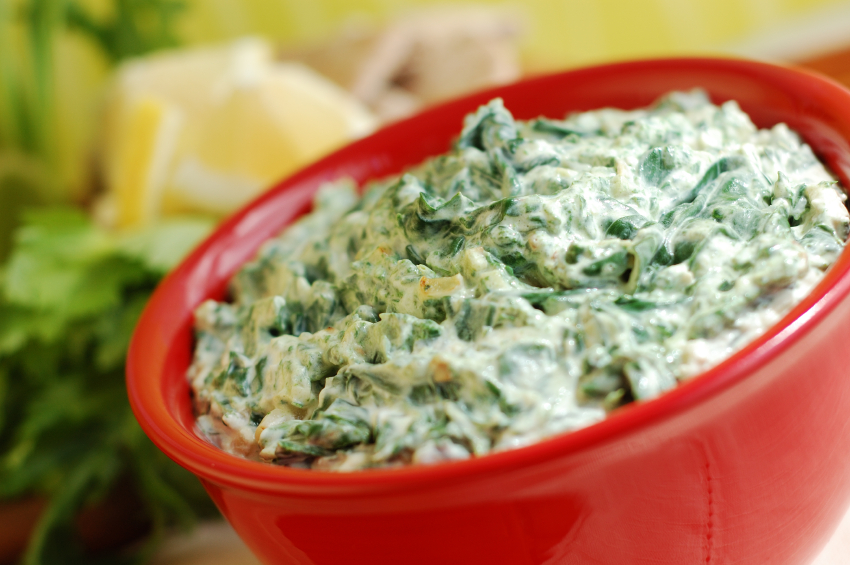 Making it in the restaurant industry is no easy task. With more than 630,000 different restaurant locations in the U.S., it's hard to stand out from the crowd and gain a competitive advantage. The style of cuisine a restaurant serves can help differentiate that restaurant from the others, but the type of food they make isn't nearly as important as the quality. There might be 4 Italian restaurant chains in a city, but only 1 place can be known as the best, and it starts by having the best food.
As Americans continue to be more health-conscious about the foods they eat, however, they've started to redefine what it means to have the best food. For some consumers, the best food is simply the food that tastes best. But for the many health-conscious consumers out there, the best food might actually be determined by what's healthiest. Because today's consumers are more knowledgeable about nutrition, diet, and exercise, they understand the benefits of eating a grilled chicken sandwich instead of a greasy cheeseburger, and they're starting to avoid less-healthy options in favor of what's better for their bodies as long as they don't have to sacrifice taste at the same time.
That being said, with more and more Americans electing to choose healthier menu items, one of the best ways for restaurants to stand out among the competition is by giving consumers what they asked for. In fact, 71% of adults say they're trying to eat healthier at restaurants than they did two years ago! Rather than promoting dishes that leave consumers feeling guilty, restaurants should focus on healthier dishes that consumers won't feel remorseful about eating. This doesn't mean you should trade all the cheeseburgers for tofu burgers, but you should at least highlight the functional benefits of your menu items (i.e., "Great source of Omega-3" or "20g of protein per serving") and offer a handful of healthier alternatives (i.e., fat-free sour cream or low-fat salad dressing).
By offering these healthier menu options for your customers, you can start to differentiate yourself from your competitors and gain a competitive advantage. But just because you make things healthy, doesn't mean you have a free pass to ignore quality. The best way to separate yourself from the competition is by offering a balance of the best tasting, most nutritional foods available, and Grande Custom Ingredients Group can help you do that.
Using our innovative whey protein products, restaurant chains can create low-fat, high-protein variations of their most popular menu items. Whether they're looking to create a low-fat Alfredo sauce, low-fat Caesar dressing, or even a low-fat dessert, Grande has a product for just about any application. And unlike other protein products that rely on one formulation for multiple applications, our exclusive production process allows us to create several formulations of each protein product to provide you with optimal flavor and texture matching for your original recipe. You get all the flavor and texture of the original product, with fewer calories or fat, and with an added bonus of more protein.
As a matter of fact, just look at how much Grande Bravo® is able to lower the fat content of this chipotle cream sauce (see below). By substituting half of the cream for our whey protein concentrate, we saw calories decrease by 28%, total fat decrease by 44%, and saturated fat decrease by 40% - all with a 100% increase in protein!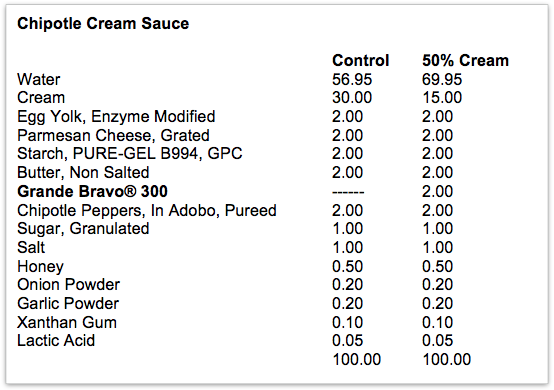 Recently, we created a unique "chef kit" that was designed specifically for executive chefs, allowing them the opportunity to experience the benefits and functionality of Grande Bravo firsthand. We continue working with restaurants to help them meet their specific needs by providing innovative applications, such as the Chipotle Cream Sauce above. To find out more about how our whey protein products can help you create low-fat, higher-protein menu options for your restaurant chain, check out our applications page or talk to one of our food scientists today!