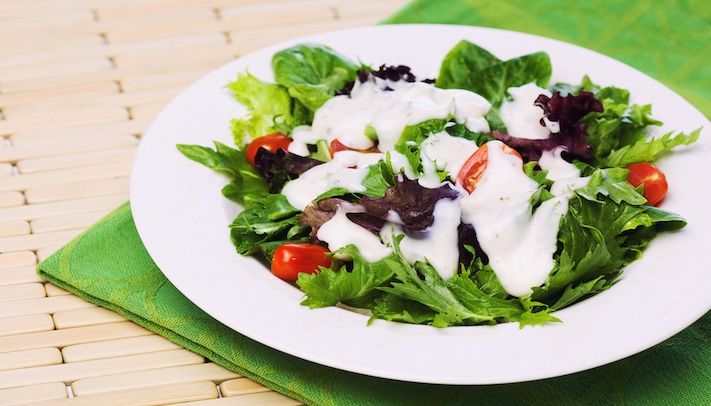 Americans love ranch dressing. It's the most popular salad dressing, beating out Italian, Thousand Island, blue cheese and Caesar by a landslide. Whether they're putting it on salads, dipping their buffalo wings in it, or drizzling it over pizza, there are about a million different ways consumers use it. Maybe that's why Americans use nearly three times as much ranch as any other prepared salad dressing flavor.
While it's clear we have a love affair for this creamy dressing, not all ranch is created equal. When comparing fresh refrigerated dressing brands and restaurant dressings that are prepared on site to pre-packaged ranch dressing that sits on grocery store shelves, it's clear that consumers prefer the taste and texture of the dairy-based, fresh brands much more than their preservative-packed counterparts.
Unfortunately, what they don't prefer is the increased fat and calorie content that often comes with them.
And thus begins the dressing dilemma…
Full-Fat vs. Low-Fat Salad Dressing
Classic ranch dressing recipes contain a perfect blend of spices including onion powder, garlic powder, parsley, chives, salt and pepper. Of course, you can't forget the savory ingredients such as full-fat buttermilk, sour cream and sometimes mayonnaise or olive oil. It's these savory ingredients that give ranch dressing its creamy texture and mouthfeel…but also stack on the fat and calories.
For years, chefs and food scientists have relied on the two options: go full-flavor (a.k.a. full fat content) OR go with a lower-fat or fat-free option that likely sacrificed taste and texture and didn't comply with clean label initiatives. To make up for the lack of flavor and consistency, many in the food and beverage industry added artificial flavors and colors and packed salad dressings with sodium, preservatives and sugars like high-fructose corn syrup.
Because many low-fat salad dressing formulations end up replacing fat with a litany of questionable ingredients, they end up being anything but "healthy" in the eyes of medical professionals and discerning consumers.
RELATED: Changing Consumer Attitudes Toward "Low Fat" and What it Means for Food Manufacturers
There has been a constant battle to find a happy medium between full-fat and low-fat dressings. Despite their best efforts and numerous attempts, few food manufacturers have been able to replicate the taste and texture of the high quality, refrigerated restaurant-style dressings in a lower-cost and lower-fat application.
But many food and beverage manufacturers have met the challenge through the use of all-natural whey protein concentrate as an alternative to cream, oil, sour cream and other high-fat ingredients in their salad dressing formulations.
How All-Natural Whey Protein Improves Nutrition, Taste and Texture
Using an exclusive, proprietary production process, Grande Custom Ingredients Group developed Grand Bravo® — a functional whey protein concentrate that is very different from commodity whey proteins. Grande Bravo has distinct water-holding capabilities that allow it to replace high-fat dairy ingredients and maintain the texture and mouthfeel of full-fat dressings.
The Grande Bravo product line has several variations that are designed to provide different flavor and texture options to meet varying formulation challenges. By focusing on functionality, we are able to create a versatile ingredient that can be used as a low-cost, low-fat replacement for expensive, high-fat dairy ingredients such as cream, butter, fat, and cream cheese.

As a result, food scientists are able to streamline their supply chains, lower the cost of their ingredients and reduce the fat and calorie content – all while maintaining the same high quality, great taste and texture of the original.
Case Studies Prove Whey Protein Concentrate Functionality
Similarly to salad dressings, Alfredo sauce formulations are notoriously high in fat and calories. One manufacturer was able to achieve a 50% reduction in heavy cream by using Grande Bravo. As a result, not only did they cut their expenses on cream in half, their new formulation also contained 30% less fat than the traditional recipe. This resulted in a lower-cost, lower-fat solution that still provided the same authentic Alfredo sauce taste and mouthfeel.
Another food manufacturer used Grande Bravo whey protein concentrate to reduce the fat, calories and cost in a new product launch of their spinach and artichoke dip — while maintaining a creamy texture. The R&D team at Grande Custom Ingredients Group collaborated with the company's formulators to develop a formulation with 50% less fat and 23% fewer calories than their original version, and a savings of more than 25% in dairy ingredient costs.
View the full case study with additional benefits by clicking the link below. To learn more about how you can use Grande Bravo to create great tasting lower-cost, lower-fat alternatives for your dairy-based sauces, dressings and other applications, please contact us today!