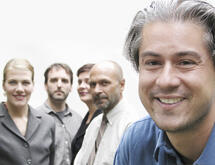 These days, companies across all industries are trying to unlock the marketing code to figuring out Millennials. Not only are they the largest demographic of buyers in the United States, but they're also the youngest – which leaves many companies hoping to establish a relationship with them for the future. And while it'd certainly be foolish for companies to ignore their future audience, many are doing it at the cost of their current buyers.
Sandwiched between Baby Boomers and Millennials is another important demographic of buyers in the U.S.: Generation X. This generation, which currently ranges in age from 34 to 49, is often forgotten and treated like the neglected "middle child." But for a generation of people smack-dab in the middle of their professional careers and adult life, they surely hold a lot of buying power. Whereas Millenials are subject to more financial hardships than previous generations due to increased levels of student loan debt, unemployment, and lower levels of personal income, most Gen Xers are in a steady career and working toward retirement.
Apart from their increased buying power, however, Gen X has a lot more to offer to food manufacturers than they might think. According to a consumer report from The Hartman Group, Inc., Gen Xers hold strong opinions about the food they buy. In fact, 50% of them read a product's nutrition information before deciding what to purchase. Combine that with the fact that 25% of consumers list protein as the primary nutrition fact they look for on a product's label, and it's easy to see how you can meet their needs.
Rather than focusing most of your efforts on a finicky demographic that's hard to reach, don't forget to invest some effort into the people who likely drive a large portion of your sales. And as U.S. consumers become more and more health conscious about the foods they eat, make sure you understand how you can help these Gen X consumers enjoy a healthier diet. As they get older, Gen Xers understand that a protein-rich diet has many anti-aging and health benefits; it's just up to the food manufacturers to provide it.
That being said, the easiest and best way to add a high-quality protein boost to your products is with whey protein. Not only is whey superior in quality to other protein options, but it also has the cleanest, most neutral taste of the popular options available. And when you use any of Grande's whey protein products, your new lower-fat formulation will still maintain the original product's taste and texture as well. Whereas other whey protein manufacturers use a one-size-fits-all formulation, our products comes in a range of formulations to better match your unique original texture. And whether you need protein for a sauce, spread, crunchy snack, or drink, we offer a variety of products for use in different applications – each being an industry leader in quality. But don't just take our word for it, check out this side-by-side comparison of our Grande Bravo® whey protein concentrate versus one of our competitors: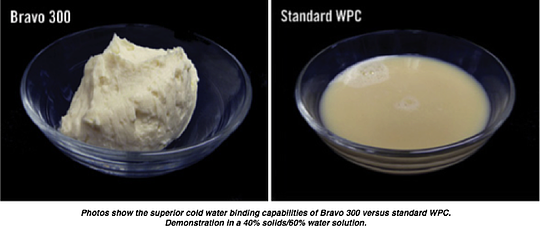 Notice how runny theirs looks? That's because it isn't well formulated to match texture. If you're looking for a high-quality whey protein solution that will help you reach health conscious consumers – especially Generation X – without sacrificing taste, texture, or quality, look no further than Grande. For more information about how our products can be used in different applications, check out our applications page or contact one our food scientists today!