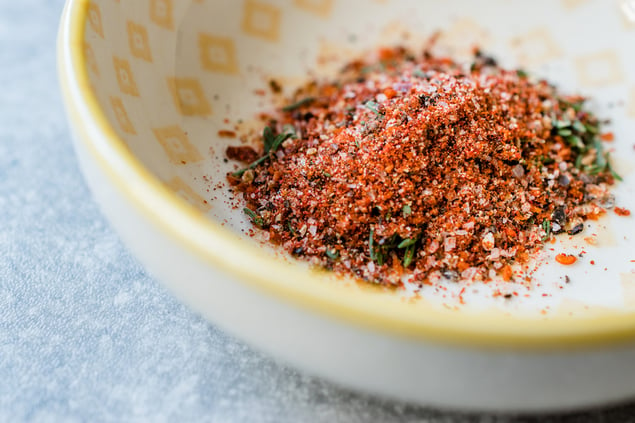 Annual U.S. sales of pre-seasoned and marinated meats increased significantly in recent years. According to the 2023 Power of Meat study, 31% of consumers say they frequently purchase value-added meat, up 10% from five years ago.
The popularity of value-added meat products likely helped contribute to the growth of the global seasoning and spices market, which topped $35 billion in 2021. The market is expected to grow at a CAGR of 5.6% through 2030.
Unique flavor profiles, clean labels, and exceptional functionality are the ‌keys to success for those who produce meat seasoning blends and marinades. However, the bulk meat seasoning market is highly competitive, making it difficult to get noticed by meat producers.
Grande Festo™ is an innovative, all-natural, clean-label ingredient that offers additional value to both the seasoning mix formulator and food scientists in the meat industry. Go beyond just offering flavor with your seasoning blends and marinades, and stand out from the competition with Grande Festo's unique functional benefits.
1. Increase Yield in Ground & Whole Muscle Meat
In production facilities, custom-formulated meat seasoning blends are incorporated into ground or compressed meat products. Some are also hydrated and used as marinades in vacuum tumblers for whole muscle meat.
A seasoning company that can promise even a 1% yield enhancement in a beef or poultry product can differentiate itself from competitors. Delivering on that promise will most certainly pique the interest of meat scientists.
Many meat companies include saltwater phosphate to help increase saleable volume; adding Grande Festo can further increase yield up to 4% when used in a seasoning blend or marinade while at the same time enhancing umami and maintaining a savory texture and mouthfeel.
2. Maintain Clean Label Status
Clean labels continue to be important to consumers, with two out of three saying they're influenced by "free from artificial ingredients" claims. The presence of fillers or binders often negates the ability to label meat products as "clean label" or "all-natural."
Grande Festo is an all-natural ingredient with zero chemical modifications and is not classified as a filler or binder. Furthermore, it contains no food coloring, added flavors, or preservatives, all of which have negative connotations. Including Grande Festo in a clean-label seasoning blend or marinade supports a producer's natural claims.
3. Enhance Umami Flavors
Buyers of seasoning mixes look for unique flavor profiles, often with ethnic or regional influences. However, some ingredients — even those with natural claims — can introduce "off" flavors that are bitter, metallic or sour.
Including seasoning blend ingredients that contribute to a meat product's natural umami flavors is another value-added feature of Grande Festo. Its naturally occurring mineral content enhances umami flavors and provides a rich, savory mouthfeel.
4. Incorporate Into Existing Production Systems
Meat product producers are eager to leverage functional all-in-one seasoning blends that can improve yield, flavor and texture, and clean up labels. However, they're generally not willing to entertain the idea if it means slowing down production or modifying a production process.
Adding Grande Festo to a dry seasoning blend is simple and doesn't require any additional steps for meat processors. When used in a vacuum marinade, Grande Festo is easily hydrated and doesn't require additional thermal treatments or sheer. And, because it's in powdered form, there are no added storage issues.
5. Consistent Supply Chain
Seasonings have signature flavor profiles and custom blends that must maintain consistency from one batch to the next. Supply chain disruption of a single ingredient can quickly lead to an inability to fulfill orders.
According to a recent article by the Institute of Food Technologists (IFT), "Clean-label suppliers and seasoning product developers make themselves more competitive by strengthening their distribution systems, entering into clean label partnerships, making new regional acquisitions and expanding their product range."
Grande Festo is a readily available ingredient made in the Midwest United States using the highest-quality raw materials. Producers can be confident that it will show up at their facility when they need it.
If you're a producer of seasoning blends, mixes or marinades used in meat products, contact the food scientists at Grande Custom Ingredients Group to talk through how Grande Festo can help you deliver more value to your customers.