As a company that strives to be a responsible corporate leader, social responsibility is fundamental to Grande®'s culture and core values. Being a principle we believe in and embrace, social responsibility reflects in the commitments we make to our Associates, Producers, customers, and communities. Throughout this 4-part blog series, we'll give you an inside look at the steps Grande is taking to help positively impact the world around us!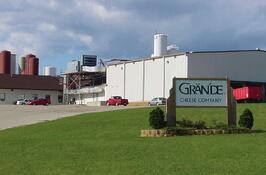 Business sustainability has been defined as, "development that meets the needs of the present without compromising the ability of future generations." That being said, no decision is made at Grande without carefully taking its future consequences into consideration first.
Brand Focus & Trademark Excellence
In 1968, Grande made the decision to no longer manufacture private label cheese. Rather than capitalizing on the substantial volume opportunity associated with private labeling, we knew that we couldn't be the best we could be by focusing on becoming the largest. Instead, by focusing on trademarking excellence in everything that we did, we wanted to redefine the benchmark standard – not just meet it. Today, more than 45 years later, adherence to this level of brand excellence is essential to the profitability and sustainability of the company.
Fiscal Responsibility & Capital Reinvestment
In order to become both socially responsible and financially successful, Grande's executive and management staff works diligently to set strategic plans, goals, and budgets that are in-line with the long-term growth goals of the company. To help accomplish this, we reinvest a substantial portion of our profits back into capital projects and initiatives that support our long-term sustainability – projects that include: new products, capacity expansion, technological advancements, and other improvement products.
Customer Sustainability
At Grande, it's our job to help our customers grow their business by supplying the quality ingredients demanded by their customers. One example of this is our Grande's Solutions @ Work program. For our 100% Italian cheese customers, we help them redesign their menus and reach their demographic of customers with a direct mail campaign.
Dairy Producer Sustainability
Grande's relationship with our producers is considered one of the best in the country. Not only do we support our dairy producers with a staff that includes a full-time herd health and wellness veterinarian, we also provide classes for mid-level farm managers that teach proper cow handling procedures. In addition, to help expand and enhance the service offerings at Grande, we added a bilingual professional to our team.
Apart from providing unparalleled support on the farms, it's also important to note that 34% of Grande's milk supply is produced with renewable power technology, such as methane digesters.
Food Safety
When it comes to food safety and quality, Grande's commitment to excellence is second-to-none. Not only do we adhere to all applicable state and federal regulations, but we also go above and beyond them by utilizing several industry best practices. In fact, Grande earned the Safe Quality Food (SQF) Level 3 certification for both food quality and safety. As a universally recognized certification by the Global Food Safety Initiative (GSFI), the SQF program assures consumers, retailers, and suppliers alike that all Grande products meet the highest standards in the industry.
Business Governance
In order to make sure that Grande is meeting all of its objectives related to financial reporting, operating efficiency, and law and compliance, we have increased focus on the company's control procedures and internal audits. Our board of directors monitors and oversees executive management, reviews and approves the company's strategies, and ensures Grande's accountability to all stakeholders.
As you can see, business sustainability covers a variety of different components of the business. Now, however, it's much easier to see how being socially responsible is apart of everything that we do. Rather than sacrificing quality for short-term gains, we strive to give all stakeholders confidence that Grande will be a healthy, sound company for many years to come.