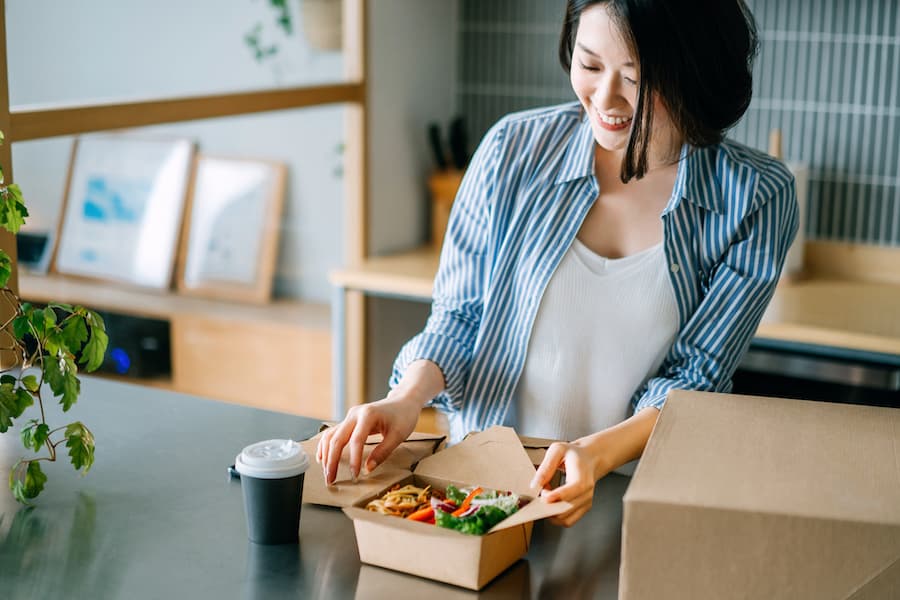 The concern over climate change among consumers is a key consideration when choosing products, and it's driving their purchasing decisions more than ever before. For years, the major target to fight climate change has been the oil and gas industry and its promotion of fossil fuels. Increasingly, food manufacturers and the food system, in general, have come under scrutiny.
Choosing sustainable packaging and moving away from single-use plastics to biodegradable packaging or recyclable glass is one way that consumers are trying to do their part. But they're becoming more aware of the impact that the food products inside those packages are having on the planet.
The hard truth is that food manufacturing ranks in the top five industry sectors that contribute the most to climate change. The global food system accounts for more than one-third of greenhouse gas emissions, equating to 18 billion tons. The data is based on the entire lifecycle of food from the grower to the consumer, including the gathering of raw materials, production, processing, distribution, preparation and consumption.
Multiple studies show that consumers are ready to hold food companies accountable.
Studies Reveal Consumer Sentiment Toward Sustainability
Consumers' concerns about the environment are growing exponentially, and several research findings show their true intentions and the efforts they'll go to in order to support their beliefs.
A Deloitte study of more than 10,000 consumers showed that about two-thirds (64%) list recycling and reusing among their top three concerns. One-quarter (23%) are intent on switching to products that share their values on environmental issues, and 42% already have changed their consumption habits as a result.
An Ipsos poll revealed that consumers want to reduce their carbon footprint, and they want brands to help them do it.
63% believe it makes a difference for the environment when they purchase sustainable brands or products
Nearly half (44%) of respondents said that sustainability practices have been a factor when purchasing brands or products
60% are willing to pay more for sustainable brands
About half of parents (49%) have avoided brands because they disagreed with the company's sustainability practices
Two-thirds (66%) believe that companies have a moral obligation to use sustainable packaging
Not surprisingly, Pew Research found that younger generations are most concerned with environmental issues. In a survey conducted in early 2021, they found that Gen Zers (32%) and Millennials (28%) have taken measures to address climate change in the past year, and about two-thirds of them have talked with friends or family about taking action. Moreover, nearly seven in ten (69%) of Americans believe that businesses and corporations aren't doing enough to address climate change.
Food Companies Take Action
When shoppers and diners demand environmentally sustainable food products, food and beverage manufacturers, restaurants and foodservice companies must follow suit. There is a clear opportunity to take action in the fight against climate change, and companies that take a proactive approach will help to further educate patrons and set the precedent.
One restaurant that is helping its customers make informed choices is Panera Bread. They were the first restaurant chain to disclose their calorie counts more than a decade ago. Now, they are leading the way in disclosing how much impact individual menu items have on the environment.
When the ingredients in a menu item have a collective footprint that is less than the equivalent of 11.86 pounds of carbon dioxide, it's given a "Cool Food Meal" badge. More than half of Panera Bread's menu has earned the distinction, including its Broccoli Cheddar soup. As with calorie counts, the hope is that other restaurant chains will follow suit.
Providing consumers with products that are inherently sustainable and help them minimize their personal contribution to climate change helps them to feel empowered. To do that, however, requires transparency on the part of food companies, restaurants, ingredient suppliers and others in the foodservice industry. To truly drive loyalty means choosing ingredients that aren't just the lowest cost or most effective; it means placing equal value on how sustainable those ingredients are.
Choose Sustainable and Upcycled Ingredients
Among the top sustainable ingredients is whey protein concentrate, an original "upcycled" ingredient. Surprising to many is that whey protein has less impact on the environment than all commonly used plant-based proteins. At one time, whey was discarded as part of the cheesemaking process, but is now upcycled into functional and nutritious ingredients for soups, sauces, dressings, meal replacement bars, protein supplements, beverages and much more.
Additional benefits of whey protein include cost savings. When replacing fresh ingredients such as cream, butter, milk, eggs and cheese, whey protein provides significant savings, and it also costs less than plant protein alternatives. Consumers also appreciate that they don't need to compromise on taste or texture of their favorite foods. For a deeper dive into the benefits of whey protein, check out our guide below.
Explore how versatile and beneficial whey protein concentrate can be in your formulations, and be a frontrunner in offering truly sustainable products to consumers. They'll reward you with long-term loyalty and appreciation for helping them to do their part. Contact the expert food scientists at Grande Custom Ingredients Group to discuss the many forms of whey protein concentrate and how they can improve numerous formulations.