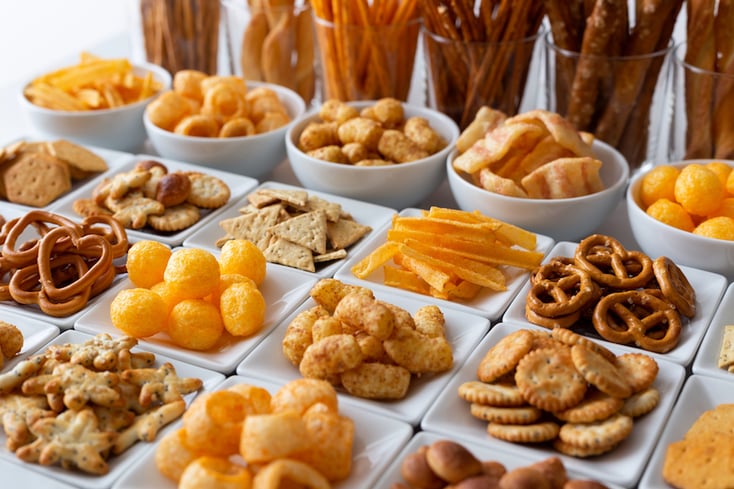 As U.S. consumer trends continue to shift away from the traditional diet approach of eating three square meals each day, snack food sales have really taken off.

On-the-go consumers look for convenient, functional and better-for-you snack options that fit their busy schedules. And while snack food sales are up across the board, the savory snacks category has seen considerable growth over the past few years and is expected to continue growing through the forecast period of 2019-2023, especially in North America.

Why Savory Snacks?
When it comes to making decisions about which snacks to buy, consumers cite taste as their primary deciding factor, and there's no taste more sought after than the salty, cheesy, and spicy attributes of savory snacks.

With American consumers looking for healthier snack options, however, food manufacturers have had to get creative with their savory snack offerings. With more snacks hitting store shelves, brands are winning over health-conscious consumers by adding their favorite savory flavors to nutritious, functional snack foods.

RELATED: Comparison: Whey vs. Plant-based Protein Crisps
Still not convinced you need to "spice-up" your nutritious snack offerings? Check out these 15 facts about the savory snack food market outlook and consumer habits:
The average American will spend nearly $30,000 on snack foods during their lifetime (source)
U.S. consumers ate nearly 386 billion ready-to-eat snack foods last year (source)
Healthy options are driving the global protein bars market, which is estimated to register a CAGR of 7.24% by 2024 and reach $1.8 billion (source)
More than 97% of households in the United States report eating a salty snack in a typical week (source)
Women are more likely than men to consume sweet and savory snacks (58% vs. 48%) (source)
North America claimed the largest global market share for protein bars at more than 38% last year (source)
More than half of consumers replace meals with snacks (source)
Lunch is the most frequently replaced meal at 49%, with peak snacking hours being between 1–4 p.m. (source)
Snack sales in the U.S. far surpass other nations at more than $63 billion, with Japan trailing in second at just under $9 billion (source)
When it comes to foodies, four out of 10 will spend roughly $50 a week on gourmet treats (source)
95% of Americans snack at least once a day and 70% snack two or more times (source)
Approximately three out of four U.S. consumers no longer eat three traditional meals a day (source)
Approximately half of Americans (167 million) choose to consume nutritional snacks (source)
After hunger or thirst, cravings for sweet or salty snacks ranked as the motivation for snacking (source)
Six out of 10 snackers consume snacks as a meal appetizer (source)
Snacks are one of the fastest-growing subcategories within the packaged food market (source)
For food manufacturers looking for a growth opportunity by creating more functional savory snack foods, our Industry Insights white paper will tell you more about the latest snack food trends, as well as provide a first-hand look at how Grande WPCrisp® can be used to add a high-quality protein boost to your savory snack food applications.
Learn more by clicking the button below!