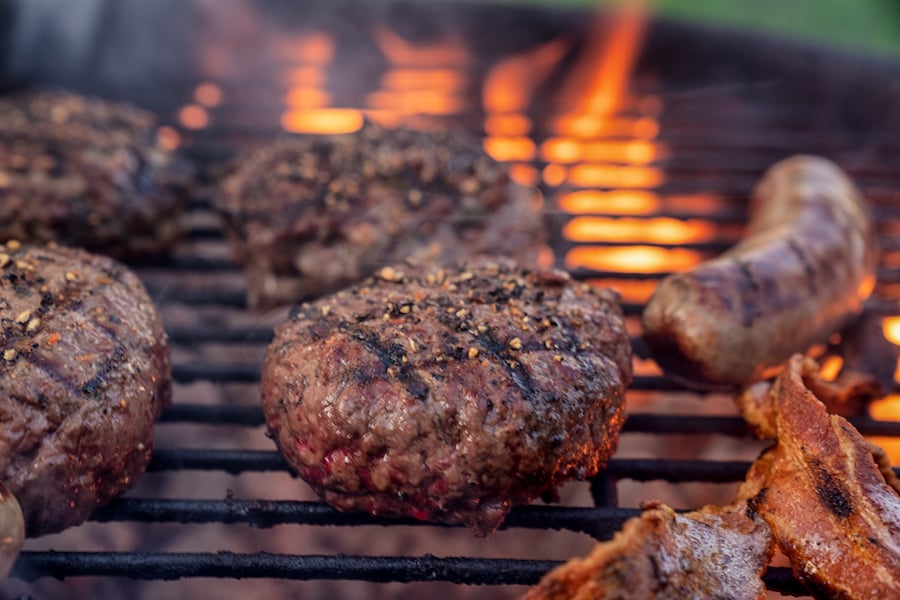 We get it. Keto is big and was listed among the top three diet trends of the year. Those living a low-carb lifestyle may choose a thick, juicy steak any day over a salad topped with dry, bland, chicken breast that's been a mainstay in American diets for years.
But the consumption of red and processed meats is being challenged by health authorities (again), reminding consumers and food manufacturers to include alternative proteins in their diets. Here, we'll look at the latest research on red meat and processed meat, alternative ingredients, and which of those ingredients actually rank highest for nutrition.
The Debate Over Red Meats and Processed Meats
There's been much debate through the years about whether consuming red meat is good for you. A recent controversial study created quite an uproar when it reported there were no health risks related to consuming unprocessed red meat or processed meat products.
Those citing concerns about the study included the American Cancer Society, American Heart Association, World Health Organization (WHO) and the UK's National Health Service. These organizations went so far as to say the study included a "very irresponsible public health recommendation."
For years, these and other organizations have said that processed meats like ham, bacon, hot dogs and sausage, in particular, are linked to colorectal cancer. The link is so strong that the WHO classified processed meats as carcinogenic. Red meat, with its high levels of cholesterol, fat and calories is also cited as a health concern when consumed more than twice a week.
Alternative Protein Sources in Food Production
The notable downsides of red and processed meats aside, the nutritional benefits of protein intake as part of a healthy diet are well documented. There are many protein alternatives on the market today, with the most popular and economical being whey protein.
Whey protein is among the most nutritional protein alternatives, naturally containing all the essential amino acids needed to build muscle, and it also boasts other health benefits like weight loss and reduced risks of diabetes.
Another alternative ingredient includes plant-based proteins. While these proteins are gaining popularity, only 16% of consumers say that plant-based protein is important. Perhaps that's because consumers who are intent on reading labels notice that the nutritional profiles of plant proteins pale in comparison to whey protein.
When pitting plant proteins versus whey protein, whey protein reigns supreme for flavor, nutrition, texture, digestibility and functionality. It's typically more economical, too.
RELATED VIDEO: Plant-based Proteins vs. Whey Protein for Digestibility
Whey Protein — Something to Chew On?
In food manufacturing, whey protein is often thought of as a cost-effective replacement for milk, butter, eggs, cream and dairy ingredients in soups, sauces, snacks, condiments, entrees, and other dishes. While it certainly lends itself to these and other applications, protein consumption isn't always something you can chew on.
In fact, 61% of consumers who use nutritional beverages cited high protein as being important, with the most common type of protein being whey protein. What else is important? All-natural superfoods continue to gain steam, with more than half of consumers saying they're interested in eating more of them. Food and beverage manufacturers need to consider ways they can meet the growing complexities of consumer demands.
Benefits of Whey Protein vs. Red Meat vs. Plant Proteins
Apart from numerous studies that suggest frequently consuming red meat can significantly increase the risk of stroke and other health issues, red meat is known to be higher in saturated fat and cholesterol – not to mention it may lack support for religious or ethical purposes.
When comparing whey vs. meat, the choice is clear. What's more, when you also factor in the nutritional panels of plant proteins, as shown in the chart below, it's easy to see why whey protein ranks on top.
If there's one thing this table can't tell you, however, it's that whey is also the best tasting and highest quality alternative protein source available – especially if it's one of Grande Custom Ingredients Group's own diverse, proprietary whey products.
By using only the finest Grade A milk from dairy farms that have passed our rigorous quality standards in combination with our proprietary whey production process, we're able to create some of the highest quality whey protein products available. Not only do our products have the cleanest taste of any protein, but they're also the best at matching your original formulation's texture and mouthfeel. In fact, we create multiple types of whey protein concentrate (wpc) to ensure that you can find the optimal match.
To learn more about the benefits of whey protein and how our protein products can boost your current product offerings, make sure you check out our guide, Top 10 Reasons to Use Whey Protein, and contact one of our food scientists today.