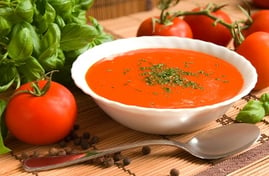 At Grande Custom Ingredients Group, we think and talk in terms of challenges – specifically, the challenges our customers in the food and beverage industries face and the number of ways we can solve them.
But what we're really talking about are opportunities.
Growing Demand for Healthier Products
Every five years the U.S. Department of Agriculture and Department of Health & Human Services issue Dietary Guidelines for Americans; these guidelines are intended to make recommendations to Americans that will help us all live healthier lives. In the past, its recommendations included consuming fewer calories, making better food choices, and maintaining a healthy weight as methods for helping reduce the risks of chronic disease and promoting overall health.
Consumers – and manufacturers – are listening. Food and beverage companies with a higher percentage of their sales coming from better-for-you (BFY) foods and beverages perform better financially, according to a 2011 report produced by the Hudson Institute with funding from the Robert Wood Johnson Foundation.
The report analyzed the sales of 15 major food and beverage companies and found that sales of BFY products drove more than 70% of sales growth from 2007 to 2011. BFY products were defined as no-, low- and reduced-calorie items, and products that generally are perceived to be healthier.
The pressure from consumers represents growing and sometimes very complex challenges for manufacturers. It's a constant battle to address the demand for BFY foods and beverages that are low in fat and calories – AND that deliver on their expectations for great flavor and uncompromised texture.
But think what these consumers demands mean in terms of opportunities. When manufacturers have access to a practical solution (especially one that actually goes beyond simply solving a challenge and improves the end product), a challenge is an opportunity to develop products that satisfy consumer needs:
The opportunity to reduce fat content without losing the mouthfeel fat provides
The opportunity to reduce costs by replacing more expensive ingredients
The opportunity to improve yield, extend shelf life and reduce stabilizers and emulsifiers
…all while enhancing or maintaining the product's flavor and texture
How Consumers Are Satisfied
When it comes to the never-ending battle between reducing fat and calories without altering the taste and texture consumers love, a whey protein ingredient like Grande Bravo® is the answer. Whey protein, the "gold standard" of proteins, adds only a clean, complementary dairy flavor to products; it can replace fat (or replace more expensive ingredients) while improving texture…without any loss of flavor. This means they can have the BFY foods they want without having to compromise on the flavor they crave.
How Labeling Is Addressed
Grande Bravo functional whey protein ingredients are 100% natural and are labeled "Whey protein concentrate. Contains milk" and is USPH Grade A, Kosher Dairy, USDA, and EU compliant.

Application Example
As an example of the improvement Grande Bravo can make when used to reduce fat and calories, look what happens when Bravo is used to reduce by half the amount of sour cream, cream cheese and mayonnaise used in a spinach & artichoke dip:
Calories reduced 2%
Fat content reduced 50%
Protein content increased 5%
The flavor of the dip was unchanged, as was the rich, creamy mouthfeel
It's products like Grande Bravo that give manufacturers the ability to address sometimes conflicting needs; in this case, the need for more nutritionally sound products that still taste like their more indulgent counterparts.
Next time you have a challenge, consider whey protein ingredients as the opportunity to deliver exactly what you and your consumers need – better nutrition with no compromise of flavor or texture.