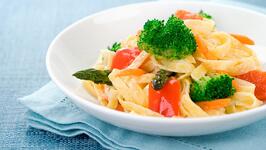 Just as today's consumers are being more health conscious about the food they eat, they're also looking for more locally sourced food as well. All across the country, farmer's markets are making a strong resurgence as more people look to support their local farms and buy the freshest produce possible. Known as the Farm-to-Fork (or Farm-to-Table) movement, the closer consumers can get to purchasing an item directly from the farm – as opposed to waiting weeks for food to travel around the country and wind up in a grocery store – the better.
Last year, the movement really started building momentum when Chipotle released their viral "Scarecrow" ad. Using colorful, Pixar-like animations and a haunting version of Willy Wonka and the Chocolate Factory's "Pure Imagination," Chipotle told the story of a young farmer fed up with unnatural factory farming. Since its release, the video has earned more than 13.4 million views on YouTube and sparked important conversations about where food is sourced.
That being said, Grande takes great pride in the freshness and quality of all our natural dairy products. We have very rigorous standards to become one of our Producer Dairy Farms, and the milk we receive from those farms is consistently analyzed to ensure the highest quality. These dairy farms are located near our production facilities to ensure that we receive the freshest milk possible. This strict chain of custody guarantees the safest and most consistent products, which help us meet the highest quality standards in the world. To give you an inside look at how Grande products go from farm to fork, here's a breakdown of our whey production process:
1.) Becoming a Grande Producer Dairy Farm
In order to create some the best natural whey protein products in the world, you have to use the best farms. And in order to become a Grande Producer Dairy Farm, that farm must pass a thorough examination from of our Field Services Staff. Once the farm has been approved, our field reps work closely with the owner to tailor specific plans and implement upgrades needed to meet our level of quality. Once the farm has made all the necessary improvements, only then is it ready to start supplying milk.
2.) Maximizing Cow Comfort
To help ensure the milk we use is the highest possible quality available, Grande uses the latest technology to measure cow comfort. We believe that when a cow is comfortable where she rests, where she's milked, and where she eats, she will produce higher-quality milk. And in order to measure this, Grande worked closely with a world-renowned expert in mastitis control and milk system evaluation to develop a custom cow comfort measuring software. Using an app on their smart phones, our reps can track a number of different variables that contribute to cow comfort and use that information to improve milk quality.
3.) Keeping it Local
Once we know the milk that's been produced meets our quality control standards, it's time to turn it into the cheese and whey products you're more accustomed too. Upon collection, the Grade A milk is rapidly cooled and then sent to our world-class cheese and whey facilities – including both of our SQF Level 3 certified locations. To help ensure that our milk arrives as quickly as possible, and to help support local, Wisconsin families, all of our cheese and whey plants, aging and packaging facilities, central distribution facilities, research center, and headquarters are located in Wisconsin.
To learn more about how Grande's natural whey products go from farm to fork, please visit our Milk Marketing website, or contact a member of our field services staff.